Page 1 of 4
Do you remember when we used to sing,

Sha la la la la la la la la la la te da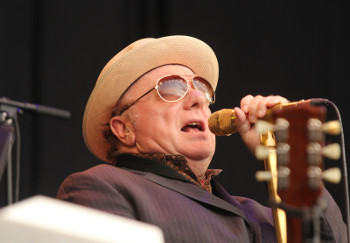 Van MorrisonThis 68 year old Northern Irish Singer Songwriter has explored soul, jazz, blues, rhythm & blues, rock and roll, Celtic folk, pop balladry and more.  He has referred to his music as "Caledonia soul," reflecting his deep immersion in American roots music and Irish mysticism and was a member of the 1960's group 'Them'.  The man was voted the 42nd Greatest Artist in Rock 'n' Roll by Rolling Stone magazine and is former First Lady, Laura Bush's favourite singer, even though he was invited to sing at President George W. Bush's inauguration, which he declined.  He is intensely private and cantankerous and is not given to making public pronouncements.  At 64, he faced an allegation that he had become a father again to a baby boy by a woman who was not his wife.  He has 500 songs and 41 albums and in 1972 began to develop stage fright.  His second and present wife is a former Miss Ireland.
I'm talking about


Van Morrison
He was born George Ivan Morrison on 31st August 1945 at 125 Hynford Street, Bloomfield, Belfast, Northern Ireland.  His father, George Morrison, was a shipyard electrician, and his mother was Violet Stitt Morrison, a singer and tap dancer in her youth.  George Snr was an enthusiastic record collector and during the early 1950's he had one of the largest record collections in Northern Ireland. As a result Van grew up listening to artists like Jelly Roll Morton, Ray Charles, Lead Belly, and Solomon Burke.  His father's record collection included many different genres of music including the blues of Muddy Waters; the gospel of Mahalia Jackson; the jazz of Charlie Parker; the folk music of Woody Guthrie and country music from Hank Williams and Jimmie Rodgers.  The first record he ever bought was by blues musician Sonny Terry. When Lonnie Donegan had a hit with "Rock Island Line", written by Huddie Ledbetter (Lead Belly), Van felt he was able to connect with skiffle music as he was familiar with Lead Belly before that.
Van later said, "If it weren't for guys like Ray and Solomon, I wouldn't be where I am today. Those guys were the inspiration that got me going. If it wasn't for that kind of music, I couldn't do what I'm doing now."
During the '50's, he became known as Van and later in the 50's became known as 'Van the Man' when he turned professional in his late teens.
It all started when his father bought Van his first acoustic guitar, aged 11.  He was self taught from a song book, The Carter Family Style.  At 12, he formed his first group, The Sputniks and by age 13, they played at local cinemas with Van at the lead. He disbanded The Sputniks and formed Midnight Special when he was 14 and played at a school concert.  At that time, he heard Jimmy Giuffre playing saxophone on "The Train and The River" and he asked his father to buy him a saxophone. He took lessons and could now play guitar and sax as well as sing.  He joined various bands one of which was Deanie Sands and the Javelins and later changed to The Monarchs.
Van left school at 15 with no qualification. After some failed apprenticeships he started cleaning windows full time while playing part time with the Monarchs, the Harry Mack Showband and the Great Eight.
The Monarchs changed their name to the International Monarchs and started touring when Van was 17.  Van played guitar, sax, bass, drums, harmonica and harp. The tours visited Scotland, England and Germany. While in Germany they recorded their first and only single "Boozoo Hully Gully"/"Twingy Baby", under the name Georgie and The Monarchs.  It didn't really go anywhere. Van was offered a part in a movie in Germany as a jazz saxophonist, but it never happened.
When he was 18 the Monarchs disbanded so he joined Georgie Sproule in the Manhattan Showband along with guitarist Herbie Armstrong. When Herbie auditioned to play with Brian Rossi and the Golden Eagles, Van went along and was hired as a blues singer.
At 19 he left the Golden Eagles and saw an ad for musicians to play at a R&B club at the new Maritime Hotel for its opening night.  So he formed a new group called Them out of the remnants of The Gamblers.  He got the gig and performed at the Maritime on many nights to mixed reviews.  As Van said, "'Them' lived and died on the stage at the Maritime Hotel".  This reflected their inability to rouse and audience.  Their records performed better.   It was in the Maritime thatfirst performed Gloria.  Dependent on his mood, the song could last up to 20 minutes long with a selection of instruments.
Van's fiery, gritty sound was heavily influenced by artists like Howlin' Wolf, Brownie McGhee, Sonny Boy Williamson, and Little Walter.  The band quickly developed a local following and in late 1964 they recorded their debut single "Don't Start Crying Now." The follow-up, a brilliant rendition of Big Joe Williams' "Baby Please Don't Go," broke the U.K. Top Ten in early 1965. However, it was not a major hit upon its original release, Van wrote "Gloria" which has turned into a true classic of the rock era, covered by everyone including the Doors, Patti Smith, Jimi Hendrix, Shadows of Knight and others.
In 1964 Decca records signed 'Them' into a two year contract and they released two albums and ten singles.  They had three chart hits, "Baby, Please Don't Go" (1964), "Here Comes the Night" (1965), and "Mystic Eyes" (1965).  As happens on many occasions, it was the b-side of "Baby, Please Don't Go", "Gloria" that went on to become a rock classic.
The albums achieved success in America as well as the UK.  Therefore they went on a tour of America in May-June 1966. They played for two weeks at Whiskey a Go Go in LA with The Doors as a supporting act.  It was here that Jim Morrison of The Doors recognised the brilliance of Van on stage and got the inspiration for Riders on a Storm.  On the final night the two bands and two Morrisons rocked the house by performing on stage together singing Gloria.
At the end of the tour, they had a row with their manager over revenues.  Also their work visas were expiring so they went home.  In addition, the band had a succession of musicians leaving and joining and after two more Irish concerts; Van left 'Them' in 1966.
Them's producer, Bert Berns (aka B. Russell), was in America and he sent Van an airline ticket and an invitation to New York to record four singles.  Van accepted and signed a contract he didn't read properly.  During a recording session on 28-29 March 1967, eight songs were recorded with the intention of having four singles.  However, Bert released the album 'Blowing your Mind' without Van knowing about it and Van got upset.  One of the songs, "Brown Skinned Girl," later changed to "Brown Eyed Girl" (which was the 22nd take on the first day of recording) reached Number 10 in the U.S. in 1967. Van toured America unhappy; because he was he was locked into a contract.
Bert died suddenly in 1967 from a heart attack and that released Van from his contract.  Or did it? Bert's widow, Llene, prevented Van from performing on stage in NY, so he moved to Boston.  He developed financial problems and found it difficult to get gigs. However, those that he did get allowed him to show his professionalism and he got a contract with Warner Bros. Records.  They bought out his remaining contract with Bang (Bert's Record label) which said that he had to do 36 original songs within a year.  So Van did 31 in one session.  Llene didn't like them and called them 'nonsense music', which later became known as revenge songs.
In 1968 (at the age of 23), Van was now free to work on his new album "Astral Weeks".  This album was recorded in two days and on its release it didn't really generate great acclaim.  People could not classify its music genre, however over time; it was recognised as his best work.  To this day, it remains in an unclassifiable music genre and has been described variously as hypnotic, meditative, and possessing a unique musical power. It has been compared to French Impressionism and mystical Celtic poetry. A 2004 Rolling Stone magazine review begins with the words: "This is music of such enigmatic beauty that thirty-five years after its release, Astral Weeks still defies easy, admiring description."  Barney Hoskins (Melody Maker and NME) said "Astral Weeks is about the power of the human voice, ecstatic agony, agonising ecstasy. Here is an Irish tenor reborn as a White Negro, a Caucasian Soul Man pleading and beseeching over a bed of dreamy folk-jazz instrumentation: acoustic bass, brushed drums, vibes and acoustic guitar, the odd string quartet and of course flute."  In the 1995 Mojo list of 100 Best Albums, it was listed as number two and was number 19 on the Rolling Stone magazine's The 500 Greatest Albums of All Time in 2003.  In December 2009, it was voted the top Irish album of all time by a poll of leading Irish musicians conducted by Hot Press magazine.
In 1970, Van was working on his third album, Moondance.  At this stage he was living in Woodstock, which is in the Catskills, New York.  The style of Moondance contrasted that of Astral Weeks. Astral Weeks had a sorrowful and vulnerable tone, Moondance produced a more optimistic and cheerful message to his music. It swapped the jazz-and-strings sound of Astral Weeks for a horn-section R&B bounce that resounded with a smooth tone. Moondance, the song, was not released in the US as a single until 1977 even though it got good radio play.  "Come Running" was released as a single in 1970 and reached number 39 in the charts. It was the first Van Morrison album to chart in the Top 100, and it eventually went platinum and became a million seller. Moondance was listed at number 65 on the Rolling Stone magazine's The 500 Greatest Albums of All Time.  In March 2007, Moondance was listed as number 72 on the NARM Rock and Roll Hall of Fame list of the "Definitive 200"
His next 1970 album, His Band and the Street Choir (Number 32 in 1970) gave two up-tempo R&B Top 40 hits in "Domino" (Number 9 in 1970) and "Blue Money" (Number 23 in 1971). By this time, Van moved to Marin County, California, and married a Janet Planet Rigsbee.  They had one daughter, Shana.
After these two albums, the first half of the 1970's was highly creative for Van.  He released Tupelo Honey in 1971, a lovely pastoral meditation on wedded bliss highlighted by the single "Wild Night."  In 1972 there was Saint Dominic's Preview when he formed the 11 piece Caledonia Soul Orchestra which featured both on the studio effort Hard Nose the Highway and on the excellent live set its Too Late to Stop Now.
It was around 1972 that he began to develop stage fright.  He became anxious on stage and would have difficulty establishing eye contact with the audience. Van once said in an interview about performing on stage, "I dig singing the songs but there are times when it's pretty agonising for me to be out there." After a brief break from music, he started appearing in clubs, regaining his ability to perform live, albeit with smaller audiences.
Taken together, Moondance, Street Choir, Tupelo Honey and St. Dominic's Preview marked an incredibly fertile time in Van Morrison's career. Their collective impact set the stage for all his following records.
He released his next album Hard Nose the Highway in 1973 receiving mixed, but mostly negative, reviews. The album contained the popular song "Warm Love" but otherwise has been largely dismissed critically.
However, in 1973 he not only dissolved the orchestra but also divorced Janet and moved back to Belfast.
The stunning 1974 LP Veedon Fleece showed Van's emotional turmoil.  This record reminded you of Astral Weeks' creative approach, and a disc that some fans believe to be his best.
He then remained silent for three years, reportedly working on a number of aborted projects but releasing nothing until 1977's aptly titled 'A Period of Transition'. After a decade without taking time off, he said in an interview that he needed to get away from music completely and stopped listening to it for several months. Also suffering from writer's block, Van seriously considered leaving the music business for good.
By 1976, he was living in California again. Late that year he appeared at the Band's farewell concert and in Martin Scorsese's film of the event, The Last Waltz.
In 1978 he released Wavelength.  For this album (Number 28, 1978), he took on concert promoter Bill Graham as manager (they split in 1981).  The album sold fairly well.
Van continued to be plagued by chronic stage fright. At a 1979 show at New York's Palladium, he stormed off the stage during the middle of the show without a word and didn't return.
Even though he suffered from stage fright, on 21st July 1990, Van joined many other guests for Roger Waters' massive performance of The Wall – Live in Berlin with an estimated crowd of between 300,000 to 500,000 people and broadcast live on television. He sang "Comfortably Numb" with Roger Waters, and several members from The Band: Levon Helm, Garth Hudson and Rick Danko. At the end of the concert, he and the other performers sang "The Tide Is Turning".
Van performed before an estimated audience of 60,000 to 80,000 people when US President Bill Clinton visited Belfast on 30th November 1995. His song "Days Like This" had become the official anthem for the Northern Irish peace movement.
'Into the Music' was released later in 1979. It created a more conventionally spiritual perspective than before, a pattern continued on successive outings for years to come. Albums like 1983's Inarticulate Speech of the Heart, 1985's A Sense of Wonder, and 1986's No Guru, No Method, No Teacher are all largely cut from the same cloth, employing serenely beautiful musical backdrops to explore themes of faith and healing. For 1988's Irish Heartbeat, however, Van teamed with another of Ireland's musical institutions, the famed Chieftains, for a collection of traditional folk songs.
In 1989, Avalon Sunset brought a commercial rebirth of sorts. While "Whenever God Shines His Light," a duet with Cliff Richard, became Van's first U.K. Top 20 hit in over two decades, the gorgeous "Have I Told You Lately That I Love You" emerged as something of a contemporary standard.  Rod Stewart covered it and it reached the U.S. Top Five in 1993. Further proof of Van's renewed popularity came in 1990 when he released Mercury's best-of package.  Far and away the best-selling album of his career, it introduced the singer to a new generation of fans. A new studio record, Enlightenment, appeared that same year, followed in 1991 by the ambitious double set 'Hymns to the Silence', widely hailed as his most impressive outing in years.
In 1992, Van met Irish socialite Michelle Rocca, and they often featured in the Dublin gossip columns, an unusual event for the reclusive Van. In 1980, Michelle won the Miss Ireland contest.  Michelle also appeared on one of his album covers, Days Like This.  The couple are married and have two children - a daughter in January 2006 and a son in August 2007.  I remember the Rocca family had a tile shop in Blanchardstown, Dublin.  Around the late '70's and early '80's I bought a load of tiles for my house and guess who one of the sales assistants was.  Yes, you got it, it was Michelle.
Van has been known to be irritable and cantankerous.  As well as having an Irish home in Belfast, he also has a home in Dalkey near Dublin.  He had legal actions against two different neighbours concerning safety and privacy issues and has been taken to court in 2001 and in 2010. In the 2001 case, Van brought it all the way to the Supreme Court.
In 2011, a notice appeared on Van's website saying that he was a father again.  It read "Gigi and Van Morrison are proud to announce the birth of their first born son George Ivan Morrison III. 'Little Van' born 28 Dec, 2009 – the spitting image of his daddy." The message has since been taken down.
The mother was 44 year old Texan Gigi Lee.  Van said that his site was hacked and that he was not the father.  Gigi insisted he was.  Reports show that she was a director of 14 of his companies and was his tour manager.
Gigi moved to Belfast to be close to Van and in a tragic course of events, the boy died in January 2011.  And in a double tragedy, Gigi died of cancer on 7th October 2011.
In 16th September this year, 2013, Belfast City Council voted unanimously to bestow the honour of Freedom of the City on Van.  His website says "Belfast is my home. It is where I first heard the music that influenced and inspired me, it is where I first performed and it is somewhere I have referred back to many times in my songwriting over the past fifty years.  I am delighted and honoured to receive the Freedom of the City and would like to thank all those who made it possible, the Lord Mayor, the Councillors and the people of Belfast."
Van says that he is "Born To Sing: There is no Plan B".  That is the name of his new studio album also.  On 22nd and 23rd Nov this year he will appear in The Masonic in San Francisco with his daughter Shana.
Rock on Van.  You will go on forever.
Now, Hit the NEXT button below, just above 'Add Comment' and you can see 13 more Van Videos including 9 full concerts
By Bob Tallent
Follow us on Twitter - @DigiPrintNews
Like us on Facebook www.facebook.com/DPNLive - (click the 'LIKED' button/top of page as well)
Copyright © 2013, DPNLIVE – All Rights Reserved.