The Boss



Writes from his Soul



Sings pure Rock n' Roll
by Bob Tallent
---
This American was born of Irish, Dutch and Italian ancestry. He was regularly at odds with his Catholic teachers (nuns) over the scriptures they preached to him. In fact one sister put him into a rubbish bin under her desk because she said that's where he belonged. His main inspiration was Elvis. He played guitar and sang with The Castiles and once said "Rock & roll was the only thing I ever liked about myself." In 1984 his album which sprang him to fame sold over 30 million. He suffered a concussion from a motorcycle accident at the age of 17 which prevented him from being drafted into the army. He is famous for the pure passion he puts into his live performances, the evocative power of his songwriting and the direct connection he forges with his listeners.
---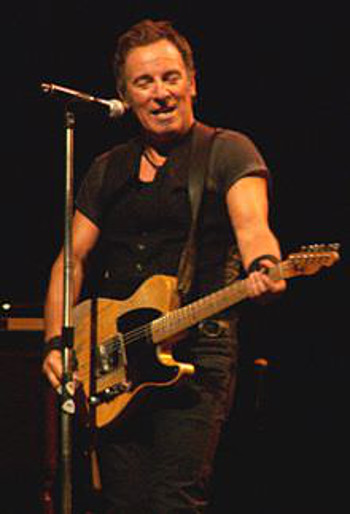 Bruce SpringsteenI'm talking about Bruce Springsteen.
Bruce Frederick Joseph Springsteen was born on the 23rd of September in 1949, the son of Douglas and Adele Springsteen in Freehold, New Jersey. His father, who was of Irish/Dutch ancestry, found it hard to hold down a job, and was regularly unemployed. His mother, who was of Italian ancestry, was the main breadwinner. She worked as a legal secretary. When he was seven, Bruce at age 13 saw Elvis on TV and was inspired to scrape together enough money to buy his own guitar. In 1965 at age 16 his mother borrowed $60 to buy him a Kent guitar. He became the lead guitarist and singer in The Castiles. In 1966, the Castiles recorded but never released two songs co-written by Bruce.
In the late1960's,Bruce played for Earth and failed his test to be drafted into the army. He joined with Steve Van Zandt, Danny Federici and Vini "Mad Dog" Lopez and Vinnie Roslin in a band called Child. It was around this time that he got the nickname "The Boss" because he collected the money at the gigs and distributed it among the band. During this period he also played for the Rogues, Sundance Blues Band, Dr. Zoom and the Sonic Boom before he setup the Bruce Springsteen Band with Lopez, Federici, Van Zandt, pianist and guitarist David Sancious, bassist Garry Tallent (no relation), and a four-piece brass section.
He didn't get on with his father and once said "When I was growing up, there were two things that were unpopular in my house. One was me, and the other was my guitar." He admitted that his relationship with his father spurred him on to write songs saying "what would I conceivably have written about without him? I mean, you can imagine that if everything had gone great between us, we would have had disaster. I would have written just happy songs!" He went on "they (his parents) shaped my politics, and they alerted me to what is at stake when you're born in the U.S.A."
Bruce auditioned for Laurel Canyon Productions, owned by Mike Appel and Jim Cretecos. In May 1972 he signed a long-term management contract and an agreement giving Laurel Canyon exclusive rights to his songs. The royalty rates for five albums were 3% of retail price. Mike Appel arranged for his new client to audition for John Hammond, who had signed Bob Dylan to Columbia. After hearing Bruce sing in his office, John set up a showcase for CBS executives at the Gaslight in New York City on 3rd May 1972 and supervised a demo session where he performed 12 originals. In June 1972 Columbia president Clive Davis signed a ten-album contract with Mike that gave Laurel Canyon a 9% royalty. .
In 1973, he released Greeting from Asbury Park NJ, – selling only 25000 copies yet his live performances carried him through. He opened for a band called Chicago for a string of dates that got him noticed, but he didn't like it because his performances were only 30 minutes long.
He brought out a second album, The Wild, the Innocent, and the E Street Shuffle. He and his band combined instrumental passages with his lyrics, forming long romantic narratives. This album also sold poorly, so he decided to concentrate on his live stage show. Replacing Lopez with Ernest "Boom" Carter on drums, he strengthened what became the E Street Band, hired expensive light and sound crews and rehearsed them to choreographic precision. He made up elaborate stories, often involving band members, to introduce his songs, dramatised the songs as he sang them, and finished his sets with known oldies. Jon Landau, a music critic wrote "I saw rock & roll's future and its name is Bruce Springsteen." Columbia used the quote in its advertising.
Jon Landau became involved in the production of his third album – Born to Run – which hit the shelves in October 1975. Jon later (1977) became his manager after a two year court battle with Mike Appel – which was settled out of court. In August '75, he did five-night, 10-show gigs at New York's Bottom Line club which attracted large media attention. The album hit no. 3 on the Billboard 200. The court proceedings kept him out of the studio, but he continued his touring and writing and sold many songs to other artists.
In 1978, he brought out his fifth album, Darkness on the Edge of Town. In 1980 he recorded The River and then Nebraska, neither commercially successful.
In 1984, he hit the streets running with Born in the USA, which sold 30 million. This album produced loads of singles – "Dancing in the Dark" (Number Two, 1984), "Cover Me" (Number Seven, 1984), "Born in the U.S.A." (Number Nine, 1984), "I'm on Fire" (Number Six, 1985), "Glory Days" (Number Five, 1985), "I'm Goin' Down" (Number Nine, 1985), and "My Hometown" (Number Six, 1985) and remained in the Top Ten for more than two years. Bruce made his first videos for the album's singles, including "Glory Days," "I'm on Fire," "Born in the U.S.A.", "Dancing in the Dark". The single later won a Grammy.
He appeared on MTV Unplugged and has a Grammy and an Oscar for Best Song from the film 'Philadelphia'. He has released a Greatest Hits album, and has recorded new tracks with 'E-Street'.
In 1984 he married Julianne Phillips and they later divorced in 1989. In 1991, he married his current wife, Patti Scialfa, and they live at their homes in New Jersey and L.A. with their children Evan, Jessica and Sam.
As a result of the breakdown of his first marriage, he wrote and released Tunnel of Love in 1987. The album examined themes of love, loss, confusion and heartbreak, tracing the extreme highs and lows of relationships. As Dave Marsh from Creem magazine wrote in 1975, "Springsteen's music is often strange because it has an almost traditional sense of beauty, an inkling of the awe you can feel when first falling in love or finally discovering that the magic in the music is also in you.."
In 1989, he broke up the E-Street Band and he didn't produce a studio album for five years.
In 1995, he released the album "The Ghost of Tom Joad", which was mostly a solo guitar album and was inspired by "Journey to Nowhere: The Saga of the New Underclass," a book by Pulitzer Prize-winning writer Dale Maharidge. His Greatest Hits album appeared in late 1995, entering the charts at no.1 and reuniting him with the E Street Band.
After being apart from the E Street Band for several years they reunited with a successful tour which ended with a 15 show run at Continental Airlines Arena in New Jersey and a 10 show run in Madison Square Garden in New York in the year 2000.
In 2002 he released the first studio album with the full band in over 18 years, "The Rising", his reaction to the 9/11 attacks. It became a critical and commercial success. In 2005 he released his third folk album "Devils & Dust" It was followed by "We Shall Overcome: The Seeger Sessions" in 2006 and "Magic" in 2007. His 16th album was released on 27th January 2009 called "Working on a Dream".
His 17th studio album, Wrecking Ball, was released on 6th March 2012. On 13th January 2012, Hollywood Reporter released an article describing the sound of the new album as being his angriest yet and addresses economic justices. The article describes the album musically as being very rock-and-roll with unexpected textures, loops, electronic percussion and a variety of influences.
His website announced on 24/1/12 that the E Street Band will commence a world tour called the Wrecking Ball Tour on 18th March 2012, in Atlanta. The tour will run through until July 2012 and will consist of two legs featuring 51 dates. The headline "First US Leg of 2012 World Tour" may imply that the tour will continue into autumn 2012 or beyond.
Bring it on Boss!
Videos on the next Page
---
---
DPNLIVE – All Rights Reserved