The night old Rod rode into town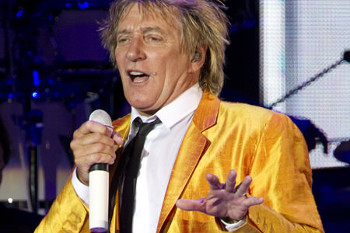 Rod StewartRobert Morgan's Story
After I wrote the "Rod Stewart Article The Gravedigger who overcame his shyness and sold 100 million Albums",Robert Morgan sent me the following story of how he met Rod Stewart personally and played pool with him in Spain. 
It was Sunday 27th July 1986. The same day that Queen played in Budapest, Stevie Nicks played in Portland Maine, Miles Davis played in London, The Ramones played in Minneapolis, Lou Reed played in Philadelphia, the Cure played in San Francisco, Richie Havens played in Santa Cruz and Bob Dylan Played in Denver.  That was the same day that the USA introduceda bill to ban smoking on all public transport including trains, planes, buses and coaches with large fines up to $500 for those who break the law.
"In 1985 I moved to Spain as things were very hard here in Ireland.  I have two sisters living in Marbella along the Golden Mile of the Costa Del Sol.
It was a brilliant experience as everywhere was so bright and with the sun shining, it made days that I could not wait to get up for.  I rented an apartment opposite the famous Marbella Club and on a daily basis I would see some of the world's famous people arrive, George Hamilton, Elizabeth Taylor, Robert Wagner and lots more.
Rod Stewart was doing a concert in the famous Puerto Banus Bull Ring.  It was around summer of '86. Along with my sisters and some friends I got tickets to the concert.  It was brilliant. He belted out all the songs that made him a rock star, "Do you think I'm sexy", "Maggie May", "Hot legs", "Tonight's the night" and that's what it turned out to be - brilliant.
Opposite the Marbella Club, where we lived, was a complex and at the front of it was a bar that opened its doors at 11pm until the last person left the next morning.  This could have been 8, 10 or even 11am.  It all depended on the owner.
This was not a flashy bar but just a small typical Spanish bar with a front that had a big glass window and door.  At around 5 or 6 am the curtains would be drawn to stop the day light from coming in.
The main attraction was the famous bocadillos sandwich and the beer that went with it.  There was also a pool table which passed many an hour.
Anyway, after Rod's concert we were in this bar doing our usual when Rod strolled in.  At first we thought it was a lookalike, but this was the real Rod.
There would have been about 12 to 16 people in the bar and we all knew each other.  Rod was with 2 friends or minders but they sat at their table watching us playing pool.  After a bit of banter Rod decided to play the winner of the game and just by luck it was me.
Over he came joking and singing his praises how he would be the winner.  All in the bar joining in the banter.  Now being from Crumlin I know how to play the game. After I won the first game he wanted a replay as he said I was lucky.  I agreed I was lucky, or so I said to him. The laughter and messing was just great, drinks were flowing.  In Spain the bars run a tab and when you are leaving you pay your tab.
Playing pool is like playing chess, when the balls open you have to know how to pick them off or clear them in 1 or 2 visits.  Well Rod got this game.  Now we're down to the decider.  The craic was unreal - just brilliant.  Down to the last 3 balls on the table, one each and the black. This time it was luck that won the game as Rod tried to pot his ball, the white hit off the black and down if fell.  Game over.
Good laughs, good fun and good beer.  We all had a night to remember and as Rod and friends left he had picked up the tab for everyone that was there. What a night."
I know Robert won't mind me explaining to you that at eight years of age he was run over by a car and has never walked since. He played the game of pool on crutches.
After Robert sent me the story and after I did the Rolling Stones Biography last week, I began to compare the largest concerts in the world.  Because the Stones held a concert in Copacabana Beach to One and a Half Million fans, I began to research it further and discovered that Rod held a concert in the same Copacabana Beach to Three and a Half Million People.  Yes you read it right Three and a Half Million People.  Could you imagine being the last person in the crowd!  I calculate that to be about a half a kilometre away or more.  You'd have to have a great pair of eyes.  It would be like being in a time machine, the sound would reach you about 1.5 seconds later.
I'm not going to tell you the rest of the large concerts here, I'll save that for another day, but I will tell you that Rod and Jean Michel Jarre in Moscow tie at 3.5 million people.
Here are a few videos for you to look at. Some are from from the concert.
Copyright © 2012, DPNLIVE – All Rights Reserved