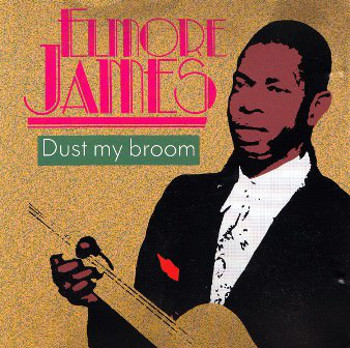 Elmore James single coverOne of my favourite Blues artists of all time Mr Elmore James was born on January 27, 1918 and is credited as one of the most influential blues artists of his generation and to this day has a sound that has been emulated and reproduced throughout the history of modern music.
Born Elmore Brooks in Richland, Holmes County, Mississippi, United States, Elmore began making music at the age of 12 using a simple one-string instrument "diddley bow" or "jitterbug" strung up on a shack wall. As a teen he started his early career playing at local dances under the names Clean head and Joe Willie James. Elmore James like many other musicians of his time were strongly influenced by Robert Johnson who died on August 16, 1938, at the age of 27, near Greenwood, Mississippi shortly before Elmore joined the United States Navy as the US entered into the Second World War.
During WW2 James fought in the invasion of Guam against the Japanese in the South Pacific. Upon his discharge, he returned to central Mississippi and eventually settled in Canton. At this time, he lived with his adopted brother Robert Holston and discovered he suffered from a heart condition. Working in Robert's electrical shop, he devised his unique electric sound, using parts from the shop and an unusual placement of two D'Armond pickups.
Elmore James began recording with Trumpet Records in nearby Jackson in January 1951, first as sideman to the second Sonny Boy Williamson and also to their mutual friend Willie Love and possibly others. He then debuted as a session leader in August with "Dust My Broom"; the record grew in popularity, became a surprise R&B hit in 1952 and turned Elmore James into a star.
His "I Believe" was another hit a year later. He also played lead guitar on Joe Turner's 1954 top 10 R&B hit "TV Mama." Elmore's backing musicians were known as the Broom dusters. In 1959 he began recording for Bobby Robinson's Fire Records label. These include "The Sky Is Crying" and "My Bleeding Heart" among others.
Elmore James enjoyed drinking whiskey, particularly Moonshine whiskey, which began at an early age and which he also distilled himself, despite alcohol contributing to the premature deaths of band mates and friends Willie Love and Johnny Jones. James' regular rhythm guitarist claimed that he preserved his health by not drinking as heavily during and after gigs, a refusal that made him unpopular with the rest of the band! I don't think that kind of thing is an issue for most modern pop acts!!
James played a wide variety of "blues" (which often crossed over into other styles of music) similar to that of Muddy Waters, Howlin' Wolf and some of B. B. King's work, but distinguished by his guitar's unique tone Muddy Waters speaking about Elmore James was quoted saying:
"Elmore will always remain the most exciting, dramatic blues singer and guitarist that I've ever had a chance to see perform in the flesh. On our way we listened to him on the radio as Big Bill Hill ... was broadcasting direct from that place. I was burning to see Elmore James and before we even pushed open the door of the club, we could hear Elmore's violent guitar sound. Although the place was overcrowded, we managed to find a seat close to the bandstand and the blues came falling down on me as it had never done before. Watching Elmore sing and play, backed by a solid blues band (Homesick James, J.T. Brown, Boyd Atkins and Sam Cassell) made me feel real fine. Wearing thick glasses, Elmore's face always had an expressive and dramatic look, especially when he was real gone on the slow blues. Singing with a strong and rough voice, he really didn't need a mike."
Elmore James influenced many future artists in the blues genre such as John Littlejohn, Hound Dog Taylor and he also influenced many rock guitarists such as The Rolling Stones' Brian Jones. Keith Richards wrote in his book that at the time he met Brian Jones, Brian called himself Elmo Lewis, and that he wanted to be Elmore James! The Allman Brothers, Stevie Ray Vaughan, Albert King have all covered Elmore James' work. The most famous guitarist who admired James was Jimi Hendrix. Early in his career Hendrix styled himself variously as 'Maurice James' and subsequently as 'Jimmy James.' The Grateful Dead, John Primer (Blue Steel CD), Billy Gibbons and Eric Clapton are other notable artists to have recorded Elmore James covers. Clapton also recorded a song with Jimmy Page called "Tribute to Elmore" that first appeared on the 1968 compilation album Blues Anytime Vol. 1.
James died of his third heart attack in Chicago in 1963, just prior to a tour of Europe with that year's American Folk Blues Festival. He was buried in the Newport Baptist Church Cemetery in Ebenezer, Mississippi, and will always be remembered as one of the great blues men who had a huge influence on Blues and Rock music.
By Frazer McMenzie
Follow us on Twitter - @DigiPrintNews
Like us on Facebook www.facebook.com/DPNLive -
(click the 'LIKED' button/top of page as well)