Page 1 of 4
The Drifter
who wore
the White Suit.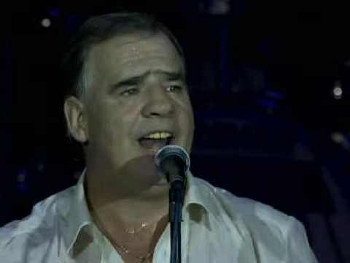 Joe DolanThis Irish singer was perhaps the biggest international star to come from the showband era and has had huge appeal both in Ireland and Internationally.  He had 57 UK & Irish hit singles in the 1960's, 70's, 80's and 90's and brought out 22 albums up to his sudden death in 2007. While he never broke America, he played in Chicago, New York, Boston and Las Vegas as well as many other countries around the world, including Russia.
I'm talking about Joe Dolan.
This biography is split into 4 pages in order to allow for
25 Videos and the full Discography.
Joe was born Joseph Francis Robert Dolan on 16th October 1939 in Mullingar, County Westmeath and was the youngest of eight children.  His father owned a bicycle shop in the town and was also a barber.  When Joe was eight, his father died and he was left at home with his brother Ben, because the rest of the family had either emigrated or settled down. In 1954, Joe started an apprenticeship as a newspaper compositor with the local newspaper, the Westmeath Examiner, which he completed in 1958. At 15, his mother also died, but not before she encouraged him to learn the piano and sing in school. He won a national talent contest called Beginners Please, the equivalent at the time of today's X Factor.
The Dolan household was always noted for music.  Joe was to be seen in those early days playing the washboard accompanying his sisters' singing in the house.  Indeed it was no surprise that the brothers decided to put a band together and play the local dancehall circuit.
Joe had a high voice and was able to reach two and a half octaves without the use of falsetto and he also made great use of a technique called melisma which gives the vocal chords a melancholic edge reminiscent of Arabic religious chanting. Vocal workouts such as this were not common in the 1960s and 1970s but were later made popular by artistes such as Mariah Carey, Stevie Wonder and Whitney Houston amongst others.  His voice has been compared to that of Demis Roussos.
Joe started playing the guitar and Ben played the saxophone in a number of local bands before starting their own – The Drifters.  There was, however a possible confusion with the American band the Drifters, so they changed the name to Joe Dolan and The Drifters and later, to Joe Dolan and His Drifters.
1960's Ireland was well known for its showbands touring the dancehalls in Ireland and the UK.  Joe and his Drifters mainly played cover songs of artists from all over the world.  In September 1964, they released their first single "The Answer to Everything", (previously released as a B side by Del Shannon), which reached no. 4 in the Irish charts.
Joe's first major tour was in 1965 and he was offered a series of shows in Las Vegas.  At the time, he turned that down, but instead played in New York, Chicago and Boston.  These areas were specifically chosen and they worked because he began to build up an American following.
Between '64 and '68, Joe and His Drifters had a string of hits, "I Love You More and More Everyday", "My Own Peculiar Way", "Aching Breaking Heart", "Pretty Brown Eyes", "Tar And Cement", "The House With The Whitewashed Gable", "Love Of The Common People", and "The Westmeath Bachelor".
Joe and his band were managed by Seamus Casey but in the summer of 1968 some of them left with Joe and Seamus citing "musical differences" as the reason.  This was later disputed in Joe's official biography by Ronan Casey (Seamus's son).  Further elaboration includes references to unhappiness over financial issues.
In 1969 he signed with the Pye International Label and released "Make me an Island" (written by the song writing duo Hammond and Hazelwood) which hit the charts in 14 countries.  He also released "Teresa," "You're Such a Good Looking Woman," "It Makes No Difference," and "Falling in Love."
Joe was the first Irish star to appear on Top of the Pops with "Make me an Island" and toured the U.K., Europe, Israel, South America and South Africa promoting the records though the early '70's.
In 1970, Joe was savagely beaten to within an inch of his life following his show at the Wookie Hollow club in Liverpool which left him virtually unrecognisable. And the culprits were all egged on by a girl.  Up to then, Joe had pop star good looks, but it all changed that night after the thugs had finished head butting him, punching his face, smashing him into a wall, shoving his head into a toilet bowl and stamping on it.  It was only the sound of police sirens that ended the beating.  "Tonight is your lucky night," the ringleader sneered as the attackers fled the club. No one was ever caught for the attack. The club was sued and later went into liquidation.
In 1971, Joe was feared dead when his plane went missing in an electrical storm on a flight to Rio de Janeiro.
In October 1973 he met up with Roberto Danova, the Italian Songwriter/Producer who had long admired Joe's singing.  Robert and Peter Yellowstone co-wrote "Sweet Little Rock 'n' Roller".  In 1975 "Lady In Blue" won five gold records and sold one million copies, More hits followed, "Crazy Woman", "I Need You", "Sister Mary", "Sixteen Brothers", "My Love", "You Belong To Me". "Most Wanted Man in The U.S.A.", and "Hush Hush Maria".
Joe was now travelling a lot in Europe for TV shows as well as his own live performances.  He used regular scheduled flights where possible, but he also had to hire private jets because of his hectic schedule.
In October 1976, Joe and his entourage were flying by Aer Lingus to Cofu on a golf trip. Several passengers recognised Joe and he went to talk to them.  Cabin staff asked Joe to return to his seat and only after being threatened with being restrained did he do so.  Aer Lingus then made a huge PR blunder.  They banned Joe from Aer Lingus flights. Newspaper headlines stated Joe's airline ban for life although it transpired the ban only lasted for nearly two years, eventually being lifted after Aer Lingus negotiated with him following his continued references to it on stage and in the media.
Two years later in 1978, Joe was the first Western Artist to perform in Russia. In those days pre-perestroika, Joe's songs were played on National Radio and his tapes were being sold as bootlegs on the streets of Moscow.
In 1980, Joe appeared in the Continental Lounge of the Silverbird Hotel in Las Vegas for two months and again in 1981 for six weeks.  He got $10k per week plus board and lodgings.  It seems that Joe wasn't overjoyed about Las Vegas style having to do two shows a day and marked the days off his calendar. He sold out 64 shows and he turned down more offers in LV even with increased offers.
In 1981 "More and More" was released followed by "It's You, It's You, It's You" "Come Back Home" "Take Me I'm Yours", "Sometimes When We Touch", "Wait 'Til The Clouds Roll By (Jenny)".
More tours followed of South Africa (despite being targeted by anti-apartheid posters), Canada and America – North and South.  Although his record promotions and foreign concert tours kept Joe away from Ireland a lot, he never forgot his Irish fans and played the dancehall circuit to capacity audiences as often as he could.
Joe set up his own record label in the 1990's – Gable records and built his own recording studio in Mullingar. "Ciara", the album "Can't Give Enough", "I'll Give All My Love To You" and "Endless Magic" were released from the forthcoming Album "Endless Magic and recorded in Mullingar.  Ciara hit the top 20 and Endless Magic hit no 9 in the charts.  E.M.I. Records then signed him up and re-released "Good Looking Woman" as a duet with a turkey called Dustin! This hit no. 1.
In 1998, he released "Joe's 90's" which hit the top 10 album chart.  It was an album of songs including covers of artists such as Blur, Oasis, and Pulp.  In 1999, he released "21st Century Joe" which included songs by David Bowie, U2, REM and Bruce Springsteen. This was equally as successful.  He then released "Home Grown" which included covers of Robbie Williams, Mundy and REM.  Robbie's parents were old friends of Joe's parents and Robbie and his parents often stayed in his house in Mullingar.  When Joe returned to the house Robbie had to give up his bed to Joe.  "My first memories of Joe are that I had to give him me bed," Robbie says.
In 2005, Joe's health began to decline after he had a hip replacement.  He asked the surgeons for his old bone, signed it & sold it on eBay for charity.  He got €680 for the Keith Duffy Autism charity.  Doctors then discovered he had Type 2 Diabetes.  This kept him off the road for 12 months.  They then discovered low blood platelet count and he began a series of blood transfusions.  After each he felt better for a period but always began to feel weaker again. He was also suffering from unexplained nosebleeds.
Joe recorded "Let There Be Love", an album of crooner classics perfectly suited to his smooth and powerful voice.  Plans were set in motion for further albums and some major concerts to cement and further his status and as 2007 came to a close the demand for concert tickets was still high.
However Joe's health wasn't good. He cancelled the Vicar Street concerts due to exhaustion and also had to cancel his full Christmas Tour 'due to a virus'. Joe's website was inundated with well-wishes.  He was brought into hospital and released on 23rd December 2007.  On 26th December he was rushed back to hospital from his Foxrock home suffering from a brain haemorrhage.  He died around 2.30pm that St Stephen's Day. After funeral mass at the Cathedral of Christ the King in Mullingar on 29th December 2007, he was buried in Walshestown Cemetery, just outside his hometown of Mullingar.
Joe never married and dealt with speculation about his sexuality throughout his life. He dismissed persistent rumours that he was gay. The official biography suggests that he had a very quiet offstage presence and preferred to keep romances out of the public eye but mentions a long relationship with Isabella Fogarty whom he met in 1977, started dating in the 80's and subsequently lived with. She was with him when he became ill on 26th December.
A 540 metre bridge was named after him - the Joe Dolan Bridge – and was officially opened in Mullingar on the 6th September 2010.
At the Oxegen Festival in 2009, Blur's Damon Albarn dedicated the song "The Universal" to Joe.
While Joe is gone from this world, his music, songs and legacy remain forever.
Hit the NEXT button to see 16 more Videos