Page 1 of 8
Satisfaction

,

Sex

,

Drugs

and

Rock n' Roll
Bob Tallent
---
In the 1960's this legendary British band was known as the world's greatest Rockn'Roll band. They started in 1962 and are still going today – 50 years later.  Formed in London, they are one of the most commercially successful and critically acclaimed acts in the history of popular music.  They were part of the British Invasion of America in the mid '60's and when the Beatles stopped giving live performances in 1966, this group took over as the unofficial "biggest touring band in the world" for the next few years.  They were ranked number 4 in Rolling Stone magazine's 100 Greatest Artists of All Time, and their worldwide sales are estimated at more than 200 million albums.
---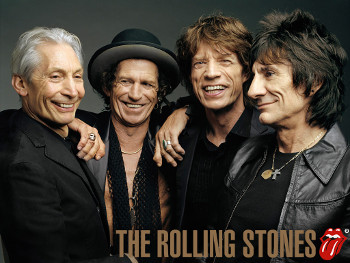 The-Rolling-Stones
I'm talking about The Rolling Stones.
There are different versions as to how the Stones started up. One is that the group was formed by Mick Jagger and Keith Richards, who met as schoolmates in Dartford, Kent. The legend has them bumping into each other on the platform at Dartford railway station, where Keith notices a blues album under Mick's arm. A bond is struck immediately and the pair go on to form a band with a variety of personnel, who eventually include a boogie-woogie pianist called Ian Stewart and a gifted blonde blues guitarist from Cheltenham called Brian Jones (although at the time he called himself Elmo Lewis for added authenticity).
Another is that The Stones were formed by blues purist, guitarist and harp player Brian Jones in 1962. He wanted to start an R&B band and the first to join him was pianist Ian "Stu" Stewart, followed by guitarist Geoff Bradford. In June, Mick Jagger on vocals and Keith Richards on guitar joined them. Bass player Dick Taylor also joined, but no set drummer was to join at first. Geoff Bradford left the band shortly after Richards and Jagger joined.  Several drummers played with the band - Mick Avory (who later joined the Kinks), Tony Chapman, Charlie Watts and Carlo Little.
Brian Jones was the band's early leader and they took their name from a Muddy Waters song. That December, Dick Taylor left and Bill Wyman took over the bass duties. In January '63 Charlie Watts finally decided to take up on an earlier offer to join the band and the heart and soul of the Rolling Stones was now in place.
Meanwhile, Brian Jones began skipping school in Cheltenham to practice bebop alto sax and clarinet. By the time he was 16, he had fathered two illegitimate children and run off briefly to Scandinavia, where he began playing guitar. When he came back to Cheltenham he joined the Ramrods, and then drifted to London with his girlfriend and one of his children.
The Stones started out playing small clubs and were known as one of England's best cover bands. They were living in squalor in London's Edith Grove.  Their first studio work took place that March but it wasn't until they met Andrew Loog Oldham - who was only 19 at the time - that things started to happen for them. Andrew signed the band to work for him and he partnered with Eric Easton in May, because he was too young to get an agents licence. But there was one more change. Andrew didn't feel Stu's image fitted in with the rest of the bands because he wasn't 'pretty, thin, long-haired' and insisted on him being out of the main line up. Luckily for the Stones, Stu agreed to become their road manager and still play his fine piano in sessions for the Stones till his death in December of 1985.
Andrew signed them to Decca records with a deal that got three times the normal royalty, full artistic control, ownership of recording masters and they were allowed to use non Decca recording studios.
In 1963 they produced their first single, a cover of Chuck Berry's 'Come On'.  Decca didn't put their full weight behind it, so Andrew reorganised the fan club members and promoted it through the TV show "Thank your lucky stars". As a point of interest, its producer reportedly told Andrew to get rid of "that vile-looking singer with the tire-tread lips." It hit number 21 on the UK singles charts.  He started the "Would you let your daughter marry a Rolling Stone" press campaign which endears the group to hordes of youngsters who find the Beatles a tad cute. The shockwaves are still being felt today.  Not bad for a first single with a 19 year old manager who didn't have an agents licence.
This gave them the opportunity to play gigs outside London. So Andrew and Eric organised for the Stones to play support to The Hollies, Bo Diddley, Little Richard, the Everly Brothers, Chris Barber, Cyril Davies and Alexis Korner effectively 'training' them for bigger things.
They brought out second and third singles later in 1963 and 1964 by Lennon-McCartney "I wanna be your man" and Buddy Holly "Not fade away", which reached numbers 12 and 3 respectively. Not fade away also hit 48 in US charts.
In 1964, they released their first album "The Rolling Stones" with mostly overs and one Jagger/Richards original "tell me", which was written after Andrew locked them in his kitchen with the instruction to write some songs. In April, there's teen mayhem when they play the NME Pollwinners' Concert at Wembley Arena.  At this stage, they were big in England.
Also in 1964, they did a US tour, supporting the Ronettes, which Andrew admitted didn't go too well because they didn't have a hit and they handled the media badly.
By now the Stones are becoming an intense R&B machine. They ditch their stage uniforms, grow their hair longer and inspire a legion of lookalikes. No group in history has sparked such horror in the older generation.
Their second UK LP – The Rolling Stones No. 2, was released in January 1965. It charted at number 1 as an album, and the US version, released in February as The Rolling Stones, Now! reached number 5. In January/February 1965 the band played 34 shows to about 100,000 people in Australia and New Zealand.
The first Jagger/Richards song to reach number 1 on the UK singles charts was "The Last Time" (February 1965); it went to number 9 in the US. It was also later identified by Keith as "the bridge into thinking about writing for The Stones. It gave us a level of confidence; a pathway of how to do it."  Their first international number-1 hit was "(I Can't Get No) Satisfaction", recorded in May 1965 during the band's third North American tour. In recording the guitar riff with distortion that drives the song, Keith had envisioned it as a scratch track to guide a horn section. Disagreeing, Andrew released "Satisfaction" without the planned horn overdubs. Issued in the US in June 1965, it spent four weeks at the top of the charts there, establishing the Rolling Stones as a worldwide premier act.
The Stones success on the British and American singles charts peaked during 1966. "19th Nervous Breakdown" (Feb. 1966, no. 2 in both UK and US) was followed by their first trans-Atlantic no. 1 hit "Paint It Black" (May 1966). "Mother's Little Helper" (June 1966) was only released as a single in the USA, where it reached no.8.  It was one of the first pop songs to address the issue of prescription drug abuse, and is also notable for the fact that Mick Jagger sang the lyric in his natural London accent, rather than his usual affected southern American accent.
In 1966, after The Beatles stopped giving live performances, The Rolling Stones took over as the unofficial "biggest touring band in the world" for the next few years. During 1966-1969 they toured the world, and constantly updated their song-list with many great hits like "Lets Spend the night together" (1967), "Sympathy for the Devil" (1968) and "Honky tonk woman" (1969). The incredible international success of the Stones came with a sad side, caused by Brian's drug and alcohol abuse that impaired his speech and appearance, so the band-mates had to replace him. In July 1969, Brian Jones died of drowning in his swimming pool while having signs of drug overdose. Upon Keith's and Mick's approval, guitarist Mick Taylor took Brian's place. Brian's death at age 27 made him one of the first members of the infamous "27 Club" of rock stars who died at that age. The loss of one of their founding members was a painful moment for the Stones. However, at the end of the 1960s their creativity reached the new highs. Their albums "Beggars Banquet" (1968) and "Sticky Fingers" (1971) were among the most popular albums they ever made, having such hits as "Wild Horses" and "Brown Sugar."
In early 1967 the News of the World ran a three-part feature entitled "Pop Stars and Drugs: Facts That Will Shock You". The series alleged LSD parties hosted by The Moody Blues and attended by top stars including Pete Townshend from The Who and Ginger Baker from Cream, and alleged admissions of drug use by leading pop musicians. The first article targeted Donovan (who was raided and charged soon after); the second instalment (published on 5th February) targeted the Rolling Stones. A reporter who contributed to the story spent an evening at the exclusive London club Blaise's, where a member of the Stones allegedly took several Benzedrine tablets, displayed a piece of hashish and invited his companions back to his flat for a "smoke". The article claimed that this was Mick Jagger, but it turned out to be a case of mistaken identity? The reporter had in fact been eavesdropping on Brian Jones. On the night the article was published Mick Jagger appeared on the Eammon Andrews chat show and announced that he was filing a writ of libel against the paper.
On 12th February, the police raided a party at Keith's home in Redlands. Mick, Keith and Robert Fraser (an art dealer) were charged later with drug offences.  Later in 2003, Keith admitted "When we got busted at Redlands, it suddenly made us realise that this was a whole different ball game and that was when the fun stopped. Up until then it had been as though London existed in a beautiful space where you could do anything you wanted."
On 29 June Mick Jagger was sentenced to three months' imprisonment for possession of four amphetamine tablets. Keith Richards was found guilty of allowing cannabis to be smoked on his property and sentenced to one year in prison. Both Mick and Keith were imprisoned at that point, but were released on bail the next day pending appeal. The Times ran the famous editorial entitled "Who breaks a butterfly on a wheel?" in which editor William Rees-Mogg was strongly critical of the sentencing, pointing out that Mick had been treated far more harshly for a minor first offence than "any purely anonymous young man".  Just before the court case, on 10th May, Brian Jone's house was raided and he was arrested and charged with cannabis possession.
The result of the appeals was that Keith's conviction was overturned, Mick's  was reduced to a conditional discharge and Brian was fined £1000 and put on three years probation and told to seek professional help.
During the 1970s The Stones remained the biggest band in the world, albeit they were rivalled by the Led Zeppelin. The Stones made thousands of live performances and multi-million record sales with hits like "Angie" (1973), "It's Only Rock and Roll" (1974), "Hot Stuff" (1976) and "Respectable" (1978). At that time both Keith Richards and Mick Jagger had individual ambitions, and applied their wild creativity in various projects outside the Stones. Keith released his own single. In 1974 Ron Wood had replaced Mick Taylor on guitar and Keith and Ron both played lead guitars. During the decade Keith Richards had a family crisis on his hands, and suffered through emotional pain and drug abuse, albeit it didn't stop him from being himself. In 1980 the group released "Emotional Rescue" which Keith Richards didn't care for, and the group didn't even tour to promote the album. In 1981 with the release of 'Tattoo You', the group went on a major world tour filling stadiums in the US and in Europe. In 1983 the Stones recorded the album "Undercover" at the Compass Point in Nassau and during this time Mick and Keith were having arguments over rights of the group. After having created tens of albums and over a hundred popular songs together, their legendary song-writing partnership was undergoing the most painful test: the bitter rivalry between two enormously talented and equally ambitious superstars.
In 2001 Mick Jagger and Keith Richard appeared at Paul McCartney's (1942–) Concert for New York City to raise money for victims of the September 11 terrorist attacks on the United States. In 2002 the Rolling Stones announced another tour, which led to more grumbling about high ticket prices. Still, there seemed to be no decrease in the number of people willing to pay any price to see the legendary band.
Mick Jagger is the heart of The Stones and Keith Richards the soul. Throughout their lives, the two carried on their early image of unkempt youth, survived ups and downs in their careers and personal lives, and remained the core of the band since they shared a flat with the late Brian Jones in London in 1962. Two other remaining members are drummer Charlie Watts and guitarist Ron Wood.  Since the 1970s they remained one of the biggest entertainment acts touring the world with an entourage of jet-set hangers-on. Their inimitable shows, both good and not so good, were played with fire and emotion, giving their audiences the kind of music they do best - it's only rock'n roll.
Copyright © 2012, DPNLIVE – All Rights Reserved
Now, sit back, Relax and check out the next 22 videos, including their concert to 1.5 MILLION people in Copacabana.  The Stones played for free and the City paid $750,000 to host the concert. The stage, facing Sugar Loaf Mountain, was the height of a seven-storey building and had a walkway linking it to the Stones' hotel. There were thousands of police on duty.
One of the largest concerts in the world.  Only Rod Steward beat them. He performed on the same beach to 3.5 MILLION people.
Dip in and out of it & come back often