The

Cat

with the

Black

Strat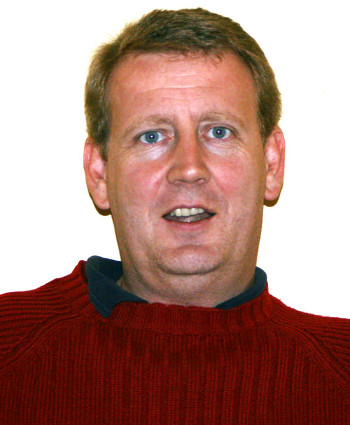 Sean MooreBy Sean Moore
May 2012
Palm Beach County
South Florida
---
David Jon Gilmour was born on 6th March 1946, in Cambridge, England. As the vocalist and lead guitarist of Pink Floyd, he is considered one of the most influential guitarists on the rock stage.
His music education began at the age of thirteen (lucky for us). Whilst Elvis may have been his primary influence, it wasn't until the Everly Brothers hit, Bye Bye Love, and a guitar borrowed from the neighbours tone deaf son that he started to play. He still has that guitar.
---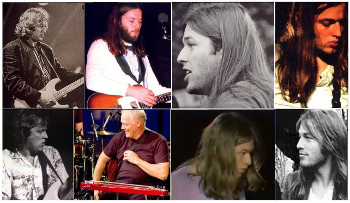 David Gilmour
In his early years he was seldom seen without a guitar in hand and by late 1962 he had joined a local band, The Ramblers. At the same time he was moonlighting with another local band, The Newcomers. By this time Dave was playing an old Burns guitar and a crappy amp but you could tell he was on his way. In 1963 Dave chose to quit school during his A levels as passing meant going to university and leaving the local music scene. He may have come across as shy and unassuming but his appearance got him noticed…. he was referred to as "the Adonis" by the girls in what would become to be known as the Cambridge mafia and with Dave's reputation growing, Brian Epstein sent a scout to see him play but decided not to sign him.
In 1965 taking a break from his new band Jokers Wild, Dave hitchhiked across France to stay with friends near St Tropez. It was during this trip he met up with his old pal Syd Barrett. One night they got drunk and were arrested for busking. They would meet again when Jokers Wild and the Tea Set where booked to play a 21st birthday party. Also playing that night, an unknown singer/songwriter by the name of Paul Simon asked if he could do a number with them, they eventually agreed and did a cover of Johnny B Good.
Later, Dave met Jimi Hendrix in Paris and was entrusted in squiring him around town. He had seen Hendrix jamming at Blaises in London the year before and raved about him. Jokers Wild would become a different band now, doing covers of Hendrix and Cream. Dave's folks came over for his 21st birthday and bought him a cream-white Fender Telecaster. He was hardly seen without it for the rest of the trip.
When their van was broken into and the microphones stolen, Dave realised that it would be cheaper to go to London and replace them rather than buying in France. It was on this trip that he would encounter Pink Floyd and a debilitated Syd Barrett. Dave could hardly believe what was happening to his old friend.
On 30th July 1966, Dave and band where on a slow train to Malaga. England had just beaten Germany in the world cup final and the band was in disarray, their gear had been lost at Calais, retrieved in Paris, lost en route to Madrid and finally turned up in Marbella. The gear and the band had not fared well in Franco's Spain and worse was yet to come. They had secured a gig as resident band at a new hotel, only problem, the hotel was still under construction and the accommodation they were promised was a bomb shelter used in WW2.
By the time they reached Marbella, the band had changed their name from Jokers Wild to Bullitt and then to Flowers to capture the peace and love mood of the time, not that there was much love in the band. They were living hand to mouth. To save money they shared a hotel room. Dave got sick and was admitted to hospital suffering from malnutrition and pneumonia. They left the hotel without paying but to his credit Dave went back five years later, found the couple who looked after him when he was ill and paid them.
His experiences in France and Spain only heightened his resolve. He was looking for a new band, in November he went to see Pink Floyd open for Jimi Hendrix. A few weeks later he would see them again at the Royal College of Art. Athe gig Nick Mason approached Dave - "If I said we were looking for another guitarist would you be interested"? The plan was that Syd would be the songwriter and join the band on stage when he wanted to, like the Beach Boys and Brian Wilson.
The early rehearsals with Pink Floyd were a bit of a struggle. He walked out of one of the rehearsals and eventually came back.
At this stage Syd was becoming more unreliable, and very soon the five piece band became a four piece.
Saucerful of Secrets was Floyd's second album and the title track was Daves first professional songwriting credit. His name is incorrectly spelt "Gilmore", an error that would persist on all pressings until finally being corrected with the 1994 re-mastered version. Rolling Stone magazine's review was unfavourable, calling it "not as interesting as their first" and "rather mediocre", highlighting the near-departure of Syd Barrett. Allmusic called it "a transitional album" on which the band moved from Syd Barrett's relatively concise and vivid songs to spacey, ethereal material with lengthy instrumental passages.
On the next project Dave worked on co-producing Syd's first solo album titled The Madcap Laughs. As Dave put it "Sessions were pretty tortuous and very rushed. We had very little time, particularly with The Madcap Laughs." Syd was very difficult and frustrating to work with.
Meanwhile the Floyd were working on their next project which was to become Umma Gumma a double album one disc was recorded in the studio and the other was a live recording. On side one Dave wrote Narrow Way his first major Floyd composition. When asked about his inspiration he replied "well, we'd decided to make the damn album, and each of us had to do a piece of music on our own".
In 1970 Floyd released, Atom Heart Mother, Dave's contribution was the beautifully pastoral Fat Old Sun on which he played all the instruments except keyboards. He went on to perform this on his last solo tour with a ripping extended guitar solo.
Although the album charted at number one in the UK, Dave was quoted saying "I think both Atom Heart Mother and Umma gumma are pretty horrible. Well, the live disc of Umma gumma might be all right, but even that isn't recorded well"
Upon its release in October 1971, Meddle received generally positive reviews from music critics. Rolling Stone wrote "Meddle not only confirms lead guitarist David Gilmour's emergence as a real shaping force with the group, it states forcefully and accurately that the group is well into the growth track again". The album consists of five songs on side one and the very brilliant Echoes on side two, showing how the band had yet again changed direction.
After many months spent touring, March 1972 saw Pink Floyd release their magnum opus "Dark side of the Moon" which would stay in the charts for 736 weeks - that's over 14 years - consecutively. It featured three of Dave's best guitar solos Money, Time and Breath reprise. They toured for the next year, slowly adding new material to the show. Wish You Were Here was released in September 1975. Dave's playing would be an very important feature of the album, with his long intro to Shine on You Crazy Diamond and the acoustic anthem of Wish You Were Here, also notable on the album is Dave's raunchy rock guitar sound on Have a Cigar. Dave married his first wife, Ginger, in 1975 and it was also the year of Pink Floyd's second US tour.
During the production of the Animals album Ginger gave birth to the first of four children, a daughter named Alice. Roger also took control of the band. The concept of working together on previous works turned into Rogers control with the exception of Dogs which was written by Dave. Critics slated it and fans loved it. Over three million people saw it live. Within this impenetrable fortress of unfriendly radio, we can hear Dave Gilmour's guitars at their absolute best. It was also around this time that Dave discovered, financed and produced English teen singer/songwriter Kate Bush after receiving a demo tape from mutual friend Ricky Hooper.
In 1978 Dave released the first of three solo albums the self-titled David Gilmour, "This album was important to me in terms of self-respect …. I needed to step out from behind Pink Floyd's shadow." Two songs stand out - Short and Sweet and Mihalis. The album charted at #17. Not too shabby for a first attempt.
At the end of the seventies, one final Floyd album was released. In 1979 The Wall was finally completed and charted at #3 in the UK and #1 in the USA (1980). it was the final leg of the Holy Trinity. The others being DsotM and Wish You Were Here. Although Dave wrote only one song for the album, Comfortably Numb has its origins in Dave's debut solo album was the source of much argument. Following a full-scale argument in a North Hollywood restaurant, Dave and Roger compromised; the song's body included the orchestral arrangement, with Dave's second and final guitar solo standing alone.
Taking time off from Pink Floyd's schedule, Dave released his second solo album - About Face in 1984. Two songs, All Lovers Are Deranged and the more radio-friendly Love on the Air, were co-written by Dave and his long-time friend Pete Townshend of The Who. The most notable track on the album is Murder. The album release was followed up by a European and North American tour which kicked off in the Stadium in Dublin, what a night it was, Kate Bush was in the audience in a blonde wig. I was also there.
Dave took up various roles as a producer, sideman and even concert sound engineer for a wide variety of acts which included former band mate Syd Barrett, Paul McCartney, Kate Bush, Berlin, Grace Jones, Tom Jones, Elton John, Eric Clapton, B. B. King, Seal, Sam Brown, Jools Holland, Bob Dylan, Pete Townshend, The Who, Super Tramp, Levon Helm, Robbie Robertson, Alan Parsons, and various charity groups among others. He also appeared on Bryan Ferry's album Boys and Girls and played with them at Live Aid. During the performance, Dave had half his chanellas fail, and to have a string break also, he pulled thru like just another day at the office.
After the Wall it seemed to many including Roger Waters that Pink Floyd was done. This was not to be the case as Dave took up the reigns and got the band back together after a few years of wrangling in the courts. They went on to produce two more studio albums A momentary Lapse of Reason and The Division Bell and two live albums.
In 2001 and 2002, he performed a small number of acoustic solo concerts in London and Paris, along with a small band and choir, which was documented on the 'In Concert' release. On 24th September 2004, Dave performed a three song set at The Strat Pack concert at London's Wembley Arena, marking the 50th anniversary of the Fender Stratocaster guitar.
On 6th March 2006, his 60th birthday, he released his third solo album, On an Island, and a day later it was released in the US; it debuted at No. 1 in the UK charts. The album reached the top five in Germany and Sweden, and the top six in Billboard 200.The album also features Dave's debut with the saxophone.
Dave toured Europe, US and Canada from 10th March to 31st May 2006 to promote On an Island. There were 10 shows in the US and Canadian leg of the tour. In a press release to promote the tour, David Gilmour stated: "I'm rather hoping that with this tour announcement, people will believe me when I say, honestly, this is the only band I plan to tour with!"
A video recording of a show from Dave's solo tour, titled Remember That Night – Live At The Royal Albert Hall was released on 17th September 2007with appearances by David Bowie and Robert Wyatt. David Gilmour's On an Island tour took place at the Gdańsk Shipyard on 26th August 2006. The concert was held before a crowd of 50,000, and marked the twenty-sixth anniversary of the founding of the Solidarity trade union.
On 4th July 2009, he joined his friend Jeff Beck onstage at the Royal Albert Hall. David and Jeff traded solos on Jerusalem and closed the show with Hi Ho Silver Lining.
On 11th July 2010, Dave gave a performance for the charity Hoping Foundation with Roger Waters in Oxfordshire, England. According to onlookers, it seemed clear that Dave and Roger had ended their long-running feud and seemed to be the best of friends. Roger confirmed via his Facebook page that Dave would play Comfortably Numb with him during one of his shows on his upcoming The Wall Live tour.
Dave released an album with The Orb in 2010 entitled Metallic Spheres, on which he co-wrote, produced, played guitar and sang on every track,.
Dave is still playing the odd gig here and there recently joining a cast of musicians in the final part of a gala performance in tribute to Douglas Adams creator of Hitchhikers guide to the Galaxy.
"The memories of a man in old age are the deeds of man in his prime"
Now hit the NEXT button below for 14 more great videos, including a full concert
---