Page 1 of 2
The Lady who has a Poker Face, is Born This Way and likes The Fame.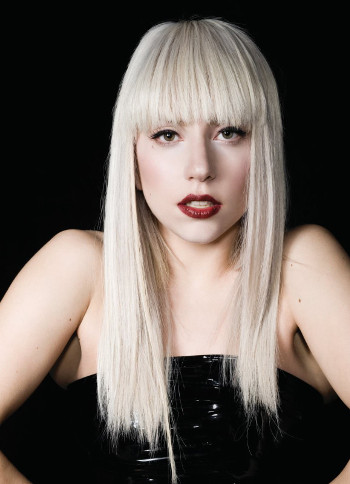 Lady GagaThis 26 year old lady is an American Singer/songwriter who only hit the big scene four years ago when she topped five million sales with her first two hits.  Even though she is a natural brunette, she has platinum blond hair under her various coloured wigs and refers to her fans as monsters.  The singer portrays herself as a rebel in her videos and often ends up killing someone – usually her boyfriend.  She used to be a go-go dancer before being discovered by R&B singer Akon.  One of her school nicknames was 'the Germ'.  In 2011 and 2010, she was ranked as no. 99 and 92 respectively in the list of 100 sexiest women.
I'm talking about Lady Gaga
Lady Gaga was born Stefani Joanne Angelina Germanotta on 28th March 1986 in Yonkers, New York to Cynthia and Joseph Germanotta.
She learned to play the piano when she was four. At the age of 11, she was accepted to the Juilliard School in Manhattan, but instead attended a private Catholic school in the city. She continued studying music and performing, writing her first piano ballad at the age of 13, and held her first performance in a New York nightclub at the age of 14.
A few years later, Lady Gaga was granted early admission to New York University's Tisch School of the Arts—she was one of only 20 students in the world to receive the honour of early acceptance. While there, she studied music and worked on her song writing skills. She later withdrew from school to find creative inspiration. To make ends meet, she took three jobs, including a stint as a go-go dancer, while she fine tuned her performance act.
When she was 18, she was signed to Def Jam Records, and was dropped three months later.  But that only gave her more determination to perform on her own and to develop her own style in clubs and venues on New York City's Lower East Side. There, she collaborated with several rock bands, and began her experimentation with fashion. She found herself among singers who wrote the same style of songs. Like all good entrepreneurs, she wanted to be different and unique. She decided to do something provocative in the music scene by being an exhibitionist theatrical performer. "Everybody did the same shit, super-boring. I wanted to do something that was original and fresh," she said during an interview.
While in a partnership, Rob Fusari compared some of her vocal harmonies to those of Freddie Mercury, lead singer of Queen. It was Rob who helped create the name Gaga after the Queen song "Radio Ga Ga".  Stephanie was in the process of trying to come up with a stage name when she received a text message from Rob that read "Lady Gaga." He explained, "Every day, when Stef came to the studio, instead of saying hello, I would start singing 'Radio Ga Ga'. That was her entrance song" and that the text message was the result of a predictive text glitch that changed "radio" to "lady". She texted back, "That's it," and said, "Don't ever call me Stefani again."  The New York Post, however, has reported that this story is incorrect, and that the name resulted from a marketing meeting. Which do you want to believe?
Lady Gaga continued building her fan base by performing at local shows.
In 2007, when she was 20, Lady Gaga worked at Interscope Records as a songwriter for other artists on the label, including Britney Spears, New Kids on the Block, and The Pussycat Dolls. R&B singer Akon discovered Lady Gaga while she was performing a burlesque show that she created, called "Lady Gaga and the Starlight Revue." Impressed, Akon signed her to his label under the Interscope umbrella, Kon Live. Through 2007 and 2008, Lady Gaga wrote and recorded her debut album, The Fame. The record received positive reviews and popular success in the United States. With the help of her own creative team, "Haus of Gaga," she also began to make a name for herself internationally.
Lady Gaga then struck a partnership with producer RedOne and created "Boys Boys Boys" with him. Creative juices flew out at rapid speed and Lady Gaga's unveiling was in the making. Songs like "Beautiful Dirty Rich", "Dirty Ice Cream", and "Disco Heaven" were the menu. Combining a lot of different genres, from Def Leppard's drums to handclap sounds on urban tracks, she mixed retro dance beats with urban melodies, a pop chorus, and still retain a rock 'n' roll edge for her debut album.
Finally her hard work paid off when her first studio album called "The Fame" hit the U.S. stores on 19th August 2008.  "It's very 70's, with early 80's Prince-like guitars and 80's synths. It's a bit retro, a bit glamorous, and you can dance to it. It's very futuristic, very fresh, and very dramatic, sort of like theatrical pop," she said.
Out of 12 new tracks from "The Fame", Lady Gaga picked a Colby O'Donis featuring song "Just Dance" as the lead single off the record. The pop-dance track was a hit in clubs in U.S. topping at both number 2 on Billboard Hot Dance Airplay and Billboard Hot Dance Club Play. Meanwhile, for the second single, she chose "Poker Face". Featuring some haunting beats, the song contains a hook interpolation from the 1977 disco hit "Ma Baker" by Boney M.
"The Fame" went on selling over 15 million copies worldwide. It was nominated for a total of six Grammys at the 52nd Grammy Awards, including for Album of the Year. It won the Grammy Award for Best Electronic/Dance Album and the Best Dance Recording for the single "Poker Face". Lady Gaga added multiple award honours in 2009 and 2010 including MTV Video Music Awards and BRIT Awards.
Lady Gaga's singles "Just Dance" and "Poker Face" both became no.1 smash hits. She followed them with the summer 2009 top 5 hit "LoveGame." All three of these were produced by RedOne. For a fourth single from The Fame she worked with Rob Fusari and the song "Paparazzi." It was accompanied by a controversial Jonas Akerlund video examining death and murder.
Towards the end of 2009 Lady Gaga's next musical step forward appeared with the release of "Bad Romance" in advance of the mini-album The Fame Monster. Her music achieved both critical acclaim and commercial success.
She went on a world tour to support the album while recording an upgraded version of it. The Fame shot further up when she released the single "Bad Romance". It topped the charts in a lot of countries such as United States, Australia and United Kingdom. Her unconventional performance and ideas began to influence the world of music, especially after the Beyonce Knowles featuring music video for "Telephone" in which she wore glasses made of burning cigarettes.
After months of feverish anticipation, Lady Gaga released "Born This Way," the title single from her third album. The album Born This Way hit the stores in May 2011. It sold 1,108,000 copies in its first week of release giving it the best single week of sales for any album since 2005.
New songs for her new album Artpop were "beginning to flourish" as she worked with producer Fernando Garibay in early 2012.  Her manager, Vincent Herbert, said that she began work on her upcoming album during the Born This Way Ball tour, stating that the material is "insane, great records."  Lady Gaga announced the album's title in August 2012, and the album will be released in early 2013.
Lady Gaga will make her debut film appearance in Robert Rodriguez's upcoming movie Machete Kills. She will play the role of La Chameleón, starring alongside a big cast in the action film that is due to hit cinema screens in 2013.
Her videos became more and more controversial beginning with "Alejandro".  The Catholic League attacked her for her alleged use of blasphemy, but she managed to dodge all criticisms and got a billion views on YouTube.
Talking social media stats: she has over 1.3 billion combined views of her videos, she's the most googled person of all time, she has over 33 million 'likes' on Facebook and has over 9.5 million followers on twitter.
She sold over 21 million albums and 51 million singles. She is ranked 73rd artist of the 2000's decade. She is included in The Times annual "the 2010 Time 100" list of most influential people in the world. She is in Forbes list of the "world's most powerful celebrities". Forbes also has her as no. 7 on their list of the worlds "100 most powerful women". She was voted no.18 on Ask men's top 99 'most desirable' women of 2012
She is 5'1" tall, is of Italian descent, has 12 tattoos, is a natural brunette and was born a Catholic.
Just to bring you completely up to date, on 10th September she was in the Arts Club in London wearing what could be compared to a wedding dress. She danced for the paparazzi in platform shoes and nearly popped out of her strapless, low-cut dress. She was in London for the 2012 Paralympic Games closing ceremony.
On 12th September, she shaved her head in tribute to her photographer friend Terry Richardson's late mother.  Terry's mother, Annie Lomax, died on Tuesday and Lady Gaga took to her Little Monsters site to share the news, along with her radical new hairstyle.
Next on the 14th September, she launched her debut fragrance, "Fame," while inside a giant replica perfume bottle.  After she arrived at the event in a convertible, attendees at the Solomon R. Guggenheim Museum on New York's Upper East Side took photos of her wearing a black sparkly blouse, black skirt and red wig inside the transparent glass bottle.  She applied make-up and played with an iPad while music (such as David Bowie's "Fame") played in the background.
On Saturday 15th September, she was in Dublin to play the Aviva Stadium to 40,000 monsters. Speaking to fans Lady Gaga said 'I have made so much of my music with Jameson. I'm not being paid a cent to advertise the whiskey. I should be. The whiskey has made my new songs,' as she took another swig on stage. At the show, she showed off a bespoke box of Gaga's Tea, specially made by Barry's Tea. Camille O'Flanagan of Barry's Tea explained: "We knew Lady GaGa was a huge tea fan and when we heard some of her fans were queuing days in advance we just had to send them a custom GaGa's Tea box.  At the show, she also told her monsters that she was glad to be back in the UK. She must have missed school the day they were doing geography!
After the show she flew to London to make an unannounced appearance at Galway born Phillip Treacy's hat Show. She wore a colourful purse that bore a four letter word.  She opened his catwalk show in a different see through hot pink burka. Referring to her fluffy fur add-ons, she defiantly said over criticism from animal rights charity PETA in the past, fresh meat wearing Lady Gaga said: 'I am choosing not to comment on whether or not the furs I purchase are faux fur-pile or real because I would think it hypercritical not to acknowledge the python, ostrich, cow hide, leather, lamb, alligator, 'kermit' and not to mention meat, that I have already worn.'
She is now 26 dates into her 122 date Born This Way Ball World Tour and has made $72 million.  On a pro rata basis, that means that she will make $377 million by the end of the tour mid next year.  Not bad for someone who only appeared on the scene four years ago!
The story continues.  You will hear more of this Lady.  Lots more.  This year, it's likely she will earn $100 million. That's not bad allowing for the fact that only four years ago she was scratching a living.  She's an entrepreneurial icon, but I'll examine that another day.
By Bob Tallent
Copyright © 2012, DPNLIVE – All Rights Reserved
Hit the NEXT button below now to see more VIDEOS