Page 1 of 7
The King is Dead  -  Long Live the King
I have had requests to write about this guy, including a long-time friend John Walsh, who rang me this week, in fact, he sang into the phone.
---
He was born in Mississippi and was one of the originators of rockabilly, an up-tempo, backbeat-driven mixture of Country and Rhythm & Blues.  His genres in music consisted of Rock and roll, pop, rockabilly, country, blues, gospel and R&B.  His career started in 1954, and was associated with The Blue Moon Boys, The Jordanaires and The Imperials.  He was a singer, musician and actor, was known the world over by his first name and is simply known as The King.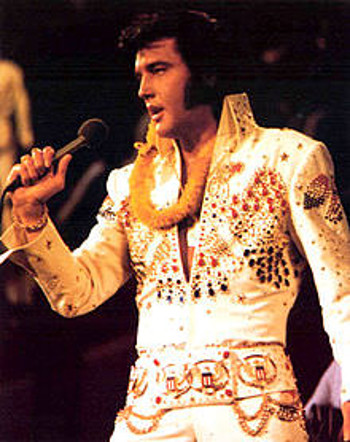 Elvis PresleyI'm talking, of course, about Elvis.
Elvis was born Elvis Aron Presley on 8th January 1935 in Tupelo, Mississippi to 18 year old Vernon and 22 year old Gladys Presley (who was of Irish descent).  He later changed the spelling of his middle name to the biblical form of Aaron.  He was born a twin and his older brother, Jesse, died at birth.  His parents were working class and didn't have a lot of money.  They moved a lot and when Elvis was 13 they moved to Memphis, Tennessee.
When Elvis was 10, he got his first guitar (because his parents couldn't afford the bicycle he wanted). He was given lessons by two of his uncles and came in fifth at a talent show at the Mississippi-Alabama Fair and Dairy Show, held in Tupelo singing 'Old Shep'.  He won $5 in fair ride tickets.  He also won a talent show at the Humes High School.  At age 15, his music teacher told him he that he had no talent for singing. He was very shy and found it difficult to perform in public.  This led to him being bullied in school.  At 18, he graduated in 1953 and worked in a few jobs while following his musical vision.  Throughout his mid teens, he would go to Beale Street, the heart of Memphis's thriving blues scene, and gaze eagerly at the wild, flashy clothes in the windows of Lansky Brothers.  When he was 18, he was wearing them.  You have to dream.  As Walt Disney said "All our dreams can come true, if we have the courage to pursue them".
Elvis cut his first demo record at what became known as Sun Studio. See the last video on this page. The record label owner, Sam Phillips, decided to take Elvis under his wing and signed him into a contract. "That's All Right Mama" was Elvis's first single in 1954 and he began touring and recording while trying to get his first big break.  On his early stage performances, his shyness caused his legs to shake, which was overemphasised by his wide trousers.  This in turn led to the girls screaming.  The rest, as the saying goes, is history.
Between 1954-55 he began to develop a following because fans liked his unusual musical style, his provocative gyrating hips, and his good looks.  In Oct 1954 he sang at the Grand Ole Opry.  This didn't go too well, with one of the Opry officials reportedly suggesting that Elvis should go back to driving a truck.  Because the Opry is very important, this was a painful disappointment in Elvis' early career.
This is specially for Ellen. Enjoy
In Jan 1955, he signed a deal with Bob Neal to be his manager.  In Spring 1955, Elvis failed to be accepted on "Arthur Godfrey's Talent Scouts," a network television show. As always, Elvis's live appearances have special appeal for teenagers, especially the girls.  Less so the boys, whom in some towns tried to attack him.  On occasions he had to have a police escort.  In August 1955, he signed a management contract with Hank Snow Attractions, which was owned equally by Hank Snow and Colonel Tom Parker. Bob Neal continued to be involved as an advisor. Colonel Parker became Elvis' exclusive manager from this time on and Hank was no longer connected to Elvis.
In Oct 1955, his new manager, Col Parker, organised a deal with RCA Records and he signed with them.  Col Parker negotiated the deal to break the contract with Sun for a huge figure of $35,000 with a bonus of $5,000 for Elvis.  This was huge money in those days and would equate to over a million dollars today.    Elvis was on a roll. He recorded his first number one single with Heartbreak Hotel, his first number one album, Elvis Presley,and signed a movie contract with Paramount Pictures—all in 1956. He was only 21 years of age.  His sexy dance moves caused uproar.  His sound and style combined with his diverse musical influence and challenged the social and racial barriers of the time.  He brought in a whole new era of American music and popular culture.  He was also a popular guest on a number of television variety shows, including the Ed Sullivan Show in Oct 1956.  RCA brought in pianist Floyd Cramer, guitarist Chet Atkins, and three background singers, including Gordon Stoker of the popular Jordanaires quartet, to fill out the sound of his own band Moore, Black & Fontana.  Chet Atkins was also the hero of Tommy Emmanuel, whose article you can read here.
The film Love Me Tender was released in 1956. It was a box office hit.  He began to appear everywhere on radio, TV and screen and became an international sensation.
In Dec 1956, The Wall Street Journal reported that Elvis merchandise has grossed $22 million in sales.  The beginning of a successful movie career, huge record sales (five number one singles, two number one albums, and other hits), history-making television appearances, record-breaking personal appearances all came together in 1956.  Elvis has become the primary symbol of the new youth culture in America.  He was one of society's most controversial figures. His unique blending of country and gospel music, R&B and gospel, pop music is still unmatched to this day.  His particular brand of charisma, talent, success and controversy helped to begin a cycle of change in music and pop culture. Elvis Presley was changing the world.
Throughout 1956 and 1957, the Elvis craze continued with shows, records, albums and films. His records are banned in The Soviet Union, yet bootleg versions are cut on old X-ray plates and sold for 50 roubles (about $12.50)
At 10:00 a.m. on Monday, 19th March 1957 22-year-old Elvis, accompanied by his parents, met the real estate agent Virginia Grant at Graceland. At this time the property was a 13.8-acre farm about 10 miles south of downtown Memphis in Whitehaven, an area that was still largely rural at that time. The property included a large, two-story house, a barn, and rolling pastures. Elvis checked out the property for a few minutes, then christened the house by playing some Rock 'N' Roll at a piano. Elvis, Vernon and Gladys Presley signed the sales contract on the spot as purchasers, and a closing date was set for Tuesday, 26th March at 4:30 p.m.
Elvis was lucky to get Graceland as it had already been sold to the YMCA for $35k when he saw it. By upping the price significantly Elvis finally bought it. The purchase was funded by a combination of $10,000 cash deposit, trade of the Presley home on Audubon Drive for $55,000 and mortgage of $37,500.  Total of $102,500, about $2.6 million in todays money.
When Elvis was a poor youngster, he often told his parents that some day he would make a lot of money, buy them the finest house in town, and end their years of hard work and financial struggle.  He was a man of his word.  He succeeded.
In 1957 Elvis spent his first Christmas in Graceland with his entire family. He also got his draft notice.
In 1958, he was drafted into the army and served a year and a half in Germany in the 3rd Armoured Division in Friedberg.  His serial number was 53310761. Just before he was sent to Europe, his mother, Gladys, died at the age of 46 on 14th August. Elvis was devastated and got special leave to attend the funeral. Even while on leave from the army he had recording sessions. While in Europe, he went to other shows such as the Moulin Rouge.  At a party that he threw one night, he met a 14 year old called Priscilla Beaulieu.  As a sergeant, he got his official discharge on 5th March 1960.  Throughout his army career, Col Parker kept Elvis in the limelight through memorabilia and new releases.  He donated his Army pay to charity, bought TV sets for the base, and bought an extra set of fatigues for everyone in his outfit.
After leaving the army Elvis continued his career and soon rose again to the top of the charts with the soundtrack for his film GI Blues. He continued recording music and acting in such films, as Blue Hawaii (1961), Girls! Girls! Girls! (1962), andViva Las Vegas (1964). His films were often hit or miss with critics and audiences alike, but they made a profit and the soundtracks usually sold well. By the late 1960s, Elvis had begun to lose his appeal. He did a TV special in 1968 called Elvis, which is referred to as 'Comeback Special'.  It went down really well (got 42.5% of total viewing audience) and led to an extended Las Vegas concert residency, where he did two shows a day, and many profitable tours.   Jon Landau of Eye magazine said, "There is something magical about watching a man who has lost himself find his way back home. He sang with the kind of power people no longer expect of rock 'n' roll singers. He moved his body with a lack of pretension and effort that must have made Jim Morrison green with envy."
This is the entire Aloha from Hawai show
In 1973 Elvis had the first satellite concert broadcast globally, Aloha from Hawaii. It was seen by about 1.5 billion people.  His costume became the most recognised example of the elaborate concert clothes with which we today associate with Elvis.  As described by Bobbie Ann Mason, "At the end of the show, when he spreads out his American Eagle cape, with the full stretched wings of the eagle studded on the back, he becomes a god figure."
In 1967, he married Priscilla. They had a daughter, Lisa Marie in 1968.  The marriage didn't last too long and they got divorced in 1973. Priscilla got custody of Lisa Marie.
Around that time, he got hooked on drugs. His health began to decline and he put on weight.  Earlier in his career, he was totally anti-drugs.  Elvira (Cassandra Peterson), met Elvis during a period in Las Vegas, where she was working as a showgirl. She said, "He was so anti-drug when I met him. I mentioned to him that I smoked marijuana, and he was just appalled. He said, 'Don't ever do that again.'" Elvis was not only deeply opposed to recreational drugs, he also rarely drank. Several of his family members had been alcoholics, and he didn't want to follow them.
Elvis had been attacked a few times and received death threats.  On a few occasions on stage, he carried two guns on him and the FBI treated the threats seriously.  He also had a team of his own security guards, friends, associates, employees and "yes-men" whose main function was to be around him.  They were called the 'Memphis Mafia'. Several filled practical roles in Elvis's life.  For example, as well as bodyguards they would work on tour logistics and scheduling. In these cases Elvis paid salaries, but most lived off fringe benefits such as gifts, cars, houses and bonuses. Over the years, the number of members grew and changed, but in general, there was a core group who spent a lot of time with him. Elvis preferred men around him who were loyal, trustworthy and respectful. Therefore, family members and friends of his youth were very important to him. "For the first time in his life, he had a group of male friends to pal around with, and he relished being the leader of the pack" as one of them said.  In saying all that, his father Vernon (who handled some of his financial affairs) sacked some of the bodyguards, saying he had to cut back on expenses.  There are different versions of this story.  One says that Elvis was afraid to talk to them himself.  Another said they treated fans too rough that led to lawsuits.  Another said they were outspoken about his drugs.  As a journalist said "it was no wonder that as he slid into addiction and torpor, no-one raised the alarm: to them, Elvis was the bank, and it had to remain open."  One of the mafia said "Elvis was his own man. ... If we hadn't been around, he would have been dead a lot earlier."
Regardless of his problems, he continued to be popular in Las Vegas and on tour.  In 1970, he met with President Richard Nixon.
He gave his last concert in June 1977 in Indianapolis, Indiana. After the concert, he returned home to Graceland to prepare for another tour.  He suffered from multiple illnesses: glaucoma, high blood pressure, liver damage, and an enlarged colon, each aggravated and possibly caused by drug abuse.
He was due to fly out of Memphis on the evening of 16th August 1977, to begin another tour. That afternoon, he was discovered unresponsive on his bathroom floor.  Attempts to revive him failed, and he was officially pronounced dead at 3:30pm at Baptist Memorial Hospital.  He was only 42 years old.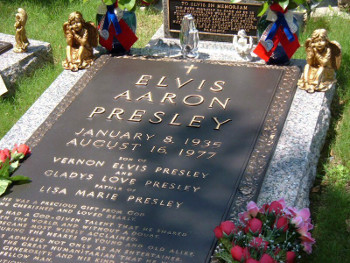 Elvis's father, Vernon, lived almost two years past Elvis' death, he died on26th June 1979 in Memphis, Tennessee aged 63. Just past the pool area in Graceland is the Meditation Garden. That is where Elvis, his mother Gladys, his father Vernon and grandmother Minnie Mae Hood Presley lie buried.
Let me give you an example of hard work:
In his 24 year career, he starred in 33 films, released 73 albums which is made up of 22 studio albums, 20 soundtracks, 6 live albums, 8 compilation albums, 7 budget issues, 10 EPs and he appeared in 16 TV specials, had 1777 US concerts.  On a per annum basis that is 1.4 films + 2.04 albums + 0.66 TV specials + 74 US concerts.  In Las Vegas, he did two shows per day.  I can't find a listing of concerts outside of USA.  In the final seven years, he did an average of 140 US concerts pa, nearly three per week.  He mustn't have had any time to scratch himself!
He made history with his TV appearances and TV specials, achieved great acclaim through his many, often record-breaking, live concert performances on tour and in Las Vegas.  Globally, he has sold over one billion records, more than any other artist on this earth.  His American sales earned him gold, platinum or multi-platinum awards. Among his many awards and accolades were the Grammy Lifetime Achievement Award which he received at age 36, 14 Grammy nominations (3 wins) from the National Academy of Recording Arts & Sciences and being named One of the Ten Outstanding Young Men of the Nation for 1970 by the United States Jaycees.
If Elvis had survived, he would be 77 this year and he is regarded as one of the most important music figures of the twentieth century.  In the 35 years since he died, there has been 60 box sets and albums released and 35 TV specials.  There are Elvis impersonators and memorabilia everywhere.  His estate is earning over $50 million per annum.  It is a not-for-profit organisation called Elvis Presley Enterprises.  You can read an article on this here.
Merchandise sales and attendance at Graceland are soaring. The new Elvis Sirius Satellite Radio show, new licensing ventures, including Martin Guitars, slot machines and Thomas Kinkaid art are expanding the brand and is adding to the already extensive royalties.
Sleep in Heavenly Peace Elvis Presley, King of Rock & Roll!
The King is dead - Long Live the King.
Now, hit the NEXT button below