Page 1 of 4
The Irish Rocker

with the

Famous

S

u

n

b

u

r

s

t

Battered

Strat

.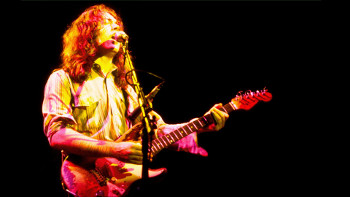 Rory GallagherThis Irish blues-rock guitarist would be 64 if he was alive today.  He was born in Donegal, raised in Cork and died at 47 years of age.  As a charismatic live performer in the Irish band Taste, he sold 30 million albums worldwide. Although he didn't tour the U.S. enough, spending most of his time in Europe, he was, however, known for his no-holds-barred, marathon live shows at clubs and theatres around the United States. A comprehensive biography hit the shelves late last year (2012) written by Marcus Connaughton.
I'm talking about the rock Legend Rory Gallagher.  Pronounced 'Gal-a-her'. This bio was requested by TonyJ.
William Rory Gallagher was born on 2nd March 1948 in Ballyshannon, in County Donegal to Danny and Monica. His father, who came from Derry, was working on a hydroelectric project in the area at the time. He also played the accordion and sang with the Tir Chonaill Ceile Band.  Monica was a singer and acted with the Abbey Players in Ballyshannon.  Rory got his first guitar at the age of nine, although his brother Donal (later his manager) remembers him tuning into American radio in search of blues music at six years of age. His inspirations were Elvis, Chuck Berry, Eddie Cochran, Muddy Waters, Woody Guthrie, Big Bill Broonzy, Lead Belly and Lonnie Donegan.  Both brothers were encouraged to play music.
Rory's very Early Years
When Rory was eight, the family moved to McCurtain Street in the cosmopolitan centre of Cork City, his mother's home town. Still at school (aged 14), he was determined to play. "I had tried to get a group together at school, which lasted one night!" he remembered. "I was still doing the odd show on my own like talent shows and charity shows, pioneer rallies. So when I saw an ad in a paper -'Showband needs guitar player' - I said, Well, I'll give it a bash. These fellas were doing two or three gigs a week and I could plug into an AC30 - the amplifier I had at home was a four-watt Selmer! I handled the rock'n'roll department, basically. The two years I had with them was fun - at the age of 16, I was playing the showband gigs in England in Lent [Irish dance halls closed for the six weeks of Lent] - which gave me the chance on nights off to go down to the Marquee and see The Yardbirds or Spencer Davis."
The Stratocaster
He bought his first electric guitar when he was 12 with prize money he won from a talent show. When Rory was 14, he bought a Fender Stratocaster (Serial Number 64351) for £100 that became his primary instrument and most associated with him for the rest of his life.  This was the first Strat in Ireland. The story behind the Strat was that Jim Connolly ordered it from Crowleys music shop. The wrong colour came in and Rory bought the now second-hand sunburst Strat for just less than £100.  He modified it extensively over the years, changing the tuning pegs, the nut, the scratchplate, pickups and the wiring.  The Strat was stolen from a van and left in a ditch for a few years. When Rory got it back, unbelievably, it didn't seem to have damaged the guitar. However, it did suffer extreme wear as a result of Rory's playing style. The sunburst paintwork wore away, the neck bent, there was a bump in the scratchplate, the pickups packed in and the clay double-dot inlay at the 12th fret fell out and was replaced with a plastic one, which is why it's whiter than the other inlays.
The Strat was the key to Rory's sound. He could talk about it all night. "It's dated November 1961 – in certain people's opinions this is when Fender hit their peak," he said. 'I like the maple neck. Like on the earlier guitars, they're probably a bit more crisp, but there's a warmth to this, a mellowness because of the rosewood neck. This is the best, it's my life, this is my best friend. It's almost like knowing its weak spots are strong spots. I don't like to get sentimental about these things, but when you spend thirty years of your life with the same instrument it's like a walking memory bank of your life there in your arms.'
During this time, he also learnt the ukulele, harmonica, slide guitar, alto saxophone, bass, mandolin, banjo, and the coral sitar with varying degrees of proficiency.
The Start of his Career.
At this time in Ireland – he was an early to mid teenager - there was a shortage of radio and TV stations that played enough variety of music to satisfy Rory.  He watched and listened to the BBC and stayed up late at night to listen to radio Luxembourg and AFN because he didn't have a record player to play albums.  He began experimenting with folk, blues, and rock music.
When he was 16, he joined the Fontana showband who toured Ireland and UK. It was akin to the start of his apprenticeship.  This gave him the money to make the payments on his £100 Strat.  The band mainly played pop music, but he moulded them to play blues and R&B.  The band's name was changed to The Impact and they played in Ireland and Spain.  They disbanded when Rory left with the bassist and drummer to perform as a trio in Hamburg.  "We went over there in a van, didn't even have a key for the ignition, just a screwdriver," Rory recalled. "No locks on the door either — we had to tie ropes around it".  For three weeks the trio played seven sets a night, 15 minutes off every hour. Hamburg was a steep learning curve.
In 1966 (he was then 19) Rory returned to Ireland and began experimenting with other musicians back home in Cork.  He then decided to form his own band.
Taste
He formed 'The Taste', later just changed to 'Taste', with two Cork musicians, Norman Damery and Eric Kitteringham (after the Axills – the first really big beat group in Cork - disbanded), but the line-up which gained worldwide fame was formed in 1967, featuring Rory Gallagher on guitar and vocals, John Wilson (drums) and Richard McCracken (bass).  This is the line-up that turned Rory into the First Irish Rock Star. "Rory was the first to get out there and do it properly.  He became a hero to a whole load of people who didn't know anything about the blues" recalls Irish rocker Henry McCulloch.
Taste performed extensively in the United Kingdom.  They gained a reputation on the London rock scene. High profile performances included a residency at the Marquee Club, supporting Cream at their Royal Albert Hall farewell concert, and supporting the blues supergroup, Blind Faith, on a US tour.
Managed by Eddie Kennedy, the trio released the albums Taste and On The Boards, and made two live recordings, Live At Montreux and Live At The Isle Of Wight. The latter appeared long after the band's break-up, which occurred shortly after their appearance at the 1970 Isle of Wight Festival.
While Taste played in some ballrooms, they mainly played Dublin, Belfast and then the UK. The ballrooms had a rule that bands had to have more than three members, so Rory fleshed out the band with people banging tambourines at the back. They were getting a fiver a night in ballrooms, where showbands were paying musicians £70-100 pw.  That is why they moved to Dublin, Belfast and UK.
Rory went Solo
Rory began performing under his own name in 1971, after recording his 1970 debut, Rory Gallagher for Polydor Records in the U.K. The album was picked up for U.S. distribution by Atlantic Records and later that year he recorded Deuce, also released by Atlantic in the U.S.
He toured under his own name, hired former Deep Joy bass player Gerry McAvoy to play on 'Rory Gallagher', the album. This began a 20 year musical relationship between Rory and Gerry.  Wilgar Campbell performed on drums.
The trio had a gruelling schedule, which caused Wilgar to quit.  So they took in Rod De'Ath and Lou Martin on piano from Belfast.  They released Live in Europe, Blueprint, Tattoo andIrish tour '74.
When virtually no other international rock artist would take the risk, Rory continued to play in Belfast throughout the troubled '70s, and his consequent influence in the province speaks for itself. Ulster TV were the first to assemble a posthumous Rory Gallagher documentary tribute (just three weeks after his death), and it's no surprise that his official Website is run from Belfast and that tribute concerts take place annually in the city.
In 1972/3 Rory was at his critical and commercial peak. He turned down serious invitations to join The Rolling Stones and Deep Purple, and did sessions for Chris Barber, Muddy Waters and Jerry Lee Lewis.
He released Calling Card for Chrysalis in 1976, and Photo Finish and Jinx for the Atlantic Label in 1978 and 1982. By this point Rory had made several world tours, and he took a few years rest from the road. He got back into recording and performing live again with the 1987 release (in the U.K.) of Defender. His last album, Fresh Evidence, was released in 1991 on the Capo/I.R.S. label. Capo was his own record and publishing company that he set up in the hopes of eventually exposing other great blues talents.
Rory suffered from self doubt and feared the future.  He said "I agonise too much".  In saying that, he had lots of good times.  He remembered when his bodyguard, Tom O'Driscoll (nothing to our own Martin), threw Rory himself offstage in the middle of melee, how Bob Dylan was unrecognised and was turned away from the dressing room, how John Lennon stole all the attention from Jerry Lee Lewis in his dressing room.
Rory stole the title of Best Guitarist from Eric Clapton in Melody Makers Readers Poll in 1972.
Over his lifetime of 25 world tours, he never quite cracked America.
Some of Rory's best work on record wasn't under his own name; it is stuff he recorded with Muddy Waters on The London Sessions (Chess, 1972) and with Albert King on Live (RCA/Utopia). Rory made his last U.S. tours in 1985 and 1991, and admitted in interviews that he'd always been a guitarist who fed off the instant reaction and feedback a live audience can provide.
In a 1991 interview, he told Richard Skelly of All Music: "I try to sit down and write a Rory Gallagher song, which generally happens to be quite bluesy. I try to find different issues, different themes and different topics that haven't been covered before...I've done songs in all the different styles...train blues, drinking blues, economic blues. But I try to find a slightly different angle on all these things. The music can be very traditional, but you can sort of creep into the future with the lyrics."
Donal, his brother, set up an independent label, Capo, retaining ownership of Rory's material while licensing it to Demon Records. Rory's only albums after 1982 —Defender (1987) and Fresh Evidence (1990), both darkly tinged, but supremely powerful works - were products of this arrangement. Because of careful worldwide licensing, they were also his most commercially successful releases. Donal painstakingly reclaimed control of Rory's back catalogue, and took over the business affairs and touring arrangements.
Rory's Death
Rory's health and his ability to perform were increasingly compromised by excessive use of alcohol, combined with prescription drugs that had been taken to alleviate his anxiety about flying.
From the late 1980s, he suffered increasingly poor health, yet he continued touring. By the time of his final performance on 10th January 1995 in the Netherlands, he was visibly unwell. He had a liver transplant which went wrong in the hospital.  Just before being discharged , he developed a MRSA infection. His health quickly deteriorated and he died in London on 14th June 1995.
Rory Gallagher's final resting place is in St Oliver's Cemetery, on Model Farm Road just outside Ballincollig near Cork City, Ireland.  His headstone is a replica of an award he received in 1972 for International Guitarist of The Year.
The music world sent their condolences.  15,000 people lined the streets of Cork as he was laid to rest. Rory's dedication to the rock world's skills base also saw him teach a budding player how to play a riff or get a certain sound.  Brian May, lead guitarist of Queen was one such beneficiary, "so these couple of kids come up, me and my mate, and say 'How do you get your sound Mr. Gallagher?' and he sits and tells us," recalls Brian. " So I owe Rory Gallagher my sound".
Eric Clapton stated "The man who got me back into the blues".  "Rory's death is a tragic loss of a great musician and a very good friend" Van Morrison.  "An uncompromisingly serious musician." The Times, 16th June 1995.  "It was all about him playing the guitar, it got into your soul." Cameron Crowe (Writer/Film Director)
His Legacy and Tributes
Rory had 18 albums, 35 compilation albums, 1 EP and 8 DVDs.
Rory Gallagher is commemorated throughout Ireland and the World:
A bronze statue in Ballyshannon,
A sculpture in Cork
A Cork theatre is named after him,
A mounted guitar in Dublin,
Rory Gallagher Corner at Meeting House Square in Temple Bar Dublin,
The Rory Gallagher Music Library in Cork
An award-winning annual Blues festival is held in his honour in Ballyshannon
A plaque in Belfast
His famously battered paint stripped Sunburst Strat has been marketed by Fender in a tribute model.
There's a Rue Rory Gallagher in Paris,
The French town of Bedoin in Vaucluse at the base of Mont Ventoux has a street named after Rory Gallagher in the old town, "Impasse Rory Gallagher"
An annual festival in Ireland
Tribute concerts held each year in his honour around the world.
New York City based Celtic Rock band Black 47 paid tribute to Rory Gallagher on their 1996 major-label release, "Green Suede Shoes." The track titled "Rory" features vocalist/guitarist Larry Kirwan delivering a passionate and heart-felt tribute to Rory Gallagher's talent and stardom. Flynn Amps manufacture a Rory Gallagher signature Hawk pedal, cloned from Rory's 1970s pedal.
Comic book artist Timothy Truman is also a fan, and GrimJack #4: Legacy has a cover and story line utilising Rory's image.
There are a number of Rory Gallagher tribute bands, many of whom perform at the Rory Gallagher International Tribute Festival in Ballyshannon.
Irish musician John Spillane released a tribute song "A Song for Rory Gallagher" on his album Hey Dreamer.
French musician Dan Ar Braz released a tribute song "Gwerz Rory" on his album La M?moire des Volets Blancs.
English rock band The Wave Pictures recorded a song about Rory Gallagher entitled "Live in Europe" on their 2004 album The Airplanes at Brescia.
Rory's story will never end.
His legacy is maintained by his family, brother Donal and nephew Daniel, his music remains ready to inspire and thrill generations old and new.  It is readily accessible on awe inspiring live performances preserved on a wealth of DVDs, a comprehensively curated official website and remastered recordings.
Rory Gallagher died too young with much still to achieve and offer but the wealth and quality of the material he produced in his lifetime ensures his ever questing, hungry spirit lives on.
By Bob Tallent
Follow us on Twitter - @DigiPrintNews
Like us on Facebook at www.facebook.com/dpnlive
Copyright © 2013, DPNLIVE – All Rights Reserved
You have THREE more pages showing 30 great videos, including 15 FULL CONCERTS
Now hit the next button and enjoy the First Irish Rock Legend