Page 1 of 2
The Guitar Maestros

who let their fingers do the talking
By Bob Tallent
6th March 2013
Tommy EmmanuelLast August (2012), I booked 4 tickets to see Tommy Emmanuel in concert at the The Helix in Dublin.  This was my third time seeing the virtuoso live in Dublin.  I have been a fan of Tommy for many years and admire his style.  Having watched practically every YouTube video of him over the years, I decided to see him for the first time in 2010 in the same venue.
So I booked two tickets, for my wife Loreto, and me.  You see, I've been trying to teach myself guitar for the past few years and because I sing like a crow, I decided to learn fingerstyle.  A 12 year old kid would be able to pick it up fairly quickly and be at my level in six months, but it has taken me six years to be just embarrassingly poor.
Many years ago, I came across Tommy Emmanuel and looked him up on youtube.  I was gobsmacked when I saw just how good he was and wrote an article on him for this site on 16th December 2011.  See here.  That was his last gig in Ireland up to last Tuesday.
Back to buying the tickets in 2010:  Loreto is not into the guitar; she likes music and loves live performances, so I told her that I had booked a ticket for her as well to see Tommy.  She said great.  It was 'great' in terms of that's ok; I'll come along, no enthusiasm.  I told her that it was solo guitar, that he was brilliant and would be playing some stuff she knew.  She's not into YouTube, so she didn't look him up beforehand.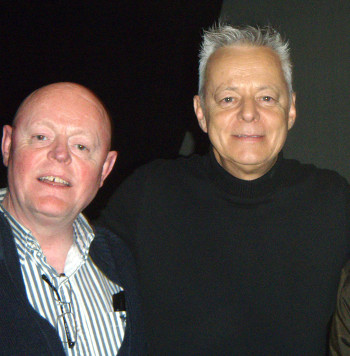 Tommy Emmanuel and Bob TallentIt was November 2010, we went to the Helix and she was mesmerised.  Tommy has such a charismatic stage presence that he is totally at ease on stage because the guitar is part of his body.  If you are a guitarist, you go to a Tommy performance to see the absolute expert at work.  In my mind, there is no better acoustic guitarist in the world.  Like all geniuses, he makes it look easy. He is relaxed on stage and has that X factor that cannot be described.  I suppose if we could describe it, others would copy, and Tommy can't be copied.
In 2010 he played everything I expected and more.  Brilliant is an understatement.
In 2011, I kept a lookout for Tommy coming back to Dublin.  His show was arranged for December 2011 and I bought the tickets four months in advance.  This time I said it to friends of mine, Tony & Ann Judge, who said they wanted to come along too.  So I bought four tickets.  This time, I organised a 'meet and greet' with Tommy.  We went to the desk in the Helix at 7 o'clock and met Tommy's staff in charge and were told to wait 'over there'. We waited and waited, and waited some more!  At 8.15 we went into the concert.  It seems the 'meet and greet' came and went and we weren't called. All of us were very disappointed, but the show more than made up for it.  He played a lot of his old stuff and some new stuff that was brilliant. Boy could make that guitar talk.
I looked out for his 2012 concert, but there was none.  His next one was scheduled for the 5th March 2013 instead, so I booked four tickets and a 'meet and greet' with Tommy.  This time, I was going to make sure I got to meet him.  Tony picked us up at 6.30pm and brought us to the Helix. We got there before 7, I spoke to Tommy's staff and we went in to the inner sanctum to meet him.  There were about 30 people there.
We sat down and one minute later Tommy appeared.  He came straight over to Tony and me, introduced himself (as if he had to); we responded likewise and then had a short chat.  I was like a schoolkid and got tongue-tied.  Never in my wildest dreams did I expect him to actually come and talk to me!  Then, he made his way around to every single person there, shook everyone's hand and spoke to each person as if he knew them for years.
A few people had brought guitars for Tommy to sign, which he duly did.  Even the people who were too shy to ask, he asked them if they wanted them signed.  He signed everyone's 'meet and greet card' and then spoke about music and guitars.  Some people asked him how to play particular pieces, so he took their guitar and showed them, explaining chord changes, finger style and so on.  One guy asked him how to play a particular part of one song, so Tommy played it for him and he then said, that's the bit, how do you do that?  Tommy said he's been going 'de de de dah' for 50 years and he showed him.
Everyone who wanted it got their picture taken with him. I was one of them.  And I got a few videos of the M&G also.  At 7.30, he went off to get ready for the concert.
We went into the foyer and had a pint before the show which started at 8 pm on the button.  I love that.  Starting on time is one way of showing respect for the audience.  Artists who appear late on stage for their shows, are, in my mind, simply showing pure contempt for their audience.  People make arrangements to get there and pay good money for the tickets, so a late start is totally unacceptable.
Justin Bieber was one of those at the London O2 Arena this week.  He started nearly two hours late. Justin was due to start at 8.30 pm and came on at 10.20 without apologising onstage.  He also passed the 11 pm noise curfew in London and was fined £10,000 per minute for the overrun.  The total fine was £300,000, a drop in the ocean to the young Canadian.  He was booed and a lot of people had left by the time he got onstage because they had buses to catch and had young kids. That's a pure disgrace.  Is he getting too big for his boots at 19 years of age?
I remember another concert Loreto and I went to in Landsdown Road a few years ago. It was Michael Flatley and he arrived nearly 2 hours late too. I would never go to a Michael Flatley concert again.  It was the same thing with a Cher concert we went to. Again, while I love her music, I will never go to see her for the same reason.
Now back to Tommy. The show started at 8 with Tommy and Martin Taylor playing.  It had been billed that Martin was doing support.
I know Martins music also. He is a self taught guitarist who mainly plays jazz – more particularly the Django Reinhardt style – for the past 50 years.  For his contribution to music he was given two Honorary Doctorates in 1999 and 2010 and an MBE from the Queen in Buckingham Palace. In 2007 he received the prestigious BBC Radio 2 "Heart of Jazz" Award in recognition of his career in music and was presented with a Lifetime Achievement Award from the North Wales Jazz Guitar Festival for his "Contribution to Jazz Guitar Worldwide".  He has also received a record 14 British Jazz Awards as a guitarist, and as a composer he was nominated for "Best Contemporary Song" in the BBC Folk Awards in 2009.
Martin has played with such greats as StephaneGrapelli, Jeff Beck, Chet Atkins, Bill Wyman, George Harrison, Dionne Warwick, Diane Schuur and Jamie Cullum.  He recorded over 20 albums and one with StephaneGrapelli "Together At Last" won a Grammy Nomination in 1987.  His music was used in many films, including "Milou En Mai" directed by Louis Malle, and more recently his composition "Green Lady" is featured in the Andrew Piddington movie "The Killing of John Lennon".  His music was used as the theme for "After You've Gone" featuring Nicholas Lyndhurst and Celia Imrie, and the cult "Nicole-Papa" TV commercials for the Renault Clio.
So Martin is up there with the best of the best.  He is no gobdaw and on stage he was brilliant.  His fingers do the talking.
But, and here is the but. We didn't go to see Martin Taylor all night.  I thought he was going to play support until maybe 8.30 and then Tommy would take over, like at previous concerts.
I know they were promoting their new CD together – "The Colonel & The Governor", which I can tell has great music on it, but we booked to see Tommy and in all fairness he only played about 3 tunes onstage alone, two of which were his signature pieces of "guitar boogie" and "classical gas".
There were two absolute masters onstage and nearly everyone in the audience played the guitar, so they appreciated the skills.
Martin spent more time onstage alone than Tommy did yet we didn't go to see a Martin Taylor show, we went to see a Tommy Emmanuel show.  The ticket says 'Tommy Emmanuel with guest Martin Taylor'.
I know I'm sounding bitchy about this, so now that I've said it, I'm getting over it.
As I said, there were two thorough professionals onstage.
Martin made his guitar sound like steel drums – calypso style – in Down at Cocomo's.  Tommy made his guitar sound like a set of drums using his hands and his drum brush. What they couldn't do with their guitars couldn't be done.
Tommy commented in the middle of the concert that a ticket for the concert was given to him because a gentleman, whose name I can't remember, who was due to go to the concert, died on Monday. He dedicated a song to him which was a lovely gesture on his part.  He also said that he had to retire his old beat-up guitars and get new ones and that brought new music.
The concert ended at 10.30 and they did one encore.
I will be going to see Tommy again next year.  But, Tommy, please do the concert on your own.  You're much better that way.  Next year, at the 'meet and greet', I'll bring my guitar to get it signed.  I'm excited already.
Now hit the NEXT button below to see ten more great VIDEOS