The man who mitched from school to play music
and turned into a world known name
as a musician and actor.
Article By Bob Tallent
Videos by Frazer McMenzie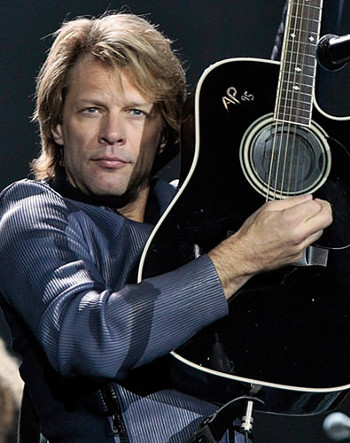 Jon Bon JoviThis American man missed a lot of school so that he could practice music. Both his parents were US Marines. His cousin, Tony, owned the famous New York recording studio, the Power Station, where he made a few demos after he left school. When he was 16 he was playing clubs and joined up with David Bryan who played with him in a ten-piece rhythm and blues band called Atlantic City Expressway. He also performed with bands like The Rest, The Lechers and Wild Ones. He is an actor as well as a singer and now heads up his own band. His nickname is Captain Kidd and his mother was one of the first Playboy bunnies. He once said "Success is falling nine times and getting up ten." The man has won seven awards, is a record producer, has four children and two brothers, has acted in 15 films, wrote the music for Young Guns and has a string of hits to his name.
I'm talking about Jon Bon Jovi.
He was born John Francis Bongiovi Jr. on 2nd March 1962, in Perth Amboy, New Jersey to John Francis Bongiovi and Carol Sharkey. His father was of Slovak and Italian descent (from Sciacca in Sicily) and his mother was of German and Russian descent. He said that he is a blood relative of singer Frank Sinatra. Jon Bon Jovi was raised Catholic. His grandfather was a mortician; he owned Bongiovi funeral home in Raritan, New Jersey.
Jon Bon Jovi knew in his early teens that he wanted to be a rock star. In 1979, when he left school at 17, he worked in Tony Bongiovi's recording studio sweeping floors. In 1980, when Meco was there recording Christmas in the Stars: The Star Wars Christmas Album, Tony recommended him for the song "R2-D2 We Wish You a Merry Christmas." This was his first professional recording.
In 1982, at the age of 20, he recorded his first single, Runaway, at The Power Station. After he was turned down by many record companies, he was lucky to get the radio station WAPP 103.5FM "The Apple" in New York to play his song. This got him noticed and then he realised that he would have to form a proper band and not just have session players. At this point, he was still known as John Bongiovi.
In order to promote the single, he convinced Mercury/Polygram Records to take him on and he got a recording contract in 1983. So that he could form his own band, he enlisted David Bryan who in turn called bassist Alec John Such and drummer Tico Torres. He also contacted his neighbour, Dave Sabo who later formed the group Skid Row (not the Irish Skid Row with Brush Shiels and Phil Lynott). Sabo was eventually replaced by Richie Sambora. It was around this time that they came up with the name Bon Jovi.
The band became popular for its power ballads, soaring guitar riffs, and well-crafted melodies. On 21st January 1984, they released their first album which went gold. It was around this time that Jon's cousin Tony apparently sued Jon and the band by claiming that he'd been responsible for their creation and unique sound. The case was reportedly settled out of court in 1986.
In 1985, the band's second album 7800 Fahrenheit was released and also gained a gold record sale status, but the critics weren't impressed. They wanted to aim higher.
So they toured as opening acts for the Scorpions, Kiss and Judas Priest. This helped Bon Jovi build up a considerable fan base that appreciated the group's rugged, soulful collection of songs about how tough it was to be a teenager. But it still wasn't enough. They had to aim even higher. But how to do it was the question?
Jon's strategy was to enlist the help of professional songwriter Desmond Child to work on their sound for their next album, Slippery When Wet. The group wrote a total of 30 songs. As a brand-new approach (the second part of the strategy) they auditioned the songs for local teenagers in New Jersey and New York to enable them to base the final running order of the album based on their opinions.
This album was released in 1986 and it became the huge hit they wanted. Slippery When Wet sold nine million albums in the USA and 14 million around the world. This put it in the same league as Michael Jacksons Thriller. Two songs in particular, You Give Love A Bad Name and Livin' On A Prayer hit the number one slot in the singles chart. They were now becoming worldwide musical superstars. This was the start of it and they were getting recognition. The world wanted more.
Richie dated Cher for a while and Jon and Richie were asked to assist in producing Cher's 'comeback' album, Cher. He co-wrote and sang backing vocals on her single We All Sleep Alone and also produced several other tracks on the album. Jon also co-produced Cher's best-selling multi-platinum album Heart of Stone in 1987.
In 1987, they had the Slippery When Wet Tour. Jon gave it his all during live shows and the tour's exhausting schedule greatly strained his vocal cords. His medical treatment put him on steroid shots to help him sing. He also enlisted the help of a vocal coach, which helped him to continue the tour. Despite the band achieving massive success with Slippery When Wet and New Jersey (his fourth album that hit number 1 in 1988), living on the road almost destroyed the strong bond between the band members who at this stage were exhausted physically, mentally and emotionally. In 1990, after 232 shows on 5 continents each band member went their separate way, even departing in separate jets after the New Jersey Tour.
In 1988, Jon started his acting career by appearing in The Return of Bruno.
In 1989, he married his high school sweetheart Dorothea Hurley, who was also a karate champion, and the couple remain married today, with four children, Stephanie Rose, Jesse James, Jacob Hurley and Romeo Jon.
In 1990, Jon recorded a soundtrack to the movie Young Guns II also known as Blaze of Glory. This came about because his friend Emilio Estevez asked him for "Wanted Dead Or Alive" as the theme song for his upcoming sequel to Billy The Kid. Jon ended up composing a new theme song for the film's soundtrack which became his first solo album. The album featured high profile guests such as Little Richard, Elton John and Jeff Beck. The title track, "Blaze of Glory" peaked at number one the Billboard Hot 100. In 1991 "Blaze of Glory" won an award for Favorite Pop/Rock Single at the American Music Awards and was also awarded a Golden Globe. The song also gained him an Academy Award nomination and a Grammy nomination.
"I had no intention of ever getting into the movies," Jon said. "But I was driven by the music I wrote for Young Guns. The next thing I know, I win a Golden Globe, I'm nominated for an Oscar [for his song Blaze of Glory] and performing at the Academy Awards. I'm looking out at the audience and I go: 'This doesn't suck.' So I wanted to do it again."
The band was now gone, so he started his own label Jambco Records which didn't do much. He began to lose heart in the music business and took time out by doing a two week cross country tour across the US on a motorbike.
But the band wasn't fully gone. They recorded Keep the Faith (Number Five, 1992), which produced hit singles in the title track (Number 27, 1993) and "Bed of Roses" (Number 10, 1993). Another hit, "Always" (Number Four, 1994), emerged from Bon Jovi's 1994 anthology, Cross Road (Number Eight). In 1995 the band released These Days (Number Nine). After a full-scale world tour, the band took time out.
In 1993 Bon Jovi played the Soviet Union in the Moscow Music Peace Festival — arranged as part of a community-service sentence on Bon Jovi's manager Doc McGhee, who in 1988 had pleaded guilty to drug-smuggling charges from a 1982 arrest.
In 1994, Bon Jovi released a greatest hits album, Cross Road. The collection featured two new songs, Always and These Days which both were successful single releases, most notably throughout Europe and in Britain than the US.
Jon Bon Jovi has also acted in such films as The Leading Man and was a recurring character on TV's Ally McBeal (stepping in for Robert Downey Jr who was arrested on drugs charges) and also acted in Sex and the City. He took a role in the 1995 film Moonlight and Valentino, and continued acting throughout the Nineties, appearing in Ed Burns' No Looking Back and the World War II submarine adventure U-571.
In 1997 he released his first official non-soundtrack solo album, Destination Anywhere (Number 31, 1997). A short movie of the same name was recorded around the record's release, based entirely on the songs from the record and starring Jon Bon Jovi, Demi Moore, Kevin Bacon and Whoopi Goldberg.
The band regrouped in 1999 and recorded Real Life. In 2000, they released their seventh studio album, Crush. The lead single, "It's My Life" helped introduce the band to a new, younger fan base. Demand for Bon Jovi's old-style pop-metal turned out to be so big that, since the reunion, the band has gone on to release more successful albums than it did even during its pin-up prime. Crush went double platinum in the U.S. and sold 8 million copies worldwide. After a successful tour, Bon Jovi returned with Bounce (Number Two, 2002).
Jon was awarded an honorary Doctorate of Humanities from Monmouth University in 2001.
In 2005, Bon Jovi returned with an album of new material, Have a Nice Day (Number Two), which produced not only a pop single in the title track (Number 53) but also the band's first country crossover hit, "Who Says You Can't Go Home" (Number One Hot Country, 2005; Number 23 pop, 2006).
After releasing a live disc and comprehensive greatest-hits package in 2006, Bon Jovi's next album of new material, Lost Highway (Number One, 2007), was marketed more directly to the country audience, with country-charting singles "(You Want to) Make a Memory" (Number 27 pop, Number 35 Hot Country, 2007) and "Till We Ain't Strangers Anymore" (Number 47 Hot Country, 2007), a duet with LeAnn Rimes.
The band's next album, The Circle, was more rock than country; it debuted at Number One on Billboard in November 2009, five months after Jon Bon Jovi and Richie Sambora's induction into the Songwriter's Hall Of Fame.
Bon Jovi will be playing in Slane on 15th June 2013 to 80,000 fans priced from €79.50. Jon said "This was always the goal, to play Slane." They will be in the middle of their "Because we can" tour. But will they sell 80,000 tickets?
Article By Bob Tallent
Bob Videos by Frazer McMenzie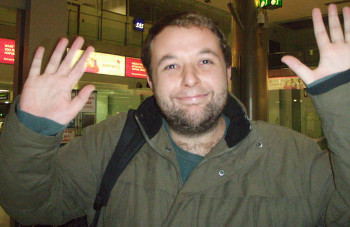 Frazer
Copyright © 2012, DPNLIVE – All Rights Reserved