Page 1 of 2
A Powerful Force in Music and his Influence will Last Forever

.
This singer/songwriter, actor and author was born in Kingsland Arkansas on 26th February 1932 and died 71 years of age on 12th September 2003. He was 50 years in showbusiness. I have seen many documentaries on his life and looked at the film of his life, Walk the Line starring Joaquin Phoenix and Reese Witherspoon.  He has been described as one of the most influential musicians of the 20th century.  His music was mainly country, but he also sang gospel, blues, folk, even rock and roll.  He had a chequered life, drank heavily and became addicted to drugs, mainly amphetamines and barbiturates.  His signature songs include "I Walk the Line", "Folsom Prison Blues", "Ring of Fire", "Get Rhythm" and "Man in Black". He also recorded amusing songs, including "One Piece at a Time" and "A Boy Named Sue"; a duet with his wife, June Carter, called "Jackson"; as well as railroad songs including "Hey, Porter" and "Rock Island Line".
I'm talking about the Man in Black, Johnny Cash.
Johnny was born John R Cash to Ray and Carrie Rivers Cash. He was one of six children and one quarter Cherokee Indian.  In 1935, his father moved the family to 20 acres in Dyess Colony in northeast Arkansas in order to take advantage of a new Roosevelt farm program - he got the land free.  His mother sang folk songs and hymns and he soaked up the music influences around him. At 12 years of age, he picked up the guitar from his mother and somehow she found the money to send him to singing lessons. After three lessons, his teacher recognised his unique style and told to stop taking lessons and never to lose that originality.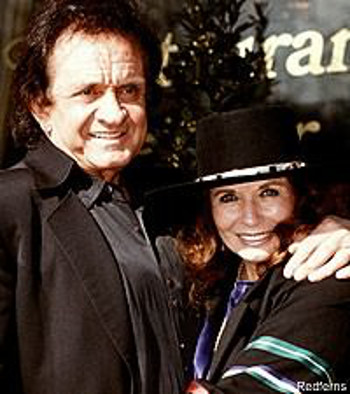 Johnny Cash & June Carter CashIn 1944, his elder brother Jack was killed in a farm accident and this solidified Johnny's faith in God.  Decades later, he spoke of looking forward to meeting his brother in heaven.  In 1950, he joined the Air Force, where he started the Landsberg Barbarians, giving Johnny a chance to play live shows, teach himself more of the guitar, and also learn songwriting. "We were terrible," he said later, "but that Lowenbrau beer will make you feel like you're great. We'd take our instruments to these honky-tonks and play until they threw us out or a fight started. I wrote Folsom Prison Blues in Germany in 1953."
He left the Air Force in 1954, met and married Vivian and worked as an appliance salesman.  He met Marshall Grant and Luther Perkins and the three of them played music under the name Johnny Cash and the Tennessee Two.  They sang blues and C&W.  In 1960, drummer W.S. Holland joined the group and it was later renamed Tennessee Three.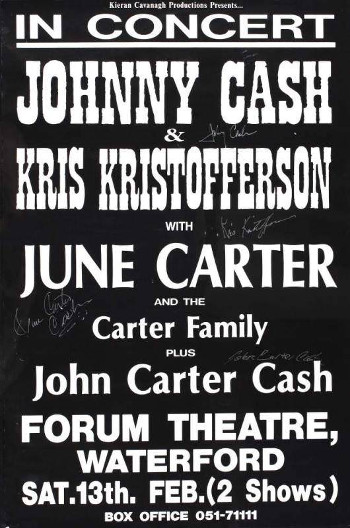 Elvis started his career with Sun Records in 1954.  And Sam Phillips of Sun, gave the trio an audition. He liked their sound, but not their gospel music, and asked to write their own material.  Johnny wrote, "Hey Porter" and Sam liked it and recorded it.  It didn't do well and their second song "cry cry cry" reached number 14 on the Billboard Charts.  Encouraged by this, Johnny wrote more songs including a pair of Top 10 singles in "So Doggone Lonesome" and "Folsom Prison Blues." But true fame arrived in 1956, when he wrote and released "I Walk The Line".  This hit no. one and sold two million copies.  This allowed him to associate with Elvis Presley, Carl Perkins, and Jerry Lee Lewis who became known as "The Million Dollar Quartet" as a result of an impromptu jam session in Sun records one day.  Sam Phillips left the tapes running and the recordings, almost half of which were gospel songs, survived and have since been released.
At this point, Johnny had two daughters, Roseanne and Kathy.
In 1958, he left Sun and joined Columbia records.  He did 300 gigs a year and appeared regularly on the Louisiana Hayride and Grand Ole Opry radio broadcasts.  In 1960, he relocated his family to Ventura, California and took up drink and drugs.  Vivian became upset with his absence (they now had two more children Cindy 1959 and Tara 1961) and his lack of family life and filed for divorce in 1966.
During that year, his drink and drug taking became obsessive and he was found in a near death situation, caused a forest fire and was arrested for smuggling amphetamines into the US across the Mexican border.  He was at an all time low at this point.
Things began to improve in 1967 when he met June Carter who was a member of the founding family of country music.  After a turbulent 'courtship' they got married in 1968. She helped him to kick the drugs and he became a devout Christian fundamentalist.
Now he refocused his life and career. He hosted the Johnny Cash Show on ABC TV on which he had many famous artists like Bob Dylon, Neil Young, Merle Haggard, Louis Armstrong and Linda Ronstadt.  In 1968, he sang in Folsom Prison and received a Grammy Award for his live album from there.  In 1969 he sang in San Quentin.  In 1970, he had his first (and only) child with June, John Carter Cash.
Over the next ten years his career flourished.  In 1975, he published a bestselling autobiography Man in Black.  He acted in a TV movie The Pride of Jesse Hallam (1980). Also in 1980 he was accepted into the Country Music Association Hall of Fame as the youngest member.
Throughout his career, he sang with many artists including Elvis, Carl Perkins, Jerry Lee Lewis, Roy Orbison, Kris Kristofferson, Willie Nelson, Waylon Jennings, U2, among others.
He had a series of health problems as a result of his drug addiction.  In 1983, he underwent abdominal surgery in Nashville.  After the operation, he checked himself into the Betty Ford Clinic. In 1987, he had another operation, this time for heart surgery following his collapse on tour in Iowa.
His career took a bit of a dip and in 1992, he met music producer Rick Rubin who orchestrated a Johnny Cash renaissance.  In 1994, he released American Recordings, a 13-track acoustic album that mixed traditional ballads with modern compositions.  Johnny was now reaching a new audience and in 1995 got a Grammy Award for Best Contemporary Folk Album.  This encouraged him in 2000 to release a three-disc compilation set titled Love, God, Murder.
At 70 years of age in 2002, when he'd been diagnosed with a rare nervous-system disorder called Shy-Drager Syndrome, he released American IV: The Man Comes Around, a mix of originals and covers.  His health now took a nose dive and he rarely made public appearances.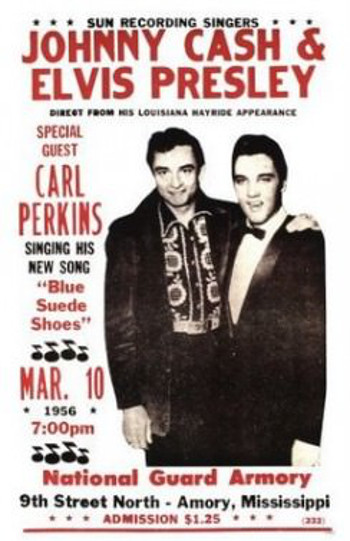 Look at the admission feeOn 15th May 2003, June Carter died, at 73 years of age, from complications from heart surgery.  They were married for 35 years.  Even though he was devastated, Johnny continued to work with Rubin at his side.  "Once June passed, he had the will to live long enough to record, but that was pretty much all," said Rick Rubin.  A week before he died on 12th September 2003 (age 71), at Baptist Hospital in Nashville, Tenn., from complications from neurodegenerative disease Shy-Drager syndrome, a form of multiple system atrophy and diabetes, he started to record what would be known as American V: A Hundred Highways.  Rubin recalled around the album's release on July 4, 2004. "A day after June passed, he said, 'I need to have something to do every day. Otherwise, there's no reason for me to be here.' "
Not surprisingly, Johnny's life and music continues.  In 2005, the film 'Walk the Line' was released.  A single-disc compilation titled The Legend of Johnny Cash was also released in 2005 and went on to sell more than 2 million copies.  In 2006, Lost Highway released the final instalment of his American recordings, American V: A Hundred Highways, featuring his last sessions with Rubin.  In 2006, a two-CD collection of uncovered songs from an obscure recording session Johnny did in 1973 was released. And the following year the community of Starkville, Mississippi, paid honour to the performer and his arrest there in 1965 for picking flowers with the Johnny Cash Flower Pickin' Festival. He was also given an official pardon.
Kris Kristofferson said "I think he'll be remembered for the way he grew as a person and an artist. He went from being this guy who was as wild as Hank Williams to being almost as respected as one of the fathers of our country. He was friends with presidents and with Billy Graham. You felt like he should've had his face on Mount Rushmore."
Even in death, Johnny Cash remains a powerful force in music and his influence will last forever finding new generations to find inspiration in the timeless sound of The Man in Black.
I'm going to start the videos with this one. His last before he died.
Its deeply moving and symbolic of the world we live in.
Enjoy, and please leave your comments below.
Go to the next page to see more 16 more videos - over 4 hours,
a list of awards and honours he got, albums, films & videos and some other stuff.
Just hit the blue NEXT button below or go to the top of the page and hit ALL PAGES