Page 1 of 2

The Rat Trap band that
Don't Like Mondays

.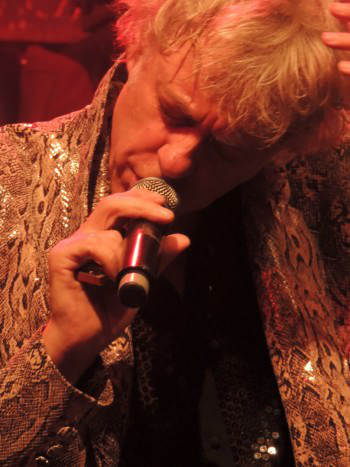 Bob Geldof & Boomtown RatsWhile I do confess to being a Bob Geldof more than a Boomtown Rats fan, I was still ecstatic when it was announced they were to headline two shows in Vicar Street in Dublin. These were to be their first concerts in Dublin in 27 years so it was history in the making for these concerts. They did have one in Cork earlier this year, but conflicting schedules at the time meant that I was unable to attend, so I was very relieved when Dublin was added to the list.
Support on both nights was by The Mighty Stef who I had seen support Bob in a solo gig last year. These are fine musicians with songs of good melody and are friendly guys, so my usual irritancies at having a support band weren't applicable to this band. They played for half an hour before the main attraction.
As can be expected from the homecoming shows, the Rats received a great reception from a delighted audience when they took to the stage. The fans were mostly people who had followed The Rats when the first hit the music scene in the 70's, but there were plenty of younger fans too. Indeed I wasn't even born when they first started out, but as Bob said many times on both nights, the songs they wrote back then still apply to life today.
The set lists were almost identical both nights with the one difference being The Elephants Graveyard which was performed the first night and then replaced the second night with Never Bite The Hands That Feeds. However while the songs may have been mostly the same at each gig, the band certainly weren't. Although both gigs were amazing, I preferred the second night. Bob appeared more relaxed and the audience were more enthusiastic. This isn't a criticism on the first night, though had I only attended that concert, I'd have come away a very happy woman.
The reason I like going to multiple concerts of my favourite artists is that each gig is usually different. I guess this is because my favourite artists put on concerts and not shows where there can be less room for different ambiances each night. That isn't a criticism of bands that do choreographed concerts because I've attended plenty of them in my time too and thoroughly enjoyed them.
While I mentioned at the start of this review that I am more of a Bob solo fan I was pleasantly surprised that I actually knew all of the songs performed. Some better than others and especially the ones Bob performed in his solo concerts including When The Nights, Banana Republic and of course Rat Trap and I Don't Like Mondays.
I know it is a cliché to say this but I Don't Like Mondays is one of my favourite songs and indeed therefore my concert highlight both nights. The reason for this is the story behind it and then the way Bob performs it. I find it very emotional and impactful, and every time I witness it live I am reminded of the performances at Live Aid and Live 8.
My other favourite songs over the two nights included She's So Modern and Like Clockwork and hearing Never Bite The Hands That Feeds at the second concert. Rat Trap always sounds great with the sax. The one song I don't really like is the new song The Boomtown Rats. This song is completely different, melody wise, and is better suited to those into dance music which I for one am not. I prefer music from actual instruments and not music that sounds like it was generated from a computer system!
One of the things I admire about Bob is his willingness to simply say things as they are. Some may find him too outspoken but I personally feel if we had more like him the world would be a better place. When, during the concerts before Banana Republic he described Ireland of the 1970's, I was thinking how much it still applied today. The only difference now is that some people are willing to speak out whereas in the 1970's everything was brushed under the carpet. It was a case of hear no evil; see no evil or terrible claustrophobia of silence as Bob called it. He called Banana Republic the unofficial national anthem of Ireland and dedicated it to Phil Chevron who passed away a few days before the concerts.
Before Someone's Looking At You Bob spoke of how Obama is spying on the Europeans and Americans and that when we go walking around London we are photographed 3000 times on average and that Facebook and Google are not cool but are multinational big companies. While I do love Facebook I do admit he has a point. Many people believe that Google spies on us and profiles us to supposedly make the searches we do more relevant to us.
It must be noted how good the other musicians are. Pete Briquette (bass), Simon Crowe (drums) and Garry Roberts (guitar) are original Boomtown Rats members. On keyboards is Alan Dunn who is in the band who accompanies Bob on his solo tour and on lead guitar is Darren Beale. There is a great interaction between them all and when Bob is talking there is good banter from the rest of the band, especially between him and Pete. He said Pete was stoned writing Banana Republic to which Pete replied using "sign language". I spoke to Pete after the concert and commented on the 'stoned' remark
One funny moment at the concerts was when Bob spoke about the snakeskin suit which he has taken to wearing for these shows. It is of course fake, and while I confess to cringing when I first heard about it, I admit it does look cool and is a great talking point.
I have to say after the two concerts last week now I am just as much of a fan of The Boomtown Rats now as I am of Bob as a solo artist. It was a great couple of nights of rocking live music, just the way I like it! In the words of Bob they are fantastic! Next stop is an impromptu visit to Belfast to see The Boomtown Rats there!
By Gwen Langford
You can contact her at This email address is being protected from spambots. You need JavaScript enabled to view it.
All photographs copyright and courtesy of Gwen Langford
Follow us on Twitter - @DigiPrintNews
Like us on Facebook www.facebook.com/DPNLive - (click the 'LIKED' button/top of page as well)
Copyright © 2013, DPNLIVE – All Rights Reserved.
Follow us on Twitter - @DigiPrintNews
Like us on Facebook www.facebook.com/DPNLive - (click the 'LIKED' button/top of page as well)