Page 1 of 3
He started to work aged 7.

And then became

The Greatest Jazz Musician in the World

!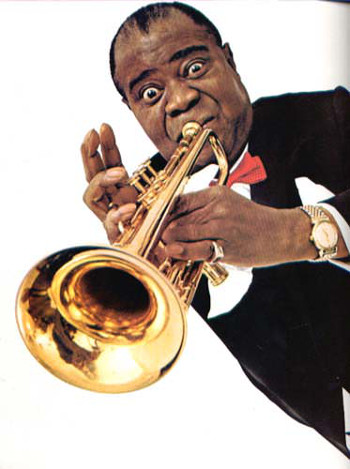 Louis ArmstrongThis famous black American would be 112 if he was alive today. He was the grandson of a slave and has an airport and a park named after him. Jazz was the major influence in his life and he was born in an area so poor that it was nicknamed "the battlefield".  His father abandoned him just after he was born and his mother earned money as a prostitute.  He was imprisoned at 11 years of age for firing a gun in the air. During his time in the Coloured Waif's Home for Boys he got music instruction and developed a love for it.  Later on in life he was recognised for his characteristic and unusual voice as well as his mastery on the trumpet.
I'm talking about Louis Armstrong, also known as Satchmo (which is short for "Satchelmouth" referring to the size of his mouth) and Pops (because that is the name he addressed everyone by).
Louis Daniel Armstrong was born on 4th August 1901 and was one of two children born to Willie Armstrong, a turpentine worker, and Mary Ann (Mayann) Armstrong, whose parents had been slaves.  He thought he was born on 4th July 1900 but his true birth date of 4th August 1901 was discovered through the examination of baptismal records when he died in 1971. Louis was born and raised in the "birthplace of jazz," New Orleans in a rough neighborhood of Uptown New Orleans, known as "Back of the Town" or "The Battlefield" because of the gambling, drunkenness, fighting, and shooting that frequently occurred there.  As a youngster, he sang on the streets with friends. His father abandoned the family just after he was born and his parents separated when he was five. He lived with his sister – Beatrice, mother, and grandmother – Josephine – and sometimes his uncle Isaac.
As a kid, Louis earned money working as a paperboy and also by finding discarded food and selling it to restaurants.  To support the family his mother had to earn more money as a prostitute. He hung out in dance halls close to home, where he saw everything from immodest dancing to more formal dancing. In order to earn extra income he worked for a Jewish family called the Karnofskys delivering coal to Storyville, the famed red-light district, and listened to the bands playing in the brothels and dance halls, especially Pete Lala's where Joe "King" Oliver performed and other famous musicians would drop in to jam.
The Karnofskys took Louis in as their own family because they knew he didn't have a father.  Louis respected that for the rest of his life by wearing the Star of David and wrote about his time "how to live—real life and determination."  The influence of Karnofsky is remembered in New Orleans by the Karnofsky Project, a non-profit organisation dedicated to accepting donated musical instruments to "put them into the hands of an eager child who could not otherwise take part in a wonderful learning experience".
In third grade or maybe it was fifth, at the age of about 11, he left school and joined a quartet of boys who sang in the streets for money. He learned to play the cornet by ear from Bunk Johnson at Dago Tony's Tonk in New Orleans.  At the same age, he was sent to the Coloured Waif's Home for Boys on many occasions for delinquency and also for firing a pistol in the air at a party.  Professor Peter Davis (who frequently appeared at the Home at the request of its administrator) encouraged discipline and provided musical training to the otherwise self-taught Louis Armstrong. Eventually, Prof Davis made Louis the band leader. The Home band played around New Orleans and the then 13year-old Louis began to draw attention for his cornet playing, starting him on his musical career. At fourteen he was released from the home, living again with his father and new stepmother and then back with his mother and also back to the streets and their temptations. A confusing childhood for anyone!
Louis got his first dance hall job at Henry Ponce's where Black Benny became his protector and guide.  One of the greatest cornet players in town, Joe "King" Oliver, began acting as a mentor to young Louis, showing him pointers on the horn and occasionally using him as a sub. He continued to haul coal by day and played his cornet at night.
Later, he played in the brass bands and riverboats of New Orleans, and began traveling with the band of Fate Marable, which toured on a steamboat up and down the Mississippi River. Louis described his time with Marable as, "going to the University," since it gave him a much wider experience and learned how to read music. He also became second trumpet for the Tuxedo Brass Band, a society band.  He was still only in his mid teens and earning $50 a week. He could now support his family.
When he was 16, he got married to Daisy Parker. They adopted a 3-year-old boy, Clarence Armstrong, whose mother, Louis cousin, died soon after giving birth. Clarence Armstrong was mentally disabled (the result of a head injury at an early age) and Louis spent the rest of his life taking care of him. His marriage to Daisy failed and they separated. She died shortly after the divorce.
At the age of 20, Louis could read music and learned to perform on stage by trumpet solos, singing and telling stories.  He was developing his own sound.  This began to make him unique and the public liked him.
When he was 21, King Oliver called him to Chicago to join his Creole Jazz Band - Chicago him and his show.
On the 5th April 1923 he made his first recording, a trumpet solo called 'Chime Blues'.
He then married the pianist in the band, Lillian Hardin, when he was 23.  She encouraged him to leave Oliver and join Fletcher Henderson in New York in 1924.  Louis began to introduce swing to Fletcher and gradually transformed the orchestra into the first jazz big band.  There were disagreements in the orchestra because Fletcher stopped Louis from singing because he thought his voice was too coarse for the sophisticated audiences at the Roseland Ballroom. Young hornmen around town tried in vain to outplay him, splitting their lips in their attempts.  While in NY, he made a few more recordings with the Williams Blue Five and some singers. Because he was unhappy with Fletcher, Louis left in 1925 to return to Chicago, where he began playing with his wife Lil's band at the Dreamland Café.
From 1925 to 1928 he continued a rigorous schedule of performing and recording. Once, during a recording session, he dropped his lyrics on the floor. The record producer encouraged Louis to keep on singing without the lyrics so he sang the chorus in nonsense syllables and improvised sound with perfect timing - otherwise known as "scat singing." He used his voice like an instrument, a practice he learned singing in his boys quartet in New Orleans. Louis's scat singing was recorded in his song, "Heebie Jeebies." The unpredictable rhythms of Louis voice inspired other artists to try scat singing. Soon it became a hot trend among jazz musicians and even non-jazz singers. Louis became the most influential singer of the 20th century.
During this period, his playing steadily improved, and his traveling and recording activities introduced his music to more and more people.  He recorded under his own name for Okeh with his famous Hot Five and Hot Seven groups, producing hits such as "Potato Head Blues", "Muggles", (a reference to marijuana, for which Louis had a lifelong fondness), and "West End Blues", the music of which set the standard and the agenda for jazz for many years to come.  He made more than 60 records with the Hot Five and, later, the Hot Seven
In 1929, Louis returned to New York City and made his first Broadway appearance. His 1929 recording of Ain't Misbehavin' introduced the use of a pop song as material for jazz interpretation, helping set the stage for the popular acceptance of jazz that would follow. During the next year, he performed in several U.S. states, including California, where he made his first film and radio appearances. In 1931, he first recorded When It's Sleepytime Down South, the tune that became his theme song. In 1932, he toured England for three months, and during the next few years, continued his extensive domestic and international tours, including a lengthy stay in Paris.
His records made him very famous, and when he moved back to New York in 1929, bandleaders everywhere wanted Louis to join their orchestras. He performed on Broadway, played in movies, recorded music, and gained international fame. Louis was an all round performer. He was a singer, master of the trumpet, and even danced in musicals.  He fronted the Luis Russell Orchestra for a tour of the South in February 1930.
In 1932, during his first tour of England, while he was loved by musicians, critics didn't approve.  They gave him some of the most racist and harsh reviews of his career. He didn't let the criticism stop him, however, and he returned an even bigger star when he began a longer tour throughout Europe in 1933.
In a strange turn of events, it was during this tour that his career fell apart: Years of blowing high notes had taken a toll on his lips, and, following a fight with his manager, Johnny Collins, who already managed to get Louis into trouble with the American mob, he was left stranded overseas by Johnny. Louis decided to take some time off soon after the incident, and spent much of 1934 relaxing in Europe and resting his lip.
When Louis returned to the U.S. in 1935, he had no band, no engagements and no recording contract. His lips were still sore, and there were still remnants of his mob troubles and with Lil, who, following the couple's split, was suing him. Joe Glaser became his manager. Not only did Joe free him from the managerial battles and legal difficulties of the past few years, he remained his manager for the duration of his career and helped transform him into an international star. Under Joe's management, Louis performed in films, on the radio, and in the best theatres, dance halls, and nightclubs. He worked with big bands, playing music of an increasingly commercial nature as well as small groups that showcased his singing of popular songs.
Louis set a number of African-American "firsts." In 1936, he became the first African-American jazz musician to write an autobiography: Swing That Music. That same year, he became the first African-American to get featured billing in a major Hollywood movie with Pennies from Heaven, starring Bing Crosby. Additionally he became the first African-American entertainer to host a nationally sponsored radio show in 1937, when he took over Rudy Vallee's Fleischmann's Yeast Show for 12 weeks.
Louis continued to appear in films, was regularly on radio and broke box office records at the height of what is now known as the 'swing era'.  His lip was fully healed and he made some of the finest recordings of career, including "Swing That Music," "Jubilee" and "Struttin' with Some Barbecue."
In 1938, he divorced Lil Hardin and married Alpha Smith.  They then divorced in 1942.  In 1942, he got married again, for the fourth time to Lucille Wilson, a Cotton Club Dancer.  This marriage lasted and she convinced him to buy a house at 34-56 107th Street in Corona, Queens, New York. They moved into the home in 1943, where they lived for the rest of their lives.
During the next thirty years, Louis played more than three hundred gigs a year and recorded a string of hits including "Blueberry Hill," "That Lucky Old Sun," "La Vie En Rose," "A Kiss to Build a Dream On" and "I Get Ideas.". Bookings for big bands tapered off due to changes in public tastes: ballrooms closed, and there was competition from television and from other types of music which were becoming more popular than big band music. It became impossible under such circumstances to support and finance a 16-piece touring band.  The Swing Era and big bands ended in the mid forties and Louis scaled down to a smaller six-piece combo, the All Stars; personnel would frequently change, but this was the group Louis performed live with until the end of his career. Members of the group, at one time or another included Jack Teagarden, Earl "Fatha" Hines, Sid Catlett, Barney Bigard, Trummy Young, Edmond Hall, Billy Kyle and Tyree Glenn, among other jazz legends.
Louis joined with Columbia Records in the mid-'50s, and soon cut some of the finest albums of his career for producer George Avakian, including Louis Armstrong Plays W.C. Handy and Satch Plays Fats. It was also for Columbia that Louis scored one of the biggest hits of his career: His jazz transformation of Kurt Weill's "Mack the Knife" (a partypiece of a friend of mine Tony J).
During this time, his popularity overseas skyrocketed, leading him to be known as "Ambassador Satch." He performed all over the world in the 1950s and '60s, including Europe, Africa and Asia.
During a trip to West Africa, Louis was greeted by more than a hundred thousand people. In the early 1960's, he continued to record, including two albums with Duke Ellington and the hit Hello Dolly, which reached number one on the Billboard charts. He performed regularly until recurring health problems gradually curtailed his trumpet playing and singing. Even in the last year of his life, he travelled to London twice, appeared on more than a dozen television shows, and performed at the Newport Jazz Festival to celebrate his 70th birthday. Up until a few days before he died of a heart attack in his sleep on 6th July 1971 (a month before his 70th birthday), he was setting up band rehearsals in preparation to perform for his beloved public.
He once said "What is jazz? Man, if you have to ask you'll never know".
His pallbearers included Bing Crosby, Ella Fitzgerald, Dizzy Gillespie, Pearl Bailey, Count Basie, Harry James, Frank Sinatra, Ed Sullivan, Earl Wilson, Alan King, Johnny Carson and David Frost.  Peggy Lee sang The Lord's Prayer at the services while Al Hibbler sang "Nobody Knows the Trouble I've Seen" and Fred Robbins, a long-time friend, gave the eulogy.
He was laid to rest at the Flushing Cemetery, Section 9 in Flushing, Queens, New York City not too far from his home in Corona. His tombstone is red granite, emblazoned simply "Satchmo" Louis Armstrong with a beautiful white trumpet figure laden on top. Buried with him is the last of his four wives, Lucille Armstrong who died in 1983.
Louis home in Corona, Queens was declared a National Historic Landmark in 1977.  Today, the house is home to the Louis Armstrong House Museum, which annually receives thousands of visitors from all over the world. Arguably the most important figure in 20th century music, Louis Armstrong's innovations as a trumpeter and vocalist are widely recognised nowadays, and will continue to be for decades to come.
I don't know how many singles, albums, TV appearances and films Louis made. There are many hundreds even thousands. So I'm not going to list them here. Instead, I'll direct you to this site.  It's a site that mainly lists all his songs, etc.  Enjoy.