Page 1 of 3
The singer who

exploded onto the world stage. 

By Bob Tallent. 
This 54 year old Italian is a five-time Classical Brit winner and three-time Grammy nominated Italian tenor.  Since his debut album, released in 1994, after winning the newcomers section of the Sanremo Music Festival, with the song of the same name, to the release of his first Christmas album, "My Christmas," the best-selling Christmas album and one of the best-selling albums of 2009, he has recorded over 20 pop and classical albums, including seven complete operas, selling over 70 million worldwide. He is widely regarded as the most popular Italian singer in the world and is a tenor, multi-instrumentalist and light classical crossover artist. Born with poor eyesight, he became totally blind at the age of twelve following a soccer accident.  With the release of his classical album, "Sacred Arias," he was listed in the Guinness Book of World Records, as he simultaneously held the No. 1, 2 and 3 positions on the U.S. Classical albums charts.
I'm talking about Andrea Bocelli.
Early Years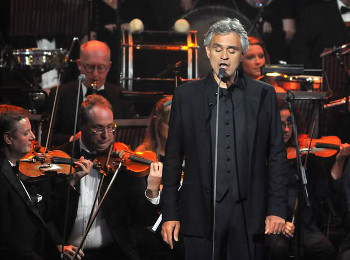 Andrea BocelliHe was born Andrea Angel Bocelli on 22nd September 1958 to Alessandro and Edi Bocelli in Lajatico, Tuscany, Italy, about 40km south of Pisa.  Andrea lived with his family on their farm where they sold farm machinery and made wine in the small village of La Sterza, a frazione (a legal territorial sub division of a commune in Italy) of Lajatico. His mother and younger brother Alberto still live in the family home to-day while his father died in 2000.
When Andrea was born, it was clear that he had vision problems.  After visits to many doctors, he was diagnosed with congenital glaucoma. In 1970, at the age of 12, he was accidentally hit on the head during a football match and suffered a brain haemorrhage.  Doctors resorted to using leeches in a desperate last-ditch effort to save his sight.  But they were unsuccessful, and he became blind.
His love of music came through when he was a young boy and his mother said that it was the only thing that comforted him.  When he was six years old, he started to learn the piano, flute, saxophone, trumpet, trombone, guitar and drums, in between times when he was singing.  At the age of 14 he won his first song competition, the Margherita d'Oro in Viareggio with O sole mio and he was also asked to sing at family parties.  He said that he was "one of those children who would always be asked to sing for my relatives. I don't think one really decides to be a singer - other people decide it for you by their reactions."
In 1980, when he finished secondary school, he studied law at the University of Pisa.  To earn money he performed in the evenings in piano bars. He completed law school with a Doctor of Law degree and spent one year as a court-appointed lawyer. It was there, in 1987, that he met his wife, Enrica.
Andrea's music career starts
This is the song that started it all
From working in bars, he got a taste for performing and music and he decided to make his career as a singer instead of law. He studied with the famed tenor Franco Corelli after he studied with Maestro Luciano Bettarini.  Five years later, his lucky break came in 1992 when he recorded a demo tape of Miserere,- which was written by Zucchero and Bono of U2 - because Italian rock star Zucchero Fornaciari held auditions for tenors for his new album of the same name. The demo was heard by Pavarotti, who persuaded Zucchero to use Andrea instead of himself.  "Who is this guy?" Pavarotti asked. "Thank you for writing such a wonderful song. Yet you do not need me to sing it - let Andrea sing 'Miserere' with you, for there is no one finer." As Zucchero said "Andrea was just unbelievable! He had something not one of the other tenors possessed. He had soul."  Pavarotti later arranged to meet with Andrea, and a friendship was formed.
Caterini Caseli was the person who discovered Andrea Bocelli and she is still his manger and producer today. He signed to Inseieme/Sugar, the Milan-based music group founded in the 1930's who represent scores of famous Italian artists after the Caterini heard him sing Miserere and "Nessun Dorma" at a birthday party for Zucchero.
Luciano was persuaded to record Miserere with Andrea. The duo achieved a Europe-wide smash hit and international success followed with the single "Con Te Partirò" Time To Say Goodbye (1996), recorded with Sarah Brightman.
In Zucchero's European concert tour in 1993, it was Andrea who accompanied him to sing the duet, and he was also given solo sets in the concerts, singing "Nessun Dorma" from Puccini's Turandot.
In December '93 he entered the preliminary round of the Italian Sanremo Music Festival in the category of Giovani performing both parts of the duet Miserere. He won the preliminary competition with the highest marks ever recorded in the Newcomers section. On 28th December, he debuted in the classical world in a concert at the Teatro Romolo Valli in Reggio Emilia.
In February 1994 he entered the main Sanremo Festival competition with "Il mare calmo della sera", and he won the "Newcomers" section, again with a record score. His debut album, named after the song, was released and immediately entered the Italian Top Ten, going platinum within weeks.
In May he toured with Italian pop singer Gerardina Trovato.
In September, Andrea performed as a guest star in the Pavarotti International Festival held in Modena. In addition to performing solo and in a duet with Luciano Pavarotti, Andrea sang with Bryan Adams, Andreas Vollenweider, and Nancy Gustavsson, including Bryan's song "All for love".
In November 1995, he toured Holland, Belgium, Germany, Spain, and France on the pop "Night of Proms" bill, which also featured Al Jarreau, Bryan Ferry, Roger Hodgson of Supertramp, and John Miles.
At Christmas '95, he performed the hymn, Adeste Fideles in Rome before Pope John Paul II in St. Peter's Basilica.
Because he won the Newcomers section at the Sanremo Festival in 1994, he was invited to return the following year, entering the main competition with Con te partiro and finished in fourth place. This song was taken from his second album "Bocelli" produced by another of Italy's leading record producers, Mauro Malavasi. The album went on to achieve double platinum sales in Italy.
Andrea's worldwide success started to happen as he exploded onto the global scene, scoring no. 1 singles and albums. The singles 'Con Te Partirò' and 'Time To Say Goodbye' have smashed sales records in several countries, while Andrea's albums have achieved sales awards across Europe. His original solo version of the single 'Con Te Partirò', featured on the album "Bocelli", was a massive hit.  In France the single topped the charts for six weeks, earning a triple Gold sales award; in Belgium the single became the biggest hit of all time, spending 12 weeks at no. 1. The album "Bocelli" has been awarded Platinum status in all territories of releases, including sextuple platinum in Belgium, quadruple platinum in Germany (selling nearly two million copies), quadruple platinum in Holland and double platinum in Italy.
Time to say goodbye
Turn your speakers up full blast, sit back & relax
In November 1996, Andrea and Sarah Brightman, the internationally renowned soprano, were invited to perform the duet 'Time To Say Goodbye (Con Te Partirò)' at the farewell contest of the German World Light-Heavyweight boxing champion, Henry Maske.  Henry is a national hero held in unrivalled esteem.  He is known for his love of selecting entrance themes to his bouts. Sarah Brightman, a friend of Henry, heard 'Con Te Partirò' in a restaurant while dining with friends. Spellbound by the singer and the song, Sarah made contact with Andrea. Andrea and Sarah re-recorded 'Con Te Partirò' as the duet 'Time To Say Goodbye' with members of the London Symphony Orchestra.
Henry was defeated on points by US champion Virgil Hill. As the German public paid tribute to their departing hero, the arena was filled with the sound of 'Time To Say Goodbye'. The hearts and minds of the German nation were captured by Andrea.
'Time To Say Goodbye' has eclipsed the previous best-selling single by well over 1 million copies. However, it was "Romanza", Andrea's international fourth album released in 1997, which took him to even greater heights of success. This album was pop music based and went multi-platinum in virtually all territories of release with just under 20 million units sold worldwide. "Romanza," became the best-selling album by an Italian artist ever, as well as the best-selling album by a foreign artist in Canada, and a number of other countries in Europe and Latin America.
A spin-off single to Time to Say Goodbye called Time to Say Hello was rumoured to be in the works. He topped the Spanish singles chart in 1996 with a duet with Marta Sanchez, Vivo Por Ella, the Spanish version of Vivo per lei recorded with Giorgia for the Romanza album.
He continued to make albums, record and perform with international artists and appeared in festivals all over Europe including Italy, France and Germany.  In Bologna, Italy, on 27th September '97, he yet again sang before the Pope at the International Eucharistic Congress.
Andrea hits USA
On 19th April 1998 Andrea entered the US market with a concert at the John F. Kennedy Center for the Performing Arts in Washington, D.C. followed the next day by a reception at the White House with then USA president Bill Clinton. On 5th May, he appeared in Monte Carlo winning two World Music Awards, one in the category "Best Italian Singer", and one for "Best Classical Interpretation".
In July and August, he toured North and South America. His final concert of the tour at Madison Square Garden was sold out.
On Thanksgiving Eve Andrea appeared as a guest on Celine Dion's Television special These Are Special Times in which he joined Celine with their hit The Prayer from Celine's album These Are Special Times and he also sang Ave Maria solo. Celine introduced him by saying, "If God had a singing voice, he would sound a lot like Andrea Bocelli." As a result of his appearance on the show, his popularity in the USA further increased. Celine's album containing The Prayer was released in 1998 and re-issued with the DVD of the TV special in 2007. The song appeared on the Quest for Camelot soundtrack in 1998 and on Andrea's album, Sogno, the following year.
He sang in Las Vegas and also performed the first Internet live opera broadcast in its entirety from the Detroit Opera House, with Denyce Graves.  Andrea sang to over 18,000 spectators at the Hollywood Bowl in Los Angeles. Actress Elizabeth Taylor stood by his side on the stage during the encore, while he sang The Prayer.  He toured all over America and sang for the biggest and the best, including Bill Clinton and Rudi Giuliani.  He appeared on TV including the Jay Lenno show.  He was everywhere.
In 1999, the release of his fifth album "Sogno", which sold in excess of four million copies in just two months, is a testament to the power of his unique voice and irresistible warmth in overcoming barriers of language and culture. Sogno featured a duet with Celine Dion of the David Foster and Carole Bayer Sager penned song, "The Prayer," sold more than ten million copies, received a Golden Globe award and led to Andrea being nominated for a Grammy as "Best New Artist." This was the first time a classical artist had been nominated in the category.
His next album "Sacred Arias" won him a listing in the Guinness Book of World Records, as he simultaneously held the No. 1, 2 and 3 positions on the U.S. Classical albums charts with over 5 million units sold worldwide.
On 31 December 1999, he finished a marathon twenty-four concerts in thirty days, with a concert at the Nassau Veterans Memorial Coliseum in New York in front of 8,000 people, welcoming in the new millennium.
For some of his performances, he was cheered by the audiences and criticised by the press.  He has been dismissed and criticised by classical music critics including Bernard Holland of the New York Times, and Andrew Clement of The Guardian. Some point to his "poor phrasing, uneven tone and lack of technique." The New York Times chief music critic Anthony Tommasini said "Inadequate breath control often forces him to clip off notes prematurely at the end of phrases". But who listens to the press?
2000 and beyond
In 2001, Andrea paid tribute to his Tuscan roots with Cieli di Toscana, while the popular Andrea kept his international presence alive in 2004. He returned in 2006 with two releases: Amore, which peaked at number three on the Billboard Top 200 chart (Andrea's highest chart position in America), and the live CD/DVD package Under the Desert Sky. His 20th album, a collection of Neapolitan love songs entitled Incanto, was issued in 2008, followed by a Christmas album, My Christmas, in 2009.
He extended his repertoire to reach completely new territories of music, such as Baroque and Lieder works. Andrea interpreted an extremely complex Lieder program – the international project entitled the "Notte Illuminata" in February 2011, receiving an incredible 20 minute standing ovation.
Also in 2011, he made his debut at the Metropolitan Opera House in New York.
On 15th September 2011 he gave a free concert on the Great Lawn of Central Park in New York City. He was accompanied by the New York Philharmonic Orchestra, conducted by its music director Alan Gilbert, and the Westminster Symphonic Choir.  Andrea was joined by Celine Dion, Tony Bennett, Bryn Terfel, Ana María Martínez and Pretty Yende as well as instrumentalists Chris Botti, Andrea Griminelli and Nicola Benedetti, and producer David Foster.  The concert was attended by 70,000 people, including Mayor Bloomberg and Donald Trump.  The concert was broadcast throughout the United States and Canada, by PBS, and in Italy, by Rai 1. Concerto, One Night in Central Park, the live album and the DVD were released 15th November.
During 2012 and 2013 he continued to take over the world. 
In February 2012, Andrea starred on stage at the Carlo Felice theatre in Genoa in the lead role of Gounod's Roméo et Juliette directed by Fabio Luisi.
Also in 2012 a new CD "Opera" was released. It is an anthology of the most dazzling moments in the history of opera performed in twenty years of international career, in addition to the "Complete Opera Edition", a box which brings together in eighteen CDs, the lyrical recording of complete Operas performed by the Italian tenor up to now.
In October 2012 during the London ceremony for the prestigious "Classic Brit Awards 2012" he was awarded the award "International Artist of the Year" by the composer Sir Andrew Lloyd Webb.
Regarding pop, Andrea Bocelli has, for more than twenty years, been one of the most loved and followed stars at a global level. On 29th January 2013 he released his new album "Passione" including some of the most beautiful love songs ever, featuring duets with Jennifer Lopez and Nelly Furtado.
On 7th February 2013 he was an honorary guest at the 61st Annual National Prayer Breakfast, held at the Hilton Washington, where he performed "Ombra mai fu" and Franz Schubert's "Ave Maria" in the presence of President Barack Obama, First Lady Michelle Obama, Vice Present Joe Biden, as well as other political leaders.
Andrea Bocelli will be here for a long time to come, so let's leave the final quote to him "The more I immerse myself in singing, the less I understand. I only know that God has given me a voice which allows me to express what I feel, and in this sense I believe I can describe it as a recognisable voice".
Awards
Winner of the 1994 Newcomers section of the Sanremo Music Festival.
ECHO music award for "Best Single of the Year", for Time to Say Goodbye, in 1997.
ECHO Klassik "Best seller of the year" award for his album, Viaggio Italiano in 1997.
Bambi Award in 1997.
Two World Music Awards, one in the category "Best Italian Singer", and one for "Best Classical Interpretation" in 1998.
ECHO Klassik, for "Best selling classical album" with Aria - The Opera Album in 1998.
ECHO Klassik for "Bestseller of the year" for Sacred Arias in 2000.
2000 Classical BRIT Award for "Album of the year" for Sacred Arias in 2000.
Goldene Europa for classical music in 2000.
Platinum Europe Award for 1 million sales of the album Cieli di Toscana in 2001.
Special award from the Federation of the Italian Music Industry for his merits as an "Ambassador of Italian music in the world." at Italian Music Awards in 2001.
Goldene Kamera award in the "Music & Entertainment" category 2002.
Two World Music Awards, for "World best selling classical artist" and for "Best selling Italian artist" in 2002.
Telegatto award for the soundtrack of the series Cuore in 2002.
2002 Classical BRIT Award for "Outstanding Contribution to Music" in 2002.
Two 2003 Classical BRIT Awards for "Best selling classical album" and "Album of the year" for Sentimento in 2003.
"Favourite Specialist Performer" award at the ITV National Music Awards in 2003.
"Diamond CD" for more than 50 millions albums sold worldwide, in 2004.
Two World Music Awards for "Best Italian Artist" and "World's Best-selling Classical Artist" in 2006.
Telegatto award in platinum for Italian music in the world in 2008.
Four times Diamond disc for Incanto, at the Italian talk show Che tempo che fa, for selling in excess to 1.5 million copies within 4 month, in 2009.
By Bob Tallent
Follow us on Twitter - @DigiPrintNews
Like us on Facebook www.facebook.com/dpnlive - (click the 'LIKED' button/top of page as well)
Copyright © 2013, DPNLIVE – All Rights Reserved.
Now hit the NEXT button below & look at 16 more great videos including full concerts