Page 1 of 2
"You can argue with a philosopher,



but

you can't argue with a good song".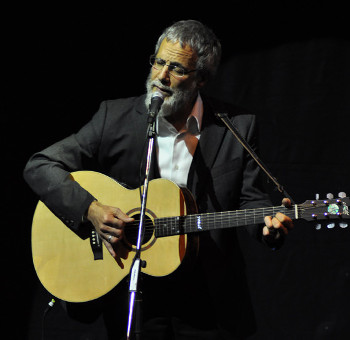 Dr. Yusuf Islam / Cat StevensThis 65 year old English man initially played the piano in his parent's restaurant.  He is entrenched in the folk scene and released his first album when he was 18.  Living near London's West End had a large musical influence on him.  Even though he was born as a Greek Orthodox, he was sent to a Roman Catholic school.  This combination of religious influences helped him develop a strong moral conscience, and provided an anti-Muslim slant to his upbringing.  Being influenced by The Beatles, he got his first guitar at 15 and started writing and singing his own music.  One of the first songs he wrote was 'The First cut is the Deepest' which he sold for $40.  In 1979, he auctioned all his guitars for charity and left his music career after he converted to Islam in December 1977 and adopted the name Yusuf Islam.  From then, he devoted his time to educational and philanthropic causes in the Muslim community. He has been given several awards for his work in promoting peace in the world, including the 2003 World Award, the 2004 Man for Peace Award and the 2007 Mediterranean Prize for Peace. In 2006, he returned to pop music with his first album of new songs in 28 years, entitled An Other Cup. He is now known professionally by the single name Yusuf.His most recent album, Roadsinger, was released on 5 May 2009.
I'm talking about Cat Stevens, Yusuf Islam.
He was born Steven Demetre Georgoiu on 21st July 1948 and today is simply called Yusuf.  Born in Marleybone, London, he was influenced by the Capital's West End theatres.  As well as using his voice as an instrument, he can also play guitar, bass guitar, double bass, banjo, mandolin, violin, piano, organ, keyboards, mellotron, synthesisers, percussion and drums.  During the years 1965 to 1980, he was known as Cat Stevens and from 1995 to the present day he is known as Yusuf.
His Greek father, Stavros Georgiou, Swedish mother, Ingrid Wickman and his two older siblings, Anita and David lived above The Moulin Rouge, a restaurant his parents ran near Piccadilly Circus.  Even though his parents divorced when he was eight, they still lived together and ran the restaurant.  While he spent a lot his sleeping time in his father's room, he felt closer to his mother.  She encouraged him.
He taught himself the piano on his parent's baby grand in the restaurant and at 15 persuaded his father to spend £8 on a guitar for him.  Even though he had to work in the restaurant, he regularly escaped up to the roof to listen to the West End musicals.  This hugely influenced him, in particular 'West Side Story'.
In school, he was not the brightest except at art and music.  Because of that, he was bullied and beaten up. He considered being a cartoonist for a while and even used his original drawings on some of his album covers.
When he was 17, he started performing under the name Steve Adams in Hammersmith.  At this stage, he was also writing songs.  He signed a publishing deal with Ardmore & Beechwood and recorded several demos, including 'The First Cut Is the Deepest'.
His musical influences were quite diverse, including The Beatles, Bob Dylan, Nina Simone, John Lennon, Biff Rose (who played on his first album), Leo Kottke and Paul Simon as well as blues artists Lead Belly and Muddy Waters.  He also wanted to copy composers who wrote musicals, like Ira Gershwin and Leonard Bernstein.
When he was 18, he was invited over to Decca Records by producer Mike Hurst of The Springfields. Cat soon released his first album, Matthew and Son, which featured the hits "I Love My Dog," "Here Comes My Baby," and the title track, which charted at No. 2 and further helped to boost his career.  He also took note of his image on stage, like The Beatles, and wore a suit and tie.
Mike was about to emigrate to USA and instead decided to record Cat.  This resulted in I Love My Dog (no. 28 in UK charts) and Portobello Road which impressed Decca Records so much that the young artist was selected to launch the new Deram label, which also signed new British talent such as David Bowie and the Moody Blues.  At this stage he changed his name to Cat Stevens and regularly appeared on what would have been highly unusual tours by today's standards alongside the Walker Brothers, Engelbert Humperdinck and the Jimi Hendrix Experience!
Matthew and Son hit no. 2 when he was still only 18.  He recorded more songs - I'm Gonna Get Me a Gun reached no. 6.  As a popular songwriter, some of his songs were covered by the Tremeloes (Here Comes My Baby) which went to No. 4, and P.P. Arnold, a former Ikette from the Ike and Tina Turner Revue, recorded a version of The First Cut Is The Deepest which hit No. 18.  Many years later Rod Stewart made the song a worldwide smash hit.
He had a rigorous schedule of live performances, signings, TV shows and recordings.  His wages rose from £2 per week to £300 per night.  As Cat said "All that fame led to a big change of lifestyle. I was being interviewed, photographed and chased by girls. Although I'd love to say none of that actually changed me, it did have an effect. Rather than worrying about being too young for this success, I thought I had left it too late, my expectations were so high."
Decca told him that his music appealed to a teen audience and he should stay at that.  Feeling trapped, he wanted to escape by releasing some more tracks that were aimed at a more mature audience.
He frequented Les Cousins, a basement club where Paul Simon and Al Stewart also played.  These were the early days of a new era in music that used folk expressions in melodic acoustic ballads, the roots of the seventies singer-songwriter movement, which produced performers like James Taylor and Joni Mitchell.
Because Decca declined to record his other material, he went into a depression.  He started partying, smoking and drinking and at 19 was diagnosed with tuberculosis and a collapsed lung.  He was close to death, spent three months in hospital and had a long convalescence of nearly nine months.  This period gave him time to reflect on his actions and re-evaluate his approach to life.  During this period he wrote 40 songs, many of which appeared in later albums.  When he emerged from that 12 month period, he had grown a beard and felt humiliated.
This also brought about a change in his music.  His songs changed from previously being melody based to being more inspiring.  As he told Paul Gambaccini in Rolling Stone, he felt he had something to say – to make a statement.  His music was also becoming more experimental.
He was also learning more about eastern religions.
When he returned, he released a new album in July 1969, "Where Are You," which failed.  As a result, he wanted to leave the Deram label, but he was in a contract.  So he had to create a situation where Deram asked him to leave and he did that by being very demanding.  He achieved his objective.
Remember, at this stage he is only 21 years of age.  Then he recorded some of his new songs and sounds on his own home tape recorder and sent it to some record producers.  He moved to a new producer, Paul Samwell-Smith of The Yardbirds, signed with Island Records and arranged a US distribution deal with A&M Records, which was owned by Herb Albert and Jerry Moss.  He produced Mona Bone Jakon in April 1970. Cat preferred to lay down many of the songs live, either with a guitar or at the piano. The song Lady D'Arbanville (about his girl friend actress Patti D'Arbanville) shot to No. 8 in the UK.  Now America was listening more carefully.
In 1970 one of his songs, But I might Die Tonight, was used in the film Deep End.  Nine of his songs were used in the film Harold and Maude.
The album got airplay in US, sold over 1 million copies and achieved gold in 1971.  This now lead to his next album.
It was titled, Tea for the Tillerman, hit the U.S. Top Ten and stayed on the charts for well over a year, producing the hit "Wild World."   Within the first six months it sold over a half a million copies and achieved gold.  Cat was now a highly successful concert performer as well.  Songs on this album included Father and Son (one of my favourites), Wild One (as a parting song with Patti), Hard Headed Woman and Tea for the Tillerman.
Father and Son was later covered by Boyzone in 1995 and became a massive hit.  Ronan Keating appeared on stage with Yusuf on 16th November 2009 singing Father and Son.  This was quite soon after bandmate Stephen Gately died unexpectedly.  The show had a mixed reception for Yusuf, who had not performed there for 33 years.  He debuted his 'Moonshadow' musical during the sold-out show. Some members of the audience were unhappy with that.  They were only interested in hearing his classic hits.  Apparently much booing and walk-outs ensued during his surprise ten-strong cast production add-on.  Picking up in the dissatisfaction in the audience, Yusuf explained that he was merely trying to offer "a show and a half".  You can't please all of the people all of the time.
His fifth album was another hit, Teaser and the Firecat.  It went to Number Three, then gold, and contained the hits "Morning Has Broken" (Number Six - a traditional hymn Cat discovered in the religious section of a London bookstore), "Peace Train" (Number Seven), and "Moon Shadow" (Number 30).
Catch Bull at Four was released in 1972 and achievedgold in just 15 days holding no.1 for three weeks.  Foreigner was also certified gold, but yielded no big hits.  Foreigner was a departure in Cat's previous style.
At this stage, Cat was regarded as one of the most important figures in the then popular folk-rock singer/songwriter trend, along with artists like James Taylor, Carole King and others.
Carly Simon was his girlfriend around 1971-2 and he wrote Sweet Scarlet about her.  She in turn wrote Anticipation and Legend in Your Own Time about him.
Talking about his inspiration for his songs, Cat took Moon Shadow as an example: "I get the tune and then I just keep on singing the tune until the words come out from the tune. It's kind of a hypnotic state that you reach after a while when you keep on playing it where words just evolve from it. So you take those words and just let them go whichever way they want.. 'Moonshadow'? Funny, that was in Spain, I went there alone, completely alone, to get away from a few things. And I was dancin' on the rocks there... right on the rocks where the waves were, like, blowin' and splashin'. Really, it was so fantastic. And the moon was bright, ya know, and I started dancin' and singin' and I sang that song and it stayed. It's just the kind of moment that you want to find when you're writin' songs."
In 1975, unbeknownst to many of his fans, Cat was living in Brazil as a tax exile from the UK, donating much of his earnings to charities such as UNESCO.
With Buddah and the Chocolate Box, featuring "Oh Very Young" (Number 10), and Numbers, Cat's sales began to drop off.  Deram compiled another collection of juvenilia, Very Young and Early Songs, which peaked in the U.S. Top 100 in early 1972, as did a belated American release of the single "Where Are You."
The combination of success and notoriety from selling 23 million records worldwide pushed him deeper into self-seclusion and made him more devoted to his search for inner self and something better. His first encounter with Islam was in a market in Marrakech, Morocco, where he'd gone in the early seventies to gain inspiration and write. "I heard singing, he recalls, and will never forget: I asked, what kind of music is that? and they told me, that's music for God. I'd never heard anything like that before in my life. I've heard of music for praise, for applause, for money, but this was music seeking no reward except from God. What a wonderful statement."
Cat Stevens last Top 10 charting album, 1977's Izitso (produced by Cat and David Kershenbaum), included the hit (Remember the Days of the) Old School Yard, which traced back to his early childhood in London's West End.
A turning point in Cat's religion came in 1976 when he was on holiday in Malibu. While swimming, he got into difficulty because the tide was too strong and he prayed to God to save him.  The tide turned and he swam to shore easily.  This combined with his brother, David, who returned from a holiday and gave him a copy of the Qur'an.  This gave him answers to questions he was asking.  He started applying Islam's spiritual values to his own life: he began praying directly to God and gradually cut down drinking, clubs and parties. He retreated from the music business and finally embraced Islam in 1977, changing his name to Yusuf Islam.
Regarding his conversion, in a 2006 interview with Alan Yentob, he stated, "to some people, it may have seemed like an enormous jump, but for me, it was a gradual move to this."  And, in a Rolling Stonemagazine interview, he reaffirmed this, saying, "I had found the spiritual home I'd been seeking for most of my life. And if you listen to my music and lyrics, like "Peace Train" and "On The Road To Find Out", it clearly shows my yearning for direction and the spiritual path I was travelling."
He was still contracted to deliver one more album. But his attitude towards the music business now resounded more clearly in his lyrics: Just Another Night, from 1978, appeared on his very last rock album, appropriately entitled Back To Earth, for which he again teamed up with Paul Samwell-Smith.
Yusuf at this stage was becoming deeply involved in education and humanitarian issues.  He opened and funded the Islamia Primary School in London, which, fifteen years later, made history by becoming the first government funded Muslim school in England.  During the African famine in 1984, he helped establish Muslim Aid, an international relief organisation. Today, Yusuf still donates vast amounts of his royalty income to charity. He has for almost three decades concerned himself with education and fundraising for the plight of those much less fortunate. His U.K. and United Nations registered charity, Small Kindness, provides humanitarian relief as well as social and educational programs to countless orphans and needy families in the Balkans, Iraq, Indonesia and other regions.
He was robbed of $33,000 by Macedonian border guards when he was trying to enter the country with the funds to distribute to Kosovar refugees.
On 7th September 1979, he entered into an arranged marriage with Fawzia Ali and had five children – four daughters and a son. For the most part, he lived a quiet life devoted to his family and faith, and wasn't heard from until the late 80s. In 1989, he claims he was misrepresented as supporting the death sentence for exiled novelist Salman Rushdie. As a result, his music was largely removed from the airwaves in the United States and he was blacklisted from the music industry.
He misunderstood the readings of the Qur'an in assuming that he had to give up singing and the music business.  However in his first performance on the television show Later... with Jools Holland, 27 years after leaving the music business, and in other interviews, he gave different reasons for leaving: "A lot of people would have loved me to keep singing," he said. "You come to a point where you have sung, more or less ... your whole repertoire and you want to get down to the job of living. You know, up until that point, I hadn't had a life. I'd been searching, been on the road."
He refused to license his song "Father And Son" for use in Moulin Rouge! (2001). It was the first musical number in the original script. Because of his current religious beliefs, he objected to the sexual content in the film.
Following the 9/11 attacks, he issued a statement "expressing his horror at the attacks on the innocent people of the United States". He also stated "no right thinking Muslim would ever condone such Acts".
On 22nd September 2004, Yusuf was denied entry into the United States. The plane which he had been allowed to board was en route from London to Washington, but it was diverted to Maine where US officials interviewed him and then arranged for his return to London later that day. As their reason for denying entry, US officials cited that the singer's name was on one of the country's "watch lists."
The US removal provoked an international controversy and led British Foreign Secretary Jack Straw to complain personally to US Secretary of State, Colin Powell, at the United Nations.  Colin responded by stating that the watch list was under review, adding, "I think we have that obligation to review these matters to see if we are right".  There may have been a misunderstanding with the spelling of his name.  The man on the list was named "Youssef Islam", indicating that Yusuf himself was not the suspected terrorism supporter.  The translation of the Islamic name for Joseph (Yusuf's chosen name) lists a dozen spellings.
Two years later, in December 2006, Yusuf was admitted without incident into the United States for several radio concert performances and interviews to promote his new record.
He released a series of low-profile spoken word albums, but only truly returned to the pop scene in 2005 with the new song "Indian Ocean", as well as a number of notable benefit performances. In November 2006, he released his first pop album in 28 years, entitled "An Other Cup", filled with music quite reminiscent of his 1970s sounds, though with a more obvious spirituality.
He released a new album in 2009 called 'Roadsinger' and features Paul McCartney, Dolly Parton, Michelle Branch, Gunnar Nelson and Terry Sylvester among others. It is a return to his well loved 'Cat Stevens' sound.
Yusuf recorded and performed fairly regularly as Yusuf Islam, releasing a song dedicated to the Arab Spring uprisings around the Arab world, "My People". He has also made a few appearances to perform songs he wrote and made famous as Cat Stevens, like "Moonshadow" and "Peace Train".
In early 2009 he collaborated with Klaus Voormann for a cover version of George Harrison's "The Day the World Gets 'Round." All proceeds from the song were donated to a charity to help the children of war-torn Gaza.
In addition, he received a number of humanitarian awards for his work with peace and education, including the 2003 World Social Award, the 2004 Man for Peace Award, 2005 and 2006 ASCAP awards, the 2007 Mediterranean Peace Prize, and two honorary doctorates from the University of Gloucestershire (2005) and Exeter (2007) for his effort to forge peace and understanding between the West and the Arab world. He released nearly a dozen albums as Cat Stevens and two as Yusuf Islam.
He now goes professionally by the single name Yusuf and is living in London running his hotel catering to Muslims.  He continues to release religious albums and music for children independently.
I'm going to finish with Yusuf's own words. "The language of song is simply the best way to communicate the powerful winds of change which brought me to where I am today, and the love for peace still passing through my heart. I feel gifted to have that ability still within me. I never wanted to get involved in politics because that essentially separates people; whereas music has the power to unify, and is so much easier for me than to give a lecture." He continues "You can argue with a philosopher, but you can't argue with a good song. And I think I've got a few good songs."
And I agree.
By Bob Tallent
This email address is being protected from spambots. You need JavaScript enabled to view it.">This email address is being protected from spambots. You need JavaScript enabled to view it.
PS: For all fathers out there, Yusuf' song lyrics for his hit - 'Matthew and Son' is a 'must listen to'.
Follow us on Twitter - @DigiPrintNews
Like us on Facebook www.facebook.com/DPNLive - (click the 'LIKED' button/top of page as well)
Copyright © 2013, DPNLIVE – All Rights Reserved.