A poet in songwriter's clothing – 77 years young and still singing
By Bob Tallent
12th January 2012
---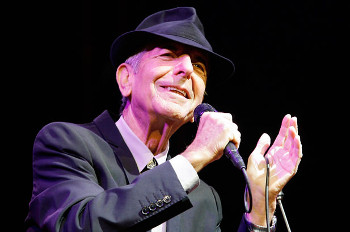 Leonard CohenBorn in Westmount, Montreal, Quebec Canada on September 21st 1934 (three months before Elvis) where he grew up. He is 5ft 8ins, hazel-eyed, a Lithuanian Jewish musician, singer/songwriter, novelist and poet. His mother emigrated to Canada from Lithuania and his great grandfather emigrated from Poland. His grandfather, Lyon, was the founding president of the Canadian Jewish Congress. His father, Nathan, who owned a reasonably sized clothing shop in Montreal, died when he was nine. He went to Westmount High School in 1948 where he studied music, poetry, learnt the guitar (acoustic and then classical) and started a country folk group called the Buckskin Boys.
I'm talking about Leonard Cohen, of course.
His first book of poems, Let Us Compare Mythologies, was published in 1956 when he was 22 and helped establish him as a poet and novelist. While living in New York City during the mid-1960s he became interested in the Greenwich Village folk scene and began setting his poems to music. In 1967 Judy Collins recorded two of his songs, Suzanne and Dress Rehearsal Rag. It was in this year too that he began performing in public and appeared at the Rhode Island Newport Folk Festival. He also recorded The Songs of Leonard Cohen, which included Hey, That's No Way to Say Goodbye – criticised for being a sad depressed song. That album was followed by Songs from a Room (1969), featuring the now often-covered Bird on a Wire, and Songs of Love and Hate (1971), containing Famous Blue Raincoat, a ballad in the form of a letter from a man to his unfaithful wife's lover.
He had a dry-witted baritone voice that appealed to a lot of people. It took me a while to appreciate him and now that I do, I'm hooked. Other albums include Leonard Cohen: Live Songs (1973) and New Skin for the Old Ceremony (1974), which introduced Chelsea Hotel No 2 –, a recollection of a brief sexual encounter with singer/songwriter Janis Joplin. These further deepened his standing as a songwriter of exceptional emotional power. His career took a decided turn for the worse with the disappointing Death of a Ladies' Man (1977), a partnership with legendary producer Phil Spector whose impressive style was not suited to Leonard's understated songs. For most of the 1980s he just didn't cut it, but his 1988 album I'm Your Man had the club hits First We Take Manhattan and Everybody Knows and introduced his songwriting to a new generation. In 1992, he released The Future.
Between 1992 and 1999 he went to a Buddhist monastery near Los Angeles. When he came out in 1999, he went to the studio and recorded Ten New Songs (2001) and Dear Heather (2004). The great documentary Leonard Cohen: I'm Your Man (2005) blended interview and archival footage with performances of his songs by a variety of musicians.
In 2005 he discovered that his business manager had stolen $5 million of his savings. This practically wiped out his retirement fund. In 2006, while he won a $7.9 million judgment against her, he was not able to recover the money. In 2008, he started a concert tour – his first in 15 years to rebuild his finances. Also in 2008, he was inducted into the Rock and Roll Hall of Fame, and in 2010 he received a Grammy Award for lifetime achievement.
Leonard Cohen came to Ireland in 2008, 2009 and 2010 and I missed him. In 2010, he played at Lissadell House in Sligo. I've spoken to people who were there, looked at YouTube videos and I've read the reports. Oh, how I wanted to go to Sligo in 2010 to Lissadell House with the beauty of flat-topped Ben Bulben overlooking it. The setting couldn't be more perfect. I've looked at the YouTube videos. One of the best remarks to an audience was: 'Thank you, music lovers.' How brilliant was that comment and respectful of the audience. Talking of respect, he opened with: 'Thank you for inviting me back.' During Hallelujah he sang: 'I've told the truth, I didn't come to Yeats County to fool ya.' He quoted: 'Two girls in silk kimonos, both beautiful, one a gazelle.' He told the audience that he had learnt those lines 50 years ago in his hometown Montreal.
In 2009, while on stage in Valencia in Spain he collapsed on stage. It seems he had food poisoning and was carted off to hospital. The following day, he was back performing.
Spin magazine named him the big comeback of 2009 which, after a 15-year break, seemed like a gross understatement. To his fans, the tour was something far more special and unexpected. Many had written off the chance of ever seeing him perform live again. Every night of his performances, he literally ran on stage and started singing.
I hope he comes to Ireland in 2012 and if he does, I'll be there this time.
Addendum: He came in 2012 and I was there.  See the full review here complete with all the songs in the concert.

Check out this 45 minutes of pure entertainment in these videos below and let me know what you think.  Turn your speakers up, sit back, soak up the atmosphere without even being there.  I challenge you not to sing along to some of them.


This is where he faints on stage

Hallelujah in Sligo.
6.10 I didn't come to Yeats County to fool ya

LC recites poetry by WB Yeats

Look at him run onto the stage.
Listen to the crowd sing in Sligo. Magic

Closing Time

Suzanne

Dance me to the end of Love

Leonard Cohen's Prince Of Asturias Speech
Copyright © 2011, DPNLIVE – All Rights Reserved