Page 1 of 3
The Quiet Man of Rock and Roll who sips tea on stage.
By Bob Tallent
This 63 year old man was born in Scotland and reared in the north east of England.  He founded one of the most innovative and individualistic sounding bands in 1977 with his brother David and is a guitarist, singer, songwriter and record producer.  In his late teens and early 20s, he worked as a reporter, graduated with a degree in English and taught as a lecturer.  While he is left handed, he plays the guitar right handed.  Even though the acoustic guitar is better suited to finger picking, he has perfected it on the electric guitar.  He fingerpicks using a personal variant of the clawhammer style instead of using a plectrum. Fingerpicking is usually associated with acoustic guitar, but this man usually (though not always) plays an electric guitar. He has received 22 awards in his life including an OBE and owns over 70 guitars.  His genres include Rock, Roots Rock, Celtic Rock, Country Rock and Blues Rock.  He is known as the 'quiet man of rock and roll', is shy by nature and sips tea on stage.  In addition to having a guitar named after him by Fender, he also has a dinosaur named after him because the researchers who discovered the bones from six specimens in Madagascar reported that they found the fossils whilst listening to his music.
---
I'm Talking about Mark Knopfler
Early Life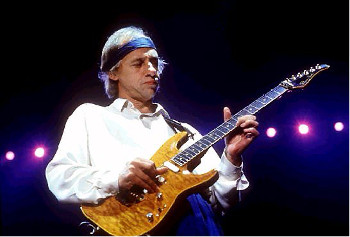 Mark KnopflerHe was born Mark Freuder Knopfler on 12th August 1949 in Scotland.  His father was a Hungarian Jewish emigrant who worked as an architect and his mother was an English schoolteacher.  In 1956, when he was seven, the family moved to England and setup in Newcastle-upon-Tyne. Does that make him a Geordie?  His love of music came from his uncle.  "I heard my Uncle Kingsley playing boogie-woogie on the piano when I was about eight or nine, and I thought that those three chords were the most magnificent things in the world - still do," he once said. A few years later, Mark began learning to play guitar, first on a £50 twin-pickup Hofner Super Solid before moving up to an electric Fender his father bought for him.
At 16, Mark and some pals cut a demo single that was never released, and he performed in a vocal group with a school friend called Sue Hercombe that was successful enough to get an appearance on local television. Like many other schoolboys of the 1960s, he served an early apprenticeship by forming and joining anonymous schoolboy bands and listening to singers like Elvis Presley and guitarists Chet Atkins, Scotty Moore, Jimi Hendrix, Django Reinhardt and James Burton.
When he was 17 he enrolled at Harlow Technical College, where he studied journalism, and a year later he got a job at the Yorkshire Evening Post, where he covered general news and was a music critic. After two years at the post, Mark returned to college, studying English at Leeds University. While there, he became friends with a fellow guitarist named Steve Phillips, and they began playing under the name of the Duolian String Pickers.  It was during this time working with Steve that Mark began developing his finger-picking style which would later turn into his trademark.  Steve later turned into a famous bluesman.  Meanwhile, Mark took a job restoring paintings and furniture at Leeds City Art Gallery and Temple Newsam House.
As a coincidence, Mark's boss was also called Stephen Phillips. This caused some confusion over the years and a number of Steve Phillips biographies have mistakenly claimed that Steve himself worked as a journalist. Mark and his boss - the other 'Steve Phillips' - went to see Steve playing in Leeds. Steve fondly recalls how Mark's first words were "Steve Phillips, meet Steve Phillips."
Pre Dire Straits Years
Mark and Steve played together on and off over the next five years. Some of their work is featured on Steve's 1996 Just Pickin' album. "He was a good guitar player in a B.B.King sort of way ", Steve says amusingly of the young Mark.  Steve had a profound effect on Mark's guitar playing introducing him to the intricate lead technique of black blues guitarist Lonnie Johnson and the subtle skills of country blues guitar, the elements of which Mark was eventually to weave into his own unique style of guitar picking. This was, in fact, a very important stage in Mark's development as a guitarist. He later told Jack Sonni that it was not until he began to finger-pick that he found his guitar 'voice'.
In 1973 Mark graduated from Leeds University and went to London to try to break into the rock scene. He read the music press and answered the biggest ad he could find in Melody Maker. That led him to an audition and a two month stint with a blues band called Brewer's Droop. Mark played guitar on three songs on an album called The Booze brothers they recorded at Dave Edmunds' Rockpile Studios in Wales. The band's drummer was a guy called Pick Withers. Pick turned professional at the age of seventeen and was a very experienced drummer.
Mark still had to earn money to live and he wasn't earning enough playing music so he took up a job as a part time lecturer at Loughton College in Essex where he remained for two years.  He was living in a rented flat in Buckhurst Hill and gave guitar lessons at Staples Road School.  His brother David came to stay with him for a few weeks en route to London. The Knopfler brothers often sat up late at night playing songs.  Without knowing it, they were laying the foundations for what was to become in time, Dire Straits.
It was the mid-1970s, David moved to London and Mark went on to form a working band with friends at Loughton College. They called themselves the Café Racers.  . It was also in Pudsey, Leeds that in 1974 Mark recorded a demo tape of an original (but unreleased) song; "Summer's Coming My Way".
David shared a flat at Farrer House on Deptford's Crossfield Estate, South-East London, with a Leicester-born bass player by the name of John Illsley. John recalls first meeting Mark. "I'd been out all night and came in about ten in the morning. I walked into the kitchen, started making myself a cup of tea, walked into the lounge and there was this guy lying on the floor with his head propped up against a chair. He was fast asleep, fully clothed in denim with leather boots. He had a guitar slouched over his waist." David had often spoken to John of his guitar-playing brother and John guessed correctly that the guy sprawled out on the lounge floor was indeed Mark.
Mark still ran the Café Racers.  One night their bass player was ill and John was asked to stand-in. Mark and John immediately struck up a great working relationship and both realised that, despite having built-up a good reputation on the local pub scene, the Café Racers had a limited future. In April 1977 Mark gave up his flat in Buckhurst Hill and moved in with David and John.
The Dire Straits Years
Mark was writing songs at this stage and during the summer of 1977 the three musicians found themselves rehearsing and playing his songs.  They had to find a good drummer.  The first name that came to Marks mind was Pick Withers of Brewers Droop.  So Pick was invited to the Farrer House flat and the four musicians began doing gigs together under the name of Mark's old band, the Café Racers.
All members of the band worked well together and it was suggested that they change the name of the group to DIRE STRAITS.  This was the start of it.  The band's first gig took place on the open space at the back of the Farrer House flats.  Electricty came by a power cable running from the stage into a socket on the wall of John's first floor flat.
They rehearsed endlessly and got a few gigs that didn't pay much - £5 per night -enough to pay for the hire of the PA equipment.  Transport was by way of John's estate car, which was barely big enough to carry the gear.
On the 27th of July 1977 Dire Straits recorded the now famous demo tapes of five songs - Wild West End, Sultans of Swing, Down To The Waterline, Sacred Loving and Water of Love. Around October they recorded Southbound Again, In The Gallery and Six Blade Knife for BBC Radio London and, finally, on the 9th of November demo tapes were made of Setting Me Up, Eastbound Train and Real Girl.  Mark used the songs to reflect his time in Newcastle, Leeds and London.  In The Gallery is a tribute to a Leeds sculptor/artist named Harry Phillips, father of Steve; and, Lions, Wild West End and Eastbound Train were all drawn from Mark's early days in the capital. When "Sultans of Swing" was released as a single it became a chart hit in The Netherlands and album sales took off, first across Europe and then in the United States and Canada, and finally the UK.
In 1978, they released their first album – Down to the Waterline.
Now they had an album but they didn't have a record company so how were they going to get it into the shops.  They gave the tapes to BBC Radio London DJ Charlie Gillett. Charlie played the tapes and called on record company executives to sign this new band.
Phonograms A&R man John Stainz heard their music on radio when he was in the shower and spoke to his colleague Ed Bicknell.  A few weeks later he signed the band to Phonogram's Vertigo label and Mark secured a publishing deal with Rondor Music.
Towards the end of 1977 Ed Bicknell was working at the NEMS agency when he got a call from John Stainze asking him to fix up some gigs for Dire Straits. Ed was invited round to Phonogram's offices in December where he heard the Charlie Gillett demo tapes. He was then taken to Dingwalls Club in North London to meet Dire Straits. The date was the 13th of December 1977, and as he walked into the club they were playing Down To The Waterline.  Ed recalls, "The first thing I noticed was that it wasn't necessary to stand at the back of the room; they were very quiet.
He saw that Mark was playing a red Strat, much like Hank Marvin, whom he idolised.  After hearing two or three numbers Ed decided that he wanted to manage the band. He was organising a tour for Talking Heads and was able to put his new band on the bill as the support act. Dire Straits were paid £50 per night for the Talking Heads tour.  A big increase in money!
Liz Whatley was Ed's assistant at the time.  She was asked when it was that she realised Dire Straits were going to be really big. She replied that it was the first time she heard the song Romeo and Juliet. By the mid-1980s Dire Straits had released Brothers in Arms, one of the best selling albums of all time, and had been tagged 'the biggest band in the world'.  U2 took over this mantle later.
By that stage the recording and touring personnel of the band were changing.  David left. Hal Lindes, guitar, and Alan Clark, keyboards, joined. Then came Tommy Mandel, keyboards, and Mel Collins, saxophone. Pick left and was replaced on drums by Terry Williams.  Keyboard player Guy Fletcher became a member of Dire Straits for the Brothers In Arms album.  Jack Sonni, guitar, and Chris White, saxophone, were brought in for the subsequent world tour.
Between 1983 and 1984 Mark was involved with other projects as well, including writing and producing the music score to the film Local Hero which was a large success.  This was followed in 1984 by his scores for the films Cal and Comfort and Joy. Also during this time Mark produced Bob Dylan's Infidels album, as well as Knife by Aztec Camera. He also wrote the song "Private Dancer" for Tina Turner's comeback album of the same name.
Their next tour was Brothers In Arms and they played 234 shows to over 2.5 million people in 12 months.  With a few days' holidays in the year, they played for 5 days per week to 11000 people per show.  Released in May 1985, The Brothers in Arms Album became their biggest selling studio album, selling 30 million worldwide and is the fourth best-selling album in UK chart history.
The Brothers tour must have worn the band out because when it ended they didn't play together for some time.
Mark concentrated mainly on film soundtracks. He joined the charity ensemble Ferry Aid on "Let It Be" in the wake of the Zeebrugge ferry disaster. The song reached No. 1 on the UK singles chart in March 1987. He also wrote the music score for the film The Princess Bride which was released at the end of 1987.
Mark also took part in a comedy skit on the French and Saunders Show titled "The Easy Guitar Book Sketch" with comedian Rowland Rivron and fellow British musicians David Gilmour, Lemmy from Motorhead, Mark King from Level 42, and Gary Moore.
Just after Mark produced Tina Turner's song, he teamed up with Steve Phillips and Brendan Croker.  In 1973 Steve and Brendan worked together  up after Mark left.  In 1986 Steve was in London and called in to see Mark who said he fancied coming up to Leeds and sitting in with Steve and Brendan on one of their gigs. This resulted in the three of them playing together at The Grove Pub in Hunslet, Leeds, on the 31st of May, 1986.  I wonder if the punters at this gig realised what they experienced.
The following year Mark offered to produce Steve's next album but Steve suggested that a new album should feature both himself and Brendan. Guy Fletcher was brought in to help out on the technical side. From this evolved the Notting Hillbillies.  It was a band at the other end of the commercial spectrum. It leaned heavily towards American roots music – folk, blues and country music.
In June 1988, Mark brought Dire Straits back together for Nelson Mandela's 70th Birthday Concert which featured Eric Clapton who was standing-in for Jack Sonni who had just become the father of twin girls.  In September 1988 Mark announced the official dissolution of Dire Straits, or so he thought.
After Dire Straits
Ed Bicknell is an accomplished drummer in his own right and during a meal in a Notting Hill wine bar, Mark sat next to him and told him that he was going to be the drummer on the next band.  Paul Franklin joined on pedal-steel guitar. They had an extensive UK tour to promote the 1990 release of their only album, a multi-platinum selling album Missing......Presumed having A Good Time.  He then toured with the Notting Hillbillies for the remainder of that year and further emphasised his country music influences with a  1990s collaboration with Chet Atkins, Neck and Neck, which resulted in three Grammy awards. The Hillbillies toured the UK in early 1990 with a limited number of shows.  It was strictly low key, packing out smaller venues, such as Newcastle University.
Mark, John, Alan and Guy appeared on stage at Knebworth in June 1990 along with, among others, Eric Clapton, Elton John, Ray Cooper and Phil Palmer (who was at that time part of Eric Clapton's touring band), to help raise funds for the Nordoff Robbins charity.
In January the following year, Mark, John Illsley and manager Ed Bicknell decided to reform Dire Straits.  Mark, John Illsley, Alan Clark, and Guy Fletcher set about recording what turned out to be their final studio album accompanied by several part-time musicians, including Phil Palmer, pedal steel guitarist Paul Franklin, percussionist Danny Cummings and Toto drummer Jeff Porcaro.
The follow-up to Brothers in Arms was finally released in September 1991. On Every Street was nowhere near as popular as its predecessor, and met with a mixed critical reaction, with some reviewers regarding the album as an underwhelming comeback after a six-year break. Nonetheless, the album sold well and reached No. 1 in the UK. A gruelling world tour to accompany the album followed, which lasted until the end of 1992.   It played to 4 million people.  This was to be Dire Straits' final world tour; it was not as well received as the previous Brothers in Arms tour, and by this time Mark Knopfler had enough of such massive operations. This drove the band into the ground, and ultimately led to the group's final dissolution in 1995. Mark dissolved Dire Straits and launched his career as a solo artist.
Mark's Solo Career
Following the tour, Mark took some time off from the music business. In 1993, he received an honorary music doctorate from the University of Newcastle upon Tyne.  Two more Dire Straits albums were released, both live albums. On the Night, released in May 1993, documented Dire Straits' final world tour. In 1995, they released Live at the BBC (a contractual release to Vertigo Records).
In 1996 Mark began his career as a solo performer with the release of the Golden Heart album. The album was simply a step forward in the evolution of his music, "It's just moving forwards...Just trying to be better." he said.
His latest album is called Privateering and was released on 3rd September 2012.  It was recorded in Mark's own studio, British Grove.
Over the years Mark has worked with many artists. He has at one time or another worked with people such as Bob Dylan, Van Morrison, Randy Newman, Buddy Guy, Tina Turner, Phil Lynott, Willy DeVille, Eric Clapton, Waylon Jennings, Chet Atkins, Phil Everly, Vince Gill, Paul Franklin, Kate and Anna McGarrigle, Paul Brady, The Chieftains, Ben. E. King, Mary Chapin-Carpenter, Joan Armatrading, Scott Walker, Jeff Healey, The Judds, Jimmy Nail, Bryan Ferry, Aztec Camera, Steely Dan, Sting, Sonny Landreth, James Taylor, Emmylou Harris, Gillian Welch and David Rawlings.
Charity Work
He has also devoted a great deal of time to charity over the years. Dire Straits did a total of three concerts for the Prince's Trust in front of Prince Charles and Princess Diana. They appeared at the 1985 Live Aid Concert and the 1988 Nelson Mandela 70th Birthday Concert. In 1995 Mark was featured on the chart-topping Dunblane single Knockin' On Heaven's Door and in September 1997 was one of the artists who performed for Sir George Martin's Music For Montserrat Concert at the Royal Albert Hall. The Notting Hillbillies, too, have performed many charity concerts helping to raise money for a range of deserving causes.
Mark has been the recipient of countless awards and accolades, not least among which was the conferring in May 1993 of an Honorary Music Degree by Newcastle University of which he is very proud.
Mark's Personal Life
Mark Knopfler has been married three times. While he was living in Leeds he married Kathy White, his long-time girlfriend from school days; however, the marriage didn't last, and they separated before Mark moved to London to join Brewers Droop.
He married for the second time in November 1983, to Lourdes Salamone, and became a father to twin sons, Benji and Joseph in 1987, both of whom he has said are talented musically, and aspiring musicians. Mark's marriage to Salamone ended in 1993.
His third marriage to actress Kitty Aldridge has given him two daughters Isabella (born 1998) and Katya Ruby Rose (born 2003). The family currently lives in Chelsea.

Now Hit the NEXT button below to see 22 more great VIDEOS including 9 full concerts