Page 1 of 2
The Band That

Broke Free

with

Fat Bottomed Girls

and created

a Kind of Magic

.
By Bob Tallent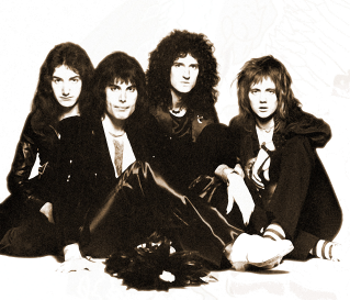 Queen
In 1970, Tim Staffell left the group 'Smile', which was formed in 1968. A keen follower of the group, Farookh Bulsara, convinced the remaining members that he should be their new lead singer and duly set about moulding the group into his own image, starting by changing the group's name. Before he joined the band, Farookh was a singer in other bands, such as Wreckage and Ibex. He was very eager to share his ideas in which musical direction Smile should develop. Tim Staffell meanwhile decided to join a band called Humpy Bong.
This was the start of the band known as Queen.
In 1967/8, Brian May and Tim Staffell, both students at Imperial College, decided they wanted to form a group. Brian placed an advertisement on the college notice board for a "Ginger Baker type" drummer, and a young medical student called Roger Taylor, a dental student, auditioned and got the job. They called the group Smile. Smile was signed to Mercury Records in 1969/70, and had their first experience of a recording studio in Trident Studios that year. Tim Staffell was at Ealing College of Art with Farookh Bulsara, and introduced him to the band. Farookh soon became a keen fan. In 1970 Smile decided to call it a day, as nothing seemed to be happening for them. Tim left. Farookh joined, changed his stage name to Freddie Mercury and smile changed to Queen.  John Deacon joined the band in 1971.
The name Queen was Freddie's idea.  He said "I thought up the name Queen. It's just a name, but it's very regal obviously, and it sounds splendid. It's a strong name, very universal and immediate. It had a lot of visual potential and was open to all sorts of interpretations. I was certainly aware of gay connotations, but that was just one facet of it."
Brian May began work on a Ph.D. in astronomy; Roger Taylor had a degree in biology; John Deacon, a degree in electronics; and Freddie Mercury had one in illustration and design and he designed the band's logo. The logo combines the zodiac signs of all four members.
The band rehearsed tirelessly and played several small gigs at Imperial College, where they rehearsed for close friends. Then they were offered the chance to test a new recording studio called De Lane Lea. In return for trying out the new equipment, they could also make free demo tapes. They did. No one was interested! They had signed a recording contract and publishing and management agreements with Trident in 1972. Queen was given the 'down time' - or out of hour's studio time - at Trident Studios, where they began work on their first album.
The first single "Keep Yourself Alive" was released shortly afterwards but didn't sell well. Their LP, Queen, was influenced by the heavy metal and progressive rock of the day. The album was received well by critics; Gordon Fletcher of Rolling Stone said "their debut album is superb", and Chicago's Daily Herald called it an "above average debut". However, it drew little mainstream attention and the lead single "Keep Yourself Alive", a Brian May composition, sold poorly. Greg Prato of Allmusic later called Queen "one of the most underrated hard rock debuts of all time."
Not to be put down, Queen released their second LP Queen II in 1974. The album reached number five on the British album charts, and the Freddie Mercury-written lead single "Seven Seas of Rhye," reached number ten in the UK, giving the band their first hit. The band toured as support to Mott the Hoople in the UK and US during this period, and they began to gain notice for their energetic and engaging stage shows. However, like its predecessor, sales of Queen II in the US were low.But in May 1974, whilst on tour, Brian collapsed with hepatitis, and the band had to cancel the rest of their dates.
Work on their third album began without Brian and with a lot of help from Roy Thomas Baker. Brian finally felt well enough to go into the studios to record his guitar parts, although he was still ill.  But eventually, the album was finished, and Sheer Heart Attack was released in November 1974. It was a huge hit both sides of the Atlantic as the world came to realise that Queen were certainly a force to be reckoned with.
In January 1975, Queen embarked on their first headlining tour of the USA, with phenomenal demand for tickets. However, some shows on the tour were cancelled as Freddie had developed throat problems. Queen hired Jim Beach as a lawyer to sever their links with Trident. They flew off to Japan in April, and arrived to a riotous reception, as 'Sheer Heart Attack' was the no.1 album at the time.
Work on the new album began in June, and links with Trident were cut in August. In September, Queen took on John Reid as their new manager. They revealed their new single 'Bohemian Rhapsody', but at 5 minutes and 55 seconds everyone told them it was too long. However, Freddie gave a copy to his close friend, DJ Kenny Everett, who managed to play it on national radio 14 times in 2 days. This, and the first true promotional video, helped the single to reach no. 1, where it remained for 9 weeks.
A Night At The Opera' was Queen's fourth album, and at the time the most expensive ever recorded. Released in November 1975, it too went straight to no. 1, and gave Queen their first platinum selling album. They were turning into superstars.  January saw another US tour begin, which was completed in March, before flying off to Japan then Australia for further tours. In 1976, all four Queen Albums were in the UK top twenty, the first time this had ever happened. Work on the next album began, before a short UK tour, during which, Queen played a huge free concert in Hyde Park to thank their fans, attended by up to two hundred thousand people.
'A Day At The Races' was released in December 1976 and gave Queen their second no. 1 album, and the no.2 single 'Somebody To Love'.
In January 1977 they began an extensive tour of the USA and Canada, and in May 1977 Queen begin another tour of Europe, featuring a new 'Crown' lighting rig costing £50,000. The 'News Of The World' album followed in October 1977, containing the classics 'We Will Rock You' and 'We Are The Champions', which again reached no.2 in the singles chart."Champions" was supposedly a gay rights song that was pretty much overtaken and still today used as an anthem for champion sports teams worldwide.
On 11th November 1977 Queen embarked on another US tour, before returning to the UK in time for Christmas, with an hour long interview with the band being broadcast on Radio 1 on Christmas Eve. In February 1978 they parted with their manager, John Reid.
A short European tour began in April 1978, before work on the next album began. The first single from that album, 'Bicycle Race', was promoted with a bicycle race featuring 50 naked girls, and public outcry lead to the single's artwork being changed in many countries worldwide.
Further tours of the USA and Canada began in October '78, whilst the album Jazz was released in November, featuring a poster of the legendary race. The album's launch party was held in New Orleans, and has since gone down in history.
In 1979, they released their first live album, Live Killers. It went platinum twice in the United States. Queen also released their very successful single "Crazy Little Thing Called Love", a rockabilly inspired song done in the style of Elvis Presley. The song made the top 10 in many countries, topped the Australian ARIA Charts for seven consecutive weeks, and was the band's first number one single in the United States where it topped the Billboard Hot 100 for four weeks. Having written the song on guitar and played rhythm on the record, Freddie played rhythm guitar while performing the song live, which was the first time he ever played guitar in concert. In December 1979, Queen played the opening night at the Concert for the People of Kampuchea in London, having accepted a request by the event's organiser Paul McCartney.
Queen was at the peak of their popularity as they entered the decade of the 80s. The Game was released in early 1980 and became their first US number one album.  No one knows why, but this was the last real big Queen album in the States and as the eighties went on they seemed to fade there. But back in the UK things were still going strong. "Under Pressure", recorded with David Bowie went to number one in Britain in 1981 and in '84 they went to number two on the UK charts with "Radio Gaga". Then they played a great show at the Live Aid benefit concert in 1985.
In '86, A Kind of Magic sold great in the UK and the rest of Europe, but it failed to sell at all in the States. The same fate was to come to 1989's The Miracle. 1991's Innuendo did a little better in the US, peaking at number 30.
On 5th July 1986, they played in Slane castle in Ireland to an audience of 95,000 people – The Magic Tour.  My wife, Loreto, and I were at that concert, with our two year old baby daughter Ciara.  You wouldn't do that today.  It was a brilliant concert.  If you want to see that concert, go to the next page of videos. It's the 9th one down on the left.
Freddie was diagnosed with AIDS around Easter of 1987.  In looking back at the concert, I think he may have known he was sick.
But by early 1991, the end was near for the band. Freddie was seriously ill, although his fans didn't have a clue at first. Later in the year stories started to go around about his health and on 22ndNovember '91 he issued a statement confirming he had AIDS. He died just two days later.
Freddie, who was known for throwing big expensive parties, was honoured by the surviving Queen members and his friends in one last giant Queen gig. It was held at London's Wembley Stadium on 20thMay 1992 and televised worldwide. All 72,000 tickets were sold in six hours, with no announcement of who would play apart from Queen.  Featuring such guest artists as David Bowie, Elton John, George Michael, Annie Lennox, Def Leppard and Guns N' Roses, the concert raised millions for the Mercury Phoenix Trust, which was established for AIDS awareness. Also at this time the song "Bohemian Rhapsody" was reissued to also raise money for AIDS research projects, and soared to the top of the British charts. The song also climbed to US number 2 after being featured in the movie Wayne's World (it had originally reached US number 9 in January of 1976).
In October 1995, 'Heaven For Everyone', from the long-awaited 'final' album, was released. It reached no. 2 in the charts (again). In November the album, 'Made In Heaven', went straight to no. 1 and went five times platinum, making it Queen's most successful studio album. Released on the same day was 'Champions Of The World', a new 2 hour documentary on the band, again compiled by the Torpedo Twins, Rudi Dolezal and Hannes Rossacher. The album gave Queen a further four hit singles throughout 1995 and 1996.
Queen was inducted into the Rock and Roll Hall of Fame in 2001. Compilations, DVDs and archival live recordings continued to emerge throughout the new millennium. The Queen name was brought back in 2005 as "Queen + Paul Rodgers," a band that featured the former lead singer of Free and Bad Company. Return of the Champions, a 2005 double disc on the Hollywood label, documents a show where Paul joined Brian May and Roger Taylor at the Hallam FM Arena in Sheffield. An album with the Rodgers-fronted line up, The Cosmos Rocks, was released in October 2008 to poor reviews.
On 14th May 2005, Queen + Paul Rogers played in the O2 in Dublin to 7,500 people.  Again, I went to that concert with Loreto, Ciara and my son Emmet, who also brought some of his friends.  Emmet is an avid Queen fan.  It was a good concert, but not great.  I expected better.  But I guess nobody can replace Freddie.  Brian forgot the words in one of his songs ("you probably know this song better than I do"). He also included two minutes of an Irish traditional song 'Molly Malone' in his guitar solo. At the end of the show some guy threw a blonde wig on the stage and Roger put it on.  Two days before this gig I was in hospital getting a cartilage job done on my knee and the surgeon told me not to go to the concert. 
But I went anyway.  You can't turn down Queen!
Copyright © 2012, DPNLIVE – All Rights Reserved
Hit the next page button below to see 24 more great videos, including 10 long ones of full concerts.