Page 1 of 2
The 'old bastard' still has you spellbound after 44 years on the road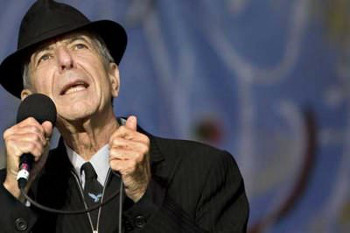 Leonard CohenOn Saturday 15th September Loreto (my wife) and I went to the Leonard Cohen concert in the Royal Hospital Kilmainham (RHK). It was the fourth of four concerts, 10,000 people per concert.  He was only due to play three but the demand was so great that he had to put on a fourth and it was sold out.
You can see all 31 songs from the concert here in this article. About half of them have actually been taken by people in RHK. Many thanks to Albert Noonan.
I was never at a LC concert before, so I didn't know what to expect. I've written about him before on this website and have listened to his music for the past 40 years.  Catherine, my sister always played his music, so over the years I had no choice but to listen to him.
The gates opened at 4pm and the show was due to start at 7.15pm and finish at 10.45pm. I figured that a 78 year old man can't sing for that long, so there must be support before him.  Therefore we were in no rush to get to the venue on time.  In saying that, we entered the gates of the RHK around 7pm and got to the concert entrance a few minutes that.
We were very impressed with all the food stands and picnic tables and started to look around.  Next thing, at 7.15 on the button Leonard Cohen started singing.  We rushed to find our seats. It was cool but not raining.  The friendly ushers got us to our seats which were brilliant, centre stage around 30 rows back.  €211.20 for two tickets!
As soon as LC started singing, I forget about the cold. You are mesmerised by the maestro.  He sang Dance me to the end of Love.  An old favourite, it got everyone going.  Then he sang The Future.  Before he sang Bird on a Wire, he spoke for the first time and asked why he was asked to sing outside.  He sincerely thanked the audience for coming out on a cold night to hear an old man sing his 'melancholy ditties'.  The night moved on. Song after song after song was brilliant.  We were captivated by his smooth, dignified voice that was in perfect tune.  He came across as a gentle soul.  He wore his usual grey suit and hat.  Every time one of his ten piece band played a solo he took off his hat and looked at them as a mark of respect.
This video is not of the RHK concert & the vid is not great quality, but listen to the lady @ 1.05. All earnings of this once in a lifetime concert went to the bereaved parents for peace organisation http://www.theparentscircle.com/.  Bereaved Families Supporting Peace, Reconciliation and Tolerance
He didn't speak that much, just sang, non stop until 8.50pm.  He sang Anthem.  Very thought provoking words to that song:
"Ring the bells that still can ring
Forget your perfect offering
There is a crack in everything
That's how the light gets in"
Then he introduced his band with the 'deepest devotion and gratitude'. He took his hat off again, faced each musician in turn and introduced them.  As he did so he bowed to them.  Such total respect! I have never seen that on stage before. Ever!  He realised that he could not produce such a top class show without them.  Each one is a master in their own right and he thoroughly explained that.
Alexandru Bublich played the violin brilliantly. He was born in Chisinau 32 years ago. He studied music for 25 years and won many competitions and toured Europe.
Mitch Watkins toured with LC before and played guitar.  He held down the guitar chair with Lyle Lovett and his Large Band for eleven years. He toured with songwriters Jerry Jeff Walker, Joe Ely, K.T. Oslin, Jennifer Warnes, Abra Moore and Bob Schneider, as well as jazz artists Jack Walrath, Bennie Wallace, Barbara Dennerlein, Paul Glasse, and John Fremgen. His production credits are many, and include a Grammy nomination for his work with singer/songwriter Abra Moore.
Javier Mass is from Barcelona Spain and played a number of stringed instruments, including the banduria (it looks like an overgrown 12-string guitar with an odd tuning), laud, archilaud and 12 string guitar.  The virtuoso as LC called him.
Bob Metzger also toured with LC before and played the guitar.  He has also toured with folk rocker Iain Matthews, jazz diva Randy Crawford, Spencer Davis, Don McLean, bluesman Long John Baldry, country artists Carlene Carter and LeAnne Rimes.
Rafael Bernardo Gayol is the master timekeeper as LC called him.  He plays drums and some singing.
Neil Larsen played keyboards and is a band leader in his own right having recorded two albums with his group Full Moon.  He played on over 150 albums including three by George Harrison, four by Rickie Lee Jones and single albums by the Rolling Stones, Jimmy Cliff and Richard and Linda Thompson.
Sharon Robinson – co-writer on some of LC songs, is a songwriter in her own right.  She sang Alexandra Leaving brilliantly.
Charley and Hattie Webb – The Sublime Webb Sisters – are English songwriters.  They were backing singers with LC and also played guitar, harp and did gymnastics on stage.
Roscoe Beck played the double bass and electric 5-string bass and toured with artists as diverse as Eric Johnson, Robben Ford and the Dixie Chicks. He writes a bi-monthly column called 'mastering the five string bass'.  He is a friend of LC for 35 years with 'fingers of perfection' and is the musical director.
Then the maestro danced off stage.  We had a break for 25 minutes.  The time flew.  Had a long queue for the toilets before the concert started again.  We rushed back to our seats.
It was now dark and the stage lighting was simple but very effective and he had candles on stage.

listen to the women between 1.15-1.30



LC returned wearing a scarf and sunglasses.  Everyone sang with him on songs they knew.  He had some humorous songs like I'm your Man "if you want to take me for a ride, you know you can, I'm your man".  Whistles and screams from the women.
He stood on stage and said "you ain't heard nothin yet".  Then he sang Suzanne, Hallelujah, The Partisan - the night seemed to be endless.  Then it was 10.45 and the show ended.
Nobody left and he returned for an encore.  He danced onto the stage and sang 'So Long Marianne'.  Well I should rephrase that.  He started it, the crowd took over, and he stopped singing and just watched and smiled with pure pleasure. Then he sang 'First we take Manhattan" and left the stage again.
Again, nobody left and he came out for another encore and sang 'Famous Blue Raincoat' and 'Closing Time'.
It was 11pm.  The concert lasted for 3¾ hours with a 25 minute break.  It was by far the longest concert I've ever been at that had one singer.  And, he is 78 years of age.
I'll be going to his next concert in Ireland.
The setlist of songs was:
Dance Me to the End of Love
The Future
Bird on the Wire
Everybody Knows
Who by Fire
Darkness
Sisters of Mercy
Amen
Come Healing
In My Secret Life
I Can't Forget
Going Home
Waiting for the Miracle
Light as the Breeze
Anthem
Second Set
Tower of Song
Suzanne
Night Comes On
Heart with No Companion
The Gypsy's Wife
The Partisan
Democracy
Coming Back to You
Alexandra Leaving
I'm Your Man
Hallelujah
Take This Waltz
Encore 1
So Long, Marianne
First We Take Manhattan
Encore 2
Famous Blue Raincoat
Closing Time
Some comments on Twitter and Facebook
Hilda Pratt
Amazing concert in Kilmainham last night! Thank you!
Maureen Byrne
Brilliant concert in Kilmainam on Fri 14th Sept. Reunited with Leonard after 41yrs which was in The Manchester Free Trade Hall where I previously seen him. Just love the man
Diana Patton
Thanks Leonard for sharing the gift of your golden voice here with us in Dublin. you are some man for one man. Keep well and come back soon ♥
Damien Kelly
Fantastic concert in Dublin last night. Leonard is the master.
Majella Ni Riain
Amazing concert at IMMA on Friday night… We were truly privileged to see you and enjoy your music. Fantastic band ….loved every moment. Will remember it for a long time….please come back soon.
Denise Conroy
Ireland loves you. Come back soon.♥♥♥
Sinead Quinn
Your concert was every bit as memorable as the last time you played in Kilmainham. Thank You!
Dolores Delaney
I would like to say how much I enjoyed your concert on Wednesday at the royal hospital Dublin…it was a magical evening, one I will never forget…Thank you Mr Cohen
Edel Leahy
Loved loved loved the gig in Dublin the other night! Leonard Cohen, you get better each time I see you - amazing!
Chris Winner
September 12th at Kilmainham - a truly magical evening!
Vicky Ni Cathail
What an amazing show, cold to the bone but worth every chilly moment…
Caroline Finegan
Fantastic concert on the 11th Sept in Kilmainham Dublin. truly enjoyed every minute.
Brendan Landers
Experienced the wonderful Mister Cohen in Kilmainham Dublin last night. Thought I'd died and gone to Heaven.
Anthony Finegan
Went to the concert last night in Killmainham Dublin, with my wife, we were in awe at the sheer brilliance and quality of the performance!!!! an experience to last a lifetime.
By Bob Tallent
Copyright © 2012, DPNLIVE – All Rights Reserved
Now hit the NEXT button to see the rest of the VIDEOS of the concert.