Page 1 of 7

And So This is Christmas -
Part 4
21st December 2012 - 3 more sleeps till Santa comes. I can't wait
Please be patient.
It may take a bit longer to open this week because there are over 70 videos in it.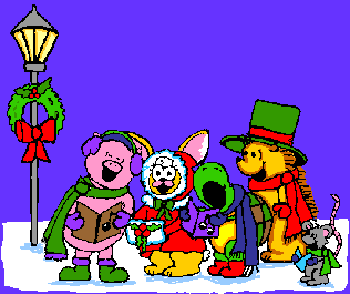 Christmas SongsThis is the final part of our four part series.  Click to see part one, part two and part three.
Below is a list of all Christmas number ones from 1945 to date. That's 68 years.  Who was number one the year you were born?  Can you even remember them? Have a look at the videos and bring yourself back into time.  Do you know who was at number one for the longest time? I was surprised to see it was Whitney Houston.  You may remember we wrote her biography and also discussed what she was worth some time ago.  Surprise someone you know and give them their song.  If some of your family is less than 68 years old, you can show them the video.
As I write this on Friday 21st December, we don't know yet which song is going to be number one for 2012.  So far, it's a toss up between James Arthur's Impossible (Simon Cowel's X Factor winner) and the Hillsborough tribute, The Justice Collective's He Ain't Heavy, He's My Brother.  As of Tuesday last, James's song had sold nearly 76,000 copies this week, and was just over 3,000 copies ahead of The Justice Collective's cover of The Hollies' 1969 classic.  Yesterday, The Justice Collective was barely ahead.  And yesterday morning, The Justice Collective was 14,000 ahead. This morning it was 23,000 ahead.
According to the Irish Recorded Music Association 'Impossible' beat 'Tiny Dancer – A Song for Lily Mae' into the number two spot, although it does have the honour of being the best selling number two single in Ireland ever.
Official Charts Company Managing Director Martin Talbot said, "This really is the closest No.1 battle we can remember - even closer than the legendary 2009 battle between Rage Against the Machine and Joe McElderry. The poll concludes at midnight on Saturday night (December 22nd), so there is a long way to go yet - but this one looks like it's going down to the wire."
Both artists are donating their proceeds to charity with James's single raising money for children's charity Together For Short Lives, and The Justice Collective are raising money for the ongoing legal costs of the families of the Hillsborough tragedy.
At the same time, don't forget about our little Lily-Mae whom we wrote about last week in which her parents are trying to raise €1 million and to bring their song, Tiny Dancer, to number one.  This is supported by the Rocket Man himself, Elton John.
Favourite Songs
I've been getting more responses on popular Christmas songs.  Again, thank you to everyone around the world.
Linden in Newcastle went to lot of trouble and gave me her choice of the 5 best, 5 she can't stand and 5 drunk songs. Some have been mentioned already, so I'm going to pick one of each for this article and I'll keep the rest for next year.  Zat You Santa Clause is one not mentioned yet & I think it's a great fun song.  I love it.  She doesn't like Mull of Kintyre by Wings, even though it was the 1977 number one.  Have a look at the chart below.  Paul McCartney wrote this song in tribute to the picturesque Kintyre peninsula in Scotland, where Paul owned High Park Farm since 1966, and its headland, the Mull of Kintyre. Linden also doesn't like I Wish it could be Christmas Everyday by Wizzard.
Here are 3 videos and Mull is in the chart below.
Amanda in North Carolina likes Oh Holy Night and Have Yourself a Merry Little Christmas by Karen Carpenter.  Oh Holy Night was listed in our second article here.  Karen had one of the purest voices and I'm happy to include this video here.
| | | | | |
| --- | --- | --- | --- | --- |
| Year | Artist | Song | Weeks at No 1 |   |
| 2011 | Military Wives with Gareth Malone | "Wherever You Are" | 1 | |
| 2010 | Matt Cardle | "When We Collide" | 3 | |
| 2009 | Rage Against the Machine | "Killing in the Name" | 1 | |
| 2008 | Alexandra Burke | "Hallelujah" | 3 | |
| 2007 | Leon Jackson | "When You Believe" | 3 | |
| 2006 | Leona Lewis | "A Moment Like This" | 4 | |
| 2005 | Shayne Ward | "That's My Goal" | 4 | |
| 2004 | Band Aid 20 | "Do They Know It's Christmas?" | 4 | |
Hit next for 2003 - 1995 Videos