Disco Queen was 35 years in Show Business
---
Also known as The Queen of Disco, Donna Summer died this morning – Thursday 17th May 2012 - at the age of 63.  She lost her year-long battle with breast cancer in her home in Key West Florida (according to the Associated Press).  Donna was one of the biggest stars of the '70's disco era and had a huge influence on the pop/dance/rock sound that was a hybrid of American soul and European synthesizer based music and dance music scenes.  Following the news of her passing, the singer's family released a statement saying that they "are at peace celebrating her extraordinary life and her continued legacy."
---
Mini Biography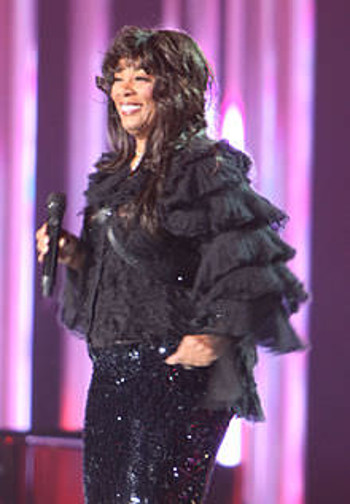 Donna_SummerShe was born Ladonna Adrian Gaines on 31st December 1948 in Boston's Mission Hill section to Andrew and Mary Gaines and was one of seven children. Because she was part of a religious family, she first sang in her church's gospel choir, and as a teenager performed with a rock group called the Crow.
At eighteen, Donna left home and school to audition for a role in the cast of the Broadway musical, Hair. When she was unsuccessful in getting the part in the Broadway show, she was offered the European Tour when the show moved to Germany, where she also performed in the German versions of several musicals including Godspell and Show Boat. She settled in Munich and also performed with the Viennese Folk Opera and the pop band Munich Machine.
Donna was trained as a gospel singer before her introduction to the music industry and has always been known for her powerhouse vocal delivery. Though she is most notable for her disco hits, her repertoire has expanded to include contemporary R&B, rock, pop, and gospel. Donna was one of the most successful recording artists of the 1970s and was the first artist to have three consecutive double albums hit number one on the Billboard charts. She also became the first female artist to have four number-one singles in a thirteen-month period. Donna's website says that she has sold more than 130 million records worldwide.
In 1971, Donna released a single in Europe called "Sally Go 'Round The Roses", her first solo recording. The single was unsuccessful and she had to wait until 1974 to launch a solo career. She married Austrian actor Helmuth Sommer ("Summer" is an Anglicization of his last name) that same year and gave birth to daughter Mimi the following year. Donna did various musical jobs in studios and theatres for several years, including the pop group FamilyTree from 1974 to 1975.
When she divorced from Helmuth, she married her second husband, American musician Bruce Sudano, in 1980. They have two daughters named Brooklyn and Amanda. Sudano was a member of the 1970s groups Alive N Kickin' and The Brooklyn Dreams.
In the summer of 1975, Donna approached Giorgio Moroder and Pete Bellotte with an idea for a song. She had come up with the lyric "Love to love you, baby" as the possible title for the song. Giorgio was interested in developing the new sound that was becoming increasingly popular and would become Disco, and used Donna's lyric to develop the song. He had the idea that she should moan and groan orgasmically, but Donna was reluctant. Eventually she agreed to record the song as a demo. She stated that she was not completely sure of some of the lyrics, and parts of the song were improvised during the recording. She later stated on a VH1 "Behind the Music" program that she pictured herself as Marilyn Monroe acting out the part of someone in sexual ecstasy.  
Giorgio was so happy with her orgasmic vocals that he told her to release the single herself. The song, titled "Love to Love You", was released in Europe, but only had small success. When it reached America, Casablanca Records president Neil Bogart got hold of it.He was so ecstatic over the demo that he asked Giorgio to produce a twenty-minute version of the song. Donna, Giorgio and producer Pete Bellotte cut a seventeen-minute version and renamed it "Love to Love You Baby".  Casablanca Records signed Donna and issued it as a single in November 1975. Casablanca distributed Donna's work in the US while other labels distributed it in different countries during this period.
Following on from the success of "Love to Love You Baby," Donna released two albums in 1976: A Love Trilogy and Four Seasons of Love, both of which were enormous successes. In 1977, Donna released two more hit albums, I Remember Yesterday and Once Upon a Time, and in 1978 her single "Last Dance" from the soundtrack of Thank God It's Friday won the Academy Award for Best Original Song.
In 1980, Donna moved into the next phase of her career.  She became the first artist to sign with David Geffen's new label, Geffen Records. In the years that followed, sheworked with writers and producers such as Quincy Jones, Michael Omartian and England's dance-pop production compound Stock Aitken Waterman and produced a steady stream of hits from "State of Independence," featuring Michael Jackson on backing vocals, to the abiding feminist anthem "She Works Hard For The Money," one of the most-played songs of all-time, and the infectious "This Time I Know It's For Real."
Moving on to 1994, she released "Endless Summer," a greatest hits album. This included a new song, "Melody of Love," which became Billboard's no.1 Dance Record of the Year. She also released a collection of her original songs and holiday standards recorded with the Nashville Symphony Orchestra including the critically acclaimed song "Christmas Spirit".  Donna spent the rest of the '90s touring, performing to sold-out audiences worldwide.
In 1997, Donna was the first winner with her fifth career Grammy award for "Carry On." In 1999, Sony/Epic Records released "VH1 Presents Donna Summer: Live & More - Encore!," an album and DVD of Donna's VH1 broadcast taped at New York's Hammerstein Ballroom. The show premiered on VH1 as one of the network's highest rated shows to date and featured live performances of her top hits.
Rolling along to the new millennium, she continued to score top ten hits on Billboard's Dance Chart. In 2000, she also appeared on the third annual Divas special, dedicated to Diana Ross, though Donna sang her own material for the show.
In 2004, she was inducted to the Dance Music Hall of FamebesideThe Bee Gees and Barry Gibb as an artist. Her classic song, "I Feel Love", was also inducted that night.
In 2008, she released her first studio album of fully original material in 17 years, titled Crayons. It was released on the Sony BMG label Burgundy Records, it peaked at  no.17 on the US Top 200 Album Chart, which was her highest placing on the chart since 1983.
With a total of 31 no.1 hits (singles and albums) on the Billboard Pop/R&B, Disco/Dance, Album charts combined, over a period of 35 years, Donna Summer is ranked at no.24 on Billboard Magazines 50th Anniversary issue featuring the Hot 100 Artists of All Time.
Donna will be missed but her music will live forever.
Copyright © 2012, DPNLIVE – All Rights Reserved