Page 1 of 4
Imelda May's sophomore album that oozes musical brilliance
---
The Guardian described her as having "a whipcracker of a voice".  At nine years of age, she fell in love with rockabilly and the blues.  She is a pure Dub and dropped out of Art College to sing for a living.  Her professional career started at age 14 when she sang in a Findus Fish Fingers ad.  She was barred from her own shows for being underage and swallowed a spark when she was singing in a burlesque show (more about that later). She plays the bodhrán, guitar and tambourine.  She won the Best Female Artist of the Year award at the 2009 Meteor Awards.  Jools Holland described her as having 'it' in spades.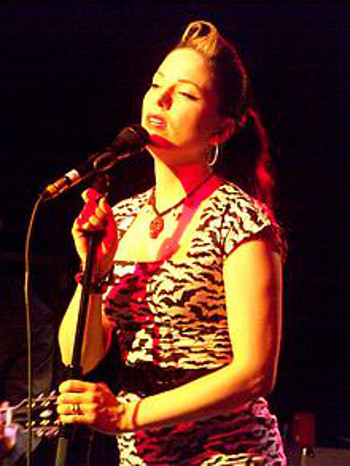 Imelda May I'm talking about the Irish singing sensation – Imelda May.
She was born Imelda Mary Clabby on 10th June 1974 in the Liberties in Dublin, the youngest of five children.  She was brought up in a two bedroom house along with her older sisters and brothers. She soaked up the music of her siblings, which included folk, chart pop and Elvis.  She said "My brother was a mad Elvis fan, and I found a tape in his room with Elvis, Eddie Cochran and Gene Vincent. I thought the music was fantastic."
When she was four she discovered that she was able to harmonise with her sister's folk band and when she discovered rock'n'roll, it was natural that she would sing along.  When she was nine, she discovered rockabilly and blues.  She was hooked!  She sang along with the records and as she said "I heard Billie Holiday, and that blew my mind."  She dropped out of college after only one year and through a friend got a gig singing on a Findus advertisement. She was paid £40. That was big money for a 14 year old girl from the Liberties.  Her tastes were developing, along with her fashion sense (a unique and quirky 1950's style), sexy look and pure raw energy.
She was determined to become a professional singer and she at age 16 she started to get jobs singing in clubs like Bruxelles in Dublin. She started to mix with other musicians and singers and learned from them.  She was told she had a great blues voice but she had to 'roughen' it.  She didn't know how to do that.  One day when her Dad was driving her to a gig, she was upset and crying because of a breakup with her boyfriend.  Her Dad asked her "Is your heart broken? Excellent. Now you can sing the blues".  This was her tipping point.  She knew how to develop her voice into the sultry, rich and unique tone we all love today.
At age 16 when she was singing in a burlesque club in Dublin, she sang while the girls were getting changed and performing.  One of them used to take an angle grinder to her crotch and would produce a shower of sparks.  One day a spark flew down her throat when she was singing.  At 16, that doesn't bother you.
When she was 24, 1998, she moved to the UK and began singing with Blue Harlem and Mike Sanchez.
In 2003, Imelda decided she was tired singing for others and setup her own band with  Steve Rushton on Drums, Al Gare on Bass, Darrel Higham on guitar,and Dave Priseman on trumpet.  She released her first album, 'No Turning Back' under her maiden name, Imelda Clabby, and re-released it in 2005 under her married name with Foot Tapping Records.
Imelda married Darrel Higham in 2002 (her lead guitarist) and was unsure about this in the beginning.  "History doesn't bode well for married couples in bands – look at Ike and Tina Turner, Sonny and Cher, but we tried it and it worked out great. Life and the band is all one mish mash, but we do get time together as husband and wife and time apart – it just works."
She joined Ambassador Records in 2007 and brought out her next album, 'Love Tattoo'.  This caught the ear of Jools Holland. She toured with him in 2008 and appeared on Later with Jools.  The album sold silver in Ireland.  She performed to audiences that included Jeff Beck, Elbow and Roots Manuva. Jeff told Jools that he was only there to see Imelda.
In 2009, Imelda knocked Bruce Springsteen off No. 1 to become the first Irish female artist to top the Irish album charts since Mary Black in 1991 with Babes in the Wood, which stayed in top spot for six weeks. Imelda then won Female Artist of the Year at the Irish Meteor Awards.
Imelda's first two singles, "Johnny Got a Boom Boom" and "Big Bad Handsome Man", were released on 23rd January 2009. She performed on Ireland's popular television show and the world's longest chat show, The Late Late Show. She has also toured the United States including, most recently, a tour with Jamie Cullum.
On 31st January 2010, she sang at the 52nd Grammy Awards with Jeff Beck in tribute to the legendary Les Paul.  This was followed in April by a two night support slot in London with one of her idols, Wanda Jackson.
On 14th August 2009, she appeared on RTÉ's Other Voices singing "Johnny Got a Boom Boom" and an unplugged version of "Big Bad Handsome Man".
She appeared on the front cover of the Sunday Times Style.  Roberto Cavalli flew her out to perform at his private party during the Milan Fashion Week.
In 2010, she released Mayhem on Decca Records. It has Imelda's trademark rockabilly sound but its lyrics are firmly set in the here and now. "I'm always observing people so my songs are an amalgamation of my own life and watching the craziness out of the window. The title track came to me after leaving a gig at 3am and seeing two guys having a fight and a girl standing there crying. It happens in every town on a Friday or Saturday night. – Mayhem!" Kentish Town Waltz, which is another of the album's tracks, was re-recorded as a duet with Lou Reed for release as a single. The bittersweet love song lends itself well to the duet format while Lou's gravelly tones sit perfectly with Imelda's powerful yet playful voice. Describing the song Imelda says, "We were badly broke and the bailiffs were knocking on the door but we were mad about each other so we got through it."  The album reached no. 1 in the Irish Album Charts and in the United Kingdom on 4th October 2010.
Imelda was in the line up for various festivals and concerts including Glastonbury, Womad, T in the Park and Ireland's Electric Picnic. She also embarked on an Imelda May tour; tickets for which were on sale in the UK.  She performed at some other festivals such as the Eurosonic Festival in Groningen, Netherlands.
Imelda appeared on the For One Night Only series, hosted by the legendary Gay Byrne, on 16th June 2011.  Other notables that appeared on the series included some of the stalwarts of the Irish Music Industry; Mary Black, Daniel O'Donnell, Christy Moore and Bob Geldof.
On 18th July 2011, Imelda made her network television debut on The Tonight Show with Jay Leno, performing "Mayhem," in promotion of the album's recent release in the U.S. and later appeared on Conan on 8th August and The Late Late Show with Craig Ferguson.
She dedicated a cover of Buddy Holly's "I'm Looking for Someone to Love" for the tribute album, Listen to Me: Buddy Holly, released on 6th September 2011.
Her songs Mayhem and Johnny Got A Boom Boom have also featured on the soundtrack of the film Wild Target, starring Bill Nighy, Emily Blunt and Rupert Everett, giving Imelda May's music even more exposure to a worldwide audience.
Even though Imelda has had album success, she continued to tour, playing to over 500,000 people in 8 countries across Europe and the US.
Imelda has shared the stage with Wanda Jackson, Alison Moyet, Lou Reed, David Gilmore, Sharon Corr, Jerry Fish, The Supremes, Brian Setzer, The Dubliners, Madeleine Peyroux, Matt Bianco, Elvis Costello, Jools Holland, Jeff Beck and Meat Loaf . She has worked with producers Tony Visconti and Peter Asher.
She sings in The Candy Box Burlesque Club in Birmingham. She has appeared alongside The World Famous Palookaville! Burlesque Orchestra at every Candy Box show since it started in February 2006.
Imelda has sung for the Flashmonkey burlesque band, a popular night at Cafe De Paris in London, also featuring trumpeter/composer John Eacott.
In 2009, she recorded the official Children in Need single alongside Cara Dillon, Terry Wogan, Hayley Westenra, and others at Abbey Road Studios.
In 2010, she took part with Emotion & Commotion by Jeff Beck, singing on the track "Lilac Wine" and also on the Japanese CD bonus track "Poor Boy". On 11th November 2010, she appeared as a guest on BBC2's comedy panel music show, Never Mind The Buzzcocks.
In 2010, she performed with Meat Loaf as part of the UK leg of his Hang Cool Tour. During 2011, she and her band toured with Jeff Beck.
On December 16th 2011, she played to a capacity crowd of 12,000 in the O2 Dublin, with Bono making a surprise appearance as her guest.
On New Years Eve 2011 she appeared on Jools Holland's Annual Hootenanny on BBC2 Television in the UK.
Imelda is expecting a baby in August 2012 and she said "I'm very happy, healthy and feeling great. Darrel and I are over the moon!"
In 2012 she played in Monte Carlo in March, the Marquee in Cork on 9th June and she opened the Peace One Day concert in Derry on 22nd June. On 23rd & 24th June she sang to over 10,000 people in the Westport Festival of Music in the West of Ireland.
"A whipcracker of a voice … Songs describing rumpuses, stalkers and sexual predators are delivered with oodles of energy….dangerously rocking" The Guardian
"Imelda May's time to shine has come, as she delivers a sophomore album that oozes musical brilliance…one of the strongest and most eclectic albums of the year." Clash
"Can Imelda conquer the world? There's no May about it."News Of The World
With her unique style, sexy look and raw energy, Imelda is taking the music scene by storm and has a huge career ahead of her.  We wish her the best with her baby.
By Bob Tallent
Copyright © 2012, DPNLIVE – All Rights Reserved