Page 1 of 2
The Long and Winding Road to Success.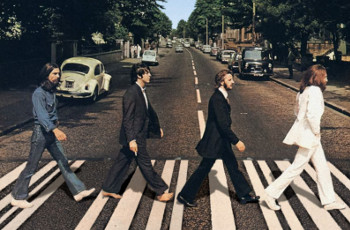 The Beatles Abbey Road
This is part 2 of 4. 
Part 1 can be seen by clicking here.
Part 3 can be seen by clicking here
Part 4 can be seen by clicking here
The Beatles early performances included popular songs from the 40s and 50s. They played rock-n-roll and R&B-based pop songs while gradually working on developing a style of their own. The group's mixture of rock-n-roll, skiffle, blues, country, soul, and a simplified version of 1930s jazz resulted in several multi-genre and cross-style sounding songs.
Buddy Holly, Elvis Presley, Little Richard and other entertainers of the 40s, 50s and early 60s influenced them.  Their distinctive vocals were sometimes reminiscent of the Everly Brothers' tight harmonies.
By 1965 the band's style absorbed ethnic music influences from India and other Oriental cultures which later expanded into psychedelic experiments and classical-sounding compositions. Their creative search covered a range of styles from jazz and rock to cosmopolitan cross-cultural and cross-genre compositions.
Following on from the Dublin performances, The Beatles continued their tour.  They were so popular that they had to get police protection almost everywhere they went.  Throughout 1963 they began to get billing over Roy Orbison on their tours. Following the band's first tour of Europe in October, they moved to London.
Later in 1963, "She Loves You" became the biggest-selling single in British history. In fact, in the years since, only six other singles have sold more copies.
Following on from Please Please Me (I can hear it in my head as I write this), eleven of their twelve studio albums released in the United Kingdom through 1970 reached number one. This was the prototype British Invasion single: an infectious melody, charging guitars, and positively exuberant harmonies.  I challenge you not to hum it in your head or hit the video in this article (about three videos south of here) as you read this.  It stayed in the charts for 30 weeks.
In those days, a single was a 45rpm record with the main song on one side and another on the flip side.  An album was at 33rpm and had 10-15 songs on both sides.  Their third single, "From Me to You", came out in April '63 and was also a chart-topping hit.  This started an almost unbroken string of seventeen British number one singles for the Beatles, including all but one of the eighteen they released over the next six years.  They created a record (no pun intended) by selling 750,000 copies of their single 'She Loves You' in only four weeks and went on to sell over a million.  That single remained the biggest-selling record in the UK until 1978, when "Mull of Kintyre", by Paul McCartney's post-Beatles band Wings, surpassed it in sales.
In November 1963 they performed before the Queen Mother at the Royal Command Variety Performance.
With the success of their third English single, "From Me to You" (Number One), the British record industry coined the term "Merseybeat" (that's the river that runs through Liverpool) for groups such as the Beatles, Gerry and the Pacemakers, Billy J. Kramer ,the Dakotas, and the Searchers.
They conquered the U.K. In fact, even a classical music critic from the Sunday Times declared them "the greatest composers since Beethoven." Furthermore, they were the greatest rockers since the composer of "Roll Over, Beethoven" i.e., Chuck Berry. The freshness of their sound stemmed from the fact that they integrated and synthesised the most vital sources for rock and roll that preceded them.
1964 was their biggest year when they conquered the biggest record market in the world - America.  President John F Kennedy was killed on 22nd November 1963 and the country was still in mourning.  Along came The Beatles who brought them fun and excitement. As well as ending their mourning, they also brought back rock 'n' roll to America.
After Elvis joined the army, he lost much of his early rebelliousness. Jerry Lee Lewis and Chuck Berry were rocked by scandals and their careers suffered. Buddy Holly, The Big Bopper and Ritchie Valens were killed in a plane crash. The American media was promoting what The Beatles called "One-Hit-Wonders" such as Frankie Avalon, Tab Hunter, James Darren, etc.
The Ed Sullivan Show was the big show of the time.  Brian Epstein contacted Ed, who was in London airport when The Beatles returned from Sweden.  He saw the mayhem - all the girls screaming, the boys cheering and the media taking pictures. They couldn't get enough of the Beatles.  He knew they were something special so he booked them on his TV show.  It became a record (pun!) because that show received the highest ratings in the history of television up to then.  According to the Nielsen rating service, it was "the largest audience that had ever been recorded for an American television program", wrote biographer Jonathan Gould.  The next morning, the Beatles awoke to a negative critical consensus in the US, but a day later their first US concert saw Beatlemania explode at Washington Coliseum.  Back in New York the following day, the Beatles met with another strong reception during two shows at Carnegie Hall.
Their sensational tour in the USA began with three TV shows at the Ed Sullivan Theatre in New York, in February of 1964.  The now famous words "Ladies and gentlemen, the Beatles!" introduced the rag-tag bunch to the television world. They hopped, they sang, they played, they laughed. People loved it. The souls of the world were opening up to a new era of thought, instigated by the quartet of young clowns from Liverpool. Their songs were simple but touching, the tunes catchy and enjoyable. America fell for the Beatles', and their success was only beginning.
The Beatles toured America for the first time and starred in their first motion picture "A Hard Day's Night".
Teens loved their off-kilter appearance, collarless suits, mop-top hair and quirky personalities. The Beatles quickly became known for their plucky sense of humour and constant silliness. In an interview showed in February 1964, a reporter informed the Beatles that Detroit University had a 'Stamp out the Beatles' movement. The boys nodded, and Paul replied with his characteristic head bob "We've got a Stamp out Detroit movement!" After laughing, the interviewer continued. "They think your haircuts are un-American." John retorted, "Well, it was very observant of them because we aren't American, actually." Such flippant and unrestrained joy in life was infectious, only increasing their charm and lovability.
Brian Epstein managed to get their music played by influential radio stations in Washington and New York. The US consumer reaction was peaking.  Their fourth single 'I Want to Hold Your Hand' was released in December 1963 by Capitol Records. After that, The Beatles endured several years of extremely intensive recording, filming, and touring.
Capitol was EMI's American label.  They did not release the Beatles 1963 records (which were licensed to independents like Vee-Jay and Swan with little success) but Brian Epstein finally persuaded them to release "I Want to Hold Your Hand," and Meet the Beatles (identical to the Beatles' second British album, With the Beatles) in January 1964 and to invest $50,000 in promotion for the then unknown British group.  Brian's strategy was to organise the support of disk jockey Carrol James, who first played the band's records in mid-December 1963.  This started their music's spread across US radio.  In turn, this caused an increase in demand, which is what lead Capitol to rush-release "I Want to Hold Your Hand" later that month.  Released 26th December 1963, with the band's previously scheduled debut there just weeks away, "I Want to Hold Your Hand" sold a million copies, becoming a number one hit in the US by mid-January 1964.
The album and the single became the Beatles' first U.S. chart-toppers. On 7th February, they left the United Kingdom with an estimated 4,000 screaming fans gathered at Heathrow, waving and shouting as the aircraft took off.  Another 3,000 screaming crowds met them at New York City's Kennedy Airport, and more than 73 million people watched each of their appearances on The Ed Sullivan Show on 9th and 16th February. In April 1964 "Can't Buy Me Love" became the first record to top American and British charts simultaneously, and that same month the Beatles held the top five positions on Billboard singles chart ("Can't Buy Me Love," "Twist and Shout," "She Loves You," "I Want to Hold Your Hand," "Please Please Me").
United Artist Records took notice of Capitols lack of interest in The Beatles in 1963.  They had a film division that offered the group a three motion picture deal, primarily for the commercial potential of the soundtracks.  A Hard Day's Night was directed by Richard Lester, and it engaged the band for six weeks in March–April 1964 as they played themselves in a mock-documentary.  The film premiered in London in July and New York in August and was an international success, with some critics drawing comparison with the Marx Brothers. The accompanying soundtrack album, A Hard Day's Night, saw them truly coming into their own as a band. All of the different influences on their first two albums had merged into a bright, joyous, original sound, filled with ringing guitars and irresistible melodies.  That "ringing guitar" sound was primarily the product of George Harrison's 12-string electric Rickenbacker, a prototype given to him by the manufacturer, which made its debut on the record.
A Hard Days Night grossed $1.3 million in its first week. The band was aggressively merchandised - Beatle wigs, Beatle clothes, Beatle dolls, lunch boxes, a cartoon series.  However, this is where Brian Epstein let them down because they made surprisingly little money from that.
The Beatles were never ones to stand still and not take risks. All of their subsequent albums and singles showed remarkable artistic progression. Even on their second LP, With the Beatles (1963), it was evident that their talents as composers and instrumentalists were expanding furiously as they devised ever more inventive melodies and harmonies, and boosted the fullness of their arrangements. "She Loves You" and "I Want to Hold Your Hand" established the group not just as a popular music act, but as a phenomenon never before seen in the British entertainment business, as each single sold over a million copies in the U.K. alone.
Hard as it may be to believe today, the Beatles were often dismissed by cultural commentators of the time as nothing more than a fad that would vanish within months as the novelty wore off.  The group ensured this wouldn't happen by making A Hard Day's Night that cemented their image as "the Fab Four": happy-go-lucky, individualistic, cheeky, funny lads with nonstop energy. The soundtrack was also a triumph, consisting entirely of Lennon-McCartney songs, including such standards as the title tune, "And I Love Her," "If I Fell," "Can't Buy Me Love," and "Things We Said Today." George Harrison's resounding 12-string electric guitar leads were hugely influential.
The movie helped persuade the Byrds, then folksingers, to plunge all out into rock & roll, and the Beatles (along with Bob Dylan) would be hugely influential on the folk-rock explosion of 1965. The Beatles' success, too, had begun to open the U.S. market for fellow Brits like the Rolling Stones, the Animals, and the Kinks, and inspired young American groups like the Beau Brummels, Lovin' Spoonful, and others to mount a challenge of their own with self-penned material that owed a great debt to Lennon-McCartney.
Since becoming household names, John, Paul, George and Ringo had unwittingly become workaholics. Touring schedules were hectic, moving the boys across cities, states and countries in a matter of months. Being stars brought its fair share of responsibility.  Now they had fans to attend to, those loyal people who could never get enough Beatlemania. The first few years of their success gave them little time to relax and enjoy the fruits of their labours. Beatles for Sale was released in early December 1964, but contained only a handful of original songs. By the end of 1964, the consensus was clear–-slow down and concentrate on the music.
Touring internationally in June and July, the Beatles staged thirty-seven shows over twenty-seven days in Denmark, the Netherlands, Hong Kong, Australia and New Zealand.  In August they returned to the US, with a thirty-concert tour of twenty-three cities.  Generating intense interest once again, the month-long tour attracted between ten and twenty thousand fans to each thirty-minute performance in cities from San Francisco to New York.
The tours did have their darker moments. The first was in Tokyo, Japan, where The Beatles were locked up in their hotel and not allowed to come out until show time. The next was in the Philippines when, on a day off, Madam Marcos asked them to attend a Royal dinner. The Beatles politely turned down the invitation and the public was furious. The Beatles quickly left. In 1966, The Beatles were under heavy pressure from the press after John made a remark that The Beatles were more popular than Jesus. "Christianity will go. It will vanish and shrink. I needn't argue with that; I'm right and will be proved right. We're more popular than Jesus now" John had to apologise and explain himself several times. Not only that, their tour of America was plagued with mishaps. On 19th August 1966 they received a death threat in Memphis and a firecracker went off during the show terrifying The Beatles. The next day in Cincinnati a concert promoter failed to provide a stage canopy and he couldn't understand why The Beatles were unwilling to play electric guitars in a rainstorm. Paul is so agitated he becomes ill. On 28th August 1966 at Dodger Stadium, L.A. cops are seen beating teenage girls. Dozens are trampled in the chaos.
With a bigger budget and more exploration, the Beatles produced another movie and associated album combo six months later.  Help! was released to glowing fans, featuring Ringo as the Star (another bad pun) of the show.  The album featured more original hits by the Lennon-McCartney duo, including the most-covered song in the history of music, Yesterday. This albumn also showed off John's vocal abilities and range, his heart rising and falling with his voice to enchant everyone.
During the week of 4th April 1964, the Beatles held twelve positions on the Billboard Hot 100 singles chart, including the top five.  They also had the first two slots on the album charts, as well as other entries throughout the Billboard Top 100. No one had ever dominated the market for popular music so heavily and it's doubtful that anyone ever will again.  The Beatles themselves continued to reach number one with most of their singles and albums until their 1970 breakup.
In August 1964, they met Bob Dylan who introduced them to cannabis. Within six months, the Beatles were producing songs that imitated Bob.
Their popularity generated unprecedented interest in British music, and a number of other UK acts subsequently made their own American debuts, successfully touring over the next three years in what was termed the British Invasion.  Their hairstyle, unusually long for the era and mocked by many adults, became an emblem of rebellion to the growing youth culture.
The Beatles were simply getting better. They established a pattern of constantly pushing the limits of society, themselves and the music industry.  They were setting ever-higher standards for their work. Each successive album built upon the last as they continued to mesh as a group, their personalities growing more intertwined by the day. Brian Epstein had stitched them together as if they were destined to be; now they just had to grow as a group to become a whole.
Paul McCartney had the privilege of a better musical education, having studied classical piano and guitar in his childhood. He progressed as a lead vocalist and multi-instrumentalist, as well as a singer-songwriter. He wrote more songs for the Beatles than other members of the band. His songs Yesterday, Eleanor Rigby, Blackbird, When I'm 64, Let It Be are among the Beatles' best hits. Paul agreed with John Lennon in 1957 about the 50/50 authorship of every song written by either one of them. Most of The Beatles' songs are formally credited to both names, regardless of the fact that many of the songs were written individually.
By 1965 Lennon and McCartney rarely wrote songs together, although as shown above, songs by either of them were credited to both. The Beatles toured Europe, North America, the Far East, and Australia that year.  Their second movie, Help! (also directed by Richard Lester), was filmed in England, Austria and the Bahamas in the spring and opened in the U.S. in August. On 15th August they performed to 55,600 fans at New York's Shea Stadium, setting a record for the largest concert audience.
In June '65 the Queen of England announced that the Beatles would be awarded the MBE (Member of the Order of the British Empire). The announcement sparked some controversy — some MBE holders returned their medals — but on 26th October 1965, the ceremony took place at Buckingham Palace. John Lennon returned his medal in 1969 as an anti-war gesture. Interestingly, even though he rejected the medal, the honour itself cannot be returned.  John Lennon technically remained an MBE.
They stopped public performances after a concert on 26th August 1966 at Candlestick Park in San Francisco, but continued their recording contracts. By 1985 The Beatles had sold over one billion records. Music became their ticket to ride (no pun again) around the world. Beatlemania never really ended since its initiation. It still lives as a movable feast in many hearts and minds, as a sweet memory of youth, when all you need is love and a little help from a friend (all these puns) to be happy.  Dublin is celebrating the 50th anniversary of their performance in the Adelphi at the moment (November 2013).
On 25th June 1967, The Beatles made history becoming the first band globally transmitted on TV to an estimated 400 million people worldwide. The Beatles were a segment in the first-ever worldwide satellite hook-up and their new song "All You Need Is Love" was broadcast live during the show. Two months later Brian Epstein, who was prone to suicidal depression over the past year, died alone in his London flat of an accidental drug overdose. Some friction was caused between John and Paul because Paul was trying to become the leader of the group after Brian's death. Ties were still strong at this point between the band members despite Ringo leaving the band for a short time during The White Album because he felt left out. When Ringo decided to return he found his drum kit decked with flowers and the others tried to include him more.  "That was it, the beginning of the end", said John. Evolution of each member's creativity and musicianship also led to individual career ambitions.
In August '67 they released Paul's "Hey Jude" (Number One), backed by John's "Revolution" (Number 12), which sold over 6 million copies before the end of 1968 — their most popular single.
When they gave up concerts, they began to experiment with exotic instrumentation ("Norwegian Wood," 1965, featured a sitar) and tape abstractions such as the reversed tracks on "Rain." "Strawberry Fields Forever," part of a double-sided single released in February 1967 to fill the unusually long gap between albums, featured an astonishing display of electronically altered sounds and hinted at what was to come. With "Taxman" and "Love You To" on Revolver, George Harrison began to emerge as a songwriter.
'Flower Power' was sweeping the western world against a backdrop of materialistic harshness and war and it appeared that the Beatles were one of the major musical trailblazers of a social cult.  The Spirit of the Age had arrived with a generation of young people who wanted to cultivate a new world of peace, harmony and experimental drugs.
After The White Album they started the "Let It Be" project. The idea was to see The Beatles jam, rehearse and record a whole new album of songs.  Tensions were high between Paul and George as they started recording at Twickenham Film Studios.  John was off in his land of love with Yoko (he insisted on bringing her into the recording sessions) and Ringo was left in the background.  One day George walked out on a session after a disagreement with Paul.  George came back to finish up the album but as John explained later, "We couldn't play the game anymore, we just couldn't do it".
The Beatles also visited Maharishi Mahesh Yogi, the man who became famous in America for bringing an ancient Indian technique of meditation to the world.  Seeking spiritual knowledge, the Beatles travelled to India with the hopes of gaining enlightenment. Each band member had a different experience there, creating a larger rift between them. They came back unfulfilled on one level but full of creativity on another. Magical Mystery Tour was finished shortly after, releasing both the movie and the album before the end of the year.
The band owed United Artists another movie, so it was decided to make an animated movie based on the song Yellow Submarine (Songtrack) previously released on Revolver. The soundtrack by the same name featured only four new songs by the Beatles with George Martin creating the orchestral pieces and arranging the other songs.
At this stage there were major tensions in the group with arguments at every turn.  They couldn't agree on anything.  Paul tried to convince the others to do a handful of concerts to re-establish their core group of fans. John and George were against the idea. What resulted was the famous rooftop concert staged in London. At its conclusion, John said the famous line "I'd like to say thank you on behalf of the group and ourselves, and I hope we passed the audition!" They still had their magic. Songs recorded here were combined with other Beatles material and mixed by Phil Spector. Let It Be (recorded before Abbey Rd) was pieced together and released to the world, an unintended finale to the Beatles' tromp through the world.
It was something of a miracle, then, that the final album recorded by the group, Abbey Road, was one of their most unified efforts (even if, by this time, the musicians were recording many of their parts separately). It certainly had some of their most intricate melodies, harmonies, and instrumental arrangements. It also created the arrival of George as a composer of equal talent to John and Paul.  George wrote the album's two most popular tunes, "Something" and "Here Comes the Sun." The Beatles were still progressing, but it turned out to be the end of the road, as their business disputes continued to magnify. John, who had begun releasing solo singles and performing with friends as the Plastic Ono Band, threatened to resign in late 1969, although he was dissuaded from making a public announcement.
Their end officially came on 29th December 1970. The Beatles, the world's most influential group of musicians, had been through it all.
From rising from obscurity to an unforeseen beginning, they floated on the waves of fame and rode them all the way to America. There they delighted fans and critics alike, winning them with their playful sense of life and harmonious music. They had merchandise, millions of fans, and even a mass album burning in the mid 60's when John stated they were "more popular than Jesus". Up and down, side to side, the Beatles traversed it all. It was the symbolic end of an era the Beatles had helped create. The world was changed because of them, and it would never be the same. As John said at the conclusion of the rooftop concert, "I'd like to say thank you on behalf of the group and ourselves, and I hope we passed the audition!"
When all was said and done, the Beatles charted 20 Number One singles in the States – two more than runner-up Elvis Presley. It is estimated by EMI, their British record company that the Beatles have sold more than 1.1 billion units worldwide. For feats of sales and airplay alone, the Beatles are unquestionably the top group in rock and roll history. Yet their significance extends well beyond numbers to encompass their innovations in the recording studio. The Beatles' legacy as a concert attraction, during their harried passage from nightclubs to baseball stadiums, is distinguished primarily by the deafening screams of female fans more overcome by their appearance than the music they played.
Part 1 can be seen by clicking here
By Bob Tallent
To contact Bob about his series on The Beatles –This email address is being protected from spambots. You need JavaScript enabled to view it.
Follow us on Twitter - @DigiPrintNews
Like us on Facebook www.facebook.com/DPNLive - (click the 'LIKED' button/top of page as well)
Copyright © 2013, DPNLIVE – All Rights Reserved.