The Long and Winding Road
after Breakup
Part 3 or 4
This is part 3 of a 4 part series on The Beatles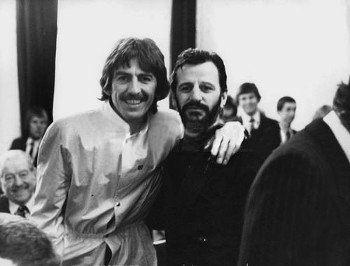 George Harrison and Ringo StarrThe year is 1970.  The Apollo 13 mission to the moon is abandoned, a Boeing 747 makes its first commercial passenger trip to London, Brazil wins their third world cup with Pele as the captain and on the 10th April 1970 Paul McCartney announces that the Beatles has disbanded.
When asked the reason for his break with the group Paul McCartney lists: "Personal differences, business differences, musical differences, but most of all because I have a better time with my family."
Brian Epstein's death, Yoko Ono, George Harrison wanting to write more and McCartney's distaste with Phil Sectors' treatment of some songs on the upcoming Let It Be album set the wheels in motion and the biggest band on the planet were no more. So the "Fab Four" all set off in different directions in 1970, each to his own and each on his own.
George Harrison - "I wanted to be successful, not famous."
So let's begin with George.  The above quote sums up quite well his outlook and attitude towards The Beatles in 1970.  I don't think he would ever be ungrateful about being in the Fab Four but another of his quotes showed his feelings towards the Beatles at the time;  "The biggest break in my career was getting into the Beatles in 1962. The second biggest break since then is getting out of them."
As the Beatles disbanded in 1970, Harrison's interest in Indian music soon extended into a yearning to learn more about eastern spiritual practices. In 1968, he led the Beatles on a journey to northern India to study transcendental meditation under Maharishi Mahesh Yogi. After the breakup of the Beatles, Harrison pursued on a solo career. He immediately assembled a studio band consisting of ex-Beatle, Ringo Starr, guitarist Eric Clapton, keyboardist Billy Preston and others to record all of the songs that had never made it on to the Beatles catalogue. The result was a three-disc album, "All Things Must Pass." While one of its signature songs, "My Sweet Lord," was later deemed too similar in style to the Chiffons 1963 hit, "He's So Fine," forcing the guitarist to cough up nearly $600,000, the album as a whole remains Harrison's most acclaimed record.
Not long after the album's release, Harrison brandished his charitable work and his continued passion for the east, when he put together a series of groundbreaking benefit concerts at New York City's Madison Square Garden to raise money for refugees in Bangladesh. Known as the Concert for Bangladesh, the shows, which featured Bob Dylan, Leon Russell, and Ravi Shankar, would go on to raise some $15 million for UNICEF, produced a Grammy winning album, and laid the groundwork for future benefit shows like Live Aid and Farm Aid.
But not everything about post-Beatle life went smoothly for Harrison. In 1974, his marriage to Pattie Boyd, whom he'd married eight years before, ended when she left him for Eric Clapton. His studio work struggled, too, from 1973-77, starting with, "Living in the Material World", "Extra Texture," and "33 1/3," whose albums all failed to meet sales expectations. Following the release of that last album, Harrison took a short break from music, winding down his self-started label, Dark Horse, which had produced works for a number of other bands, and started his own film production company, Handmade Films. The outfit underwrote Monty Python's Life of Brian (1979) and would go on to put out 26 other movies before Harrison sold his interest in the company in 1994.
In 1979, he returned to the studio to release his self-titled album. It was followed two years later with "Somewhere in England," which was still being worked on at the time of John Lennon's assassination late in December 1980. The record eventually included the Lennon tribute track, "All Those Years Ago," a song which reunited ex-Beatles Paul McCartney and Ringo Starr, along with ex-Wings members Denny Laine and Linda McCartney.
While the song was a hit, the album, its predecessor, and its successor, "Gone Troppo," wasn't. For Harrison, the lack of commercial appeal and the constant battles with music executives proved draining and prompted another studio hiatus.
In February 1988, Harrison formed the Travelling Wilburys, for his group's first album. The record featured a pair of hits, and spawned the guitarist to link up with Lynne, the late Roy Orbison, Tom Petty, and Bob Dylan to join his band, which was a "super group." Buoyed by the group's commercial success with its two studio albums Harrison took to the road with his new band mates in 1992, embarking on his first international tour in 18 years.
Not long after he was reunited with McCartney and Starr for the creation of an exhaustive three-part release of the Beatles Anthology, which featured alternative takes, rare tracks, and a John Lennon demo called "Free as a Bird," that the three surviving Beatles completed in the studio. The song went on to become the group's 34th Top 10 single.
From there, however, Harrison largely became homebody, keeping himself busy with gardening and his cars at his expansive and restored home in Henley-on-Thames in south Oxfordshire, England.
Still, the ensuing years were not completely stress free. In 1997, Harrison, a long-time smoker, reportedly was successfully treated for throat cancer. Two and a half years later, that December, his life was again put on the line when a deranged 33-year-old Beatles fan somehow managed to circumvent Harrison's intricate security system and detail and broke into his home, attacking the musician and his wife Olivia with a knife. Harrison was treated for a collapsed lung and minor stab wounds. Olivia suffered several cuts and bruises.
In May 2001, Harrison's cancer returned. There was lung surgery, but doctors soon discovered the cancer had spread to his brain. That autumn he travelled to the United States for treatment and eventually landed at the UCLA Medical Centre in Los Angeles. He died November 29, 2001, at his ex-band mates' Paul McCartney's house in Los Angeles, California, at aged 58, with his wife and son at his side.
In addition, in late 2002, just one year after his death, Harrison's final studio album, "Brainwashed," also produced by Lynne, Dhani Harrison and himself, featured a collection of songs he'd been working on at the time of his death, was finished by his son and released.
Trivia
George's older sister Louise resides in southern Illinois as of 1998.
A good deal of confusion as to his real birthday was solved when a family birth record noted him as being born shortly before midnight around 11:50 P.M.) on February 24th, 1943. He had believed his birthday was February 25th for his entire life.
On 30 December 1999, an intruder broke into his Oxfordshire mansion, stabbing him multiple times in the chest. Harrison and his wife fought the intruder and detained him for the police.
Inducted into the Rock and Roll Hall of Fame as a member of The Beatles January 20, 1988.
Wrote the introduction to a biography on sitarist Ravi Shankar.
He played 26 instruments: guitar, sitar, 4-string guitar, bass guitar, arp bass, violin, tamboura, dobro, swordmandel, tabla, organ, piano, moog synthesizer, harmonica, autoharp, glockenspiel, vibraphone, xylophone, claves, African drum, conga drum, tympani, ukulele, mandolin, marimba, and Jal-Tarang.
Son, Dhani Harrison (born 1 August 1978) was a student at Brown University.
He and his fellow Beatles were awarded the MBE (Member of the Order of the British Empire) in the 1965 Queen's Birthday Honours List.
Executive Producer & Principal Partner, 'HandMade Films' [1979 - 1994]
Attended Dove dale Road Primary School (now Dove dale Road Junior School) and the Liverpool Institute High School for Boys (now the Liverpool Institute of the Performing Arts).
Got a job as an apprentice electrician at age 16 but didn't have the interest to continue it. With one son a mechanic and another a groundskeeper, father Harry hoped his sons would go into business together once George finished his apprenticeship. Harry let George quit to become a working musician, though, when The Beatles began to get weekly bookings, figuring he was young and could still "start over" if music didn't work out.
Liked jelly babies (a softer version of jelly beans).
George met Pattie Boyd on the set of A Hard Day's Night (1964). She was engaged at the time, but George kept asking her out until she gave in. They were married in 1966.
In 1968, Eric Clapton played guitar on George's "While My Guitar Gently Weeps" on The Beatles' White Album. Also, George was at Eric's home in England and wrote "Here Comes the Sun" while skipping a board meeting for the band's company, Apple Corps.
In the early 1970s Eric Clapton fell madly in love with Pattie Boyd (at the time married to Harrison) and wrote "Layla" about her; when she refused to leave George for him, Clapton became so distraught and depressed he turned to heroin and developed a severe addiction. By 1974, feeling abandoned by George's obsession with Indian culture, Pattie left George for Eric and the Harrisons' divorce was finalized in 1977. Two years later, Pattie and Eric were married (they divorced in 1988). Through it all, George, Eric and Pattie remained the best of friends - George attended the Clapton's' wedding reception and commented, "I'd rather she was with him than some dope". (Clapton and Harrison called each other "husbands-in-law.").
Ringo Starr - "Well, I'm getting happier all the time,

which is very nice."
Ringo wrote two original songs: "Don't Pass Me By" and "Octopus' Garden" for which he also sang the lead vocals. Besides his drumming, Ringo's voice was recorded on many of the most popular Beatle's songs, contributing to their unique sound and tight harmonies.
He had a hectic solo career during the 1970s, after the breakup of The Beatles. However, Ringo eventually emerged as a steady performer, and sustained a very popular solo career, turning out a dozen chart-topping hit songs and eight best-selling albums. He made a famous appearance together with George Harrison, Ravi Shankar, and other popular musicians in the landmark 'Concert for Bangladesh' in 1971. His 1973 solo release "Ringo" was the last album to feature all four living Beatles, although not on the same song. He also appeared in various TV shows, including his own special, Ringo (1978) (TV), and a TV mini-series, Princess Daisy (1983) (TV), with his wife Barbara. In 1984 he did narration for the children's series "Thomas the Tank Engine & Friends" (1984). During the 1980s, after having a long period of troubles with alcohol, Ringo and his wife attended a rehabilitation clinic, and came back to the scene sober. He made the All-Starr Band tour of America and Japan. The tour was so popular that he formed another All-Starr Band line-up in 1992, and began an American and European tour in June of that year. Since then Ringo Starr has been enjoying a continuous career as the leader of the All-Starr Band. In 1994, along with George Harrison and Paul McCartney, the three surviving members of The Beatles, reunited and produced Lennon's previously unknown song 'Free as a Bird'. It was preserved by 'Yoko Ono' on a tape recording made by John Lennon in 1977. The song was re-arranged and re-mixed with the voices of three surviving members, and became an international hit. 'Free as a Bird' was also included in The Beatles Anthology TV documentary which was watched by 420 million people in 1995. Ringo, Paul and George sang their new songs, in addition to mixing their voices and music arrangements to John Lennon demos.
Ringo's old friend and band-mate George Harrison passed away on November 29, 2001, after a long battle against lung cancer. The following year, on the anniversary of Harrison's death, Ringo Starr, Paul McCartney and Eric Clapton appeared in a Concert For George, to raise money for the support of Harrison's legacy in exploration of alternative lifestyles, views and philosophies. Starr also supported charitable organizations with consideration to those who have special needs.
Ringo Starr updated the role of a drummer in popular music, he made drummer an equal partner to the lead musicians, thus changing the whole paradigm in how the public saw drummers. His original performing style evolved from adjusting his natural left-handed manner of playing to the right-handed drum set, and allowing his left hand lead in weaving a pattern tightly intertwined with the music of other players, and adding such enhancements as unusual accents and stops. Ringo's musical originality as well as his inventive drumming patterns, time signatures and accentuations became essential to the sound of The Beatles. His on-stage presence and acting talent as well as his humour and musicianship was the essential part in formation and remarkable career of The Beatles.
He was married to his long-time girlfriend, Maureen Cox, from 1965 - 1975, and they had three children: Zak Starkey, Jason, and Lee. The couple broke up in July of 1975, and he married actress Barbara Bach. Ringo Starr divides his time between his residences in England, in Switzerland and his home in Los Angeles, California.
Trivia
Drummer with The Beatles (1962-1970).
Leader of "Ringo Starr's All Starr Band".
He had three children with Maureen Starkey: Sons Zak Starkey (a featured drummer with The Who) and Jason (born August 19th 1967) and daughter Lee (born November 17th 1970).
Inducted into the Rock and Roll hall of Fame as a member of The Beatles on January 20, 1988.
The Beatles had several drummers before Starr joined. Pete Best had been with them for two years, when he was fired after failing the band's audition for George Martin at EMI.
He is three months older than John Lennon, who founded The Beatles, and the last to join the group, technically making him both the oldest and youngest Beatle.
Is left-handed, though he plays a right-handed drum set and makes unusual accents and stops.
He and the other Beatles were awarded MBE (Member of the Order of the British Empire) in the 1965 Queen's Birthday Honours List for their services to music. John Lennon returned his MBE in protest in 1969 for the Vietnam War. Paul McCartney was awarded Knight Bachelor of the Order of the British Empire in the 1997 Queen's New Years Honours List for his services to music.
Though Paul McCartney is the most successful ex-Beatle, Ringo actually had more solo US Top ten hits. (McCartney performed most of his Top Tens with Wings).
Born and grew up in the Dingles section of Liverpool, England. Attended St. Silas School and Dingles Secondary Modern School.
Before becoming an official member of The Beatles in 1962, he played many gigs with them, guesting when Pete Best was not available. Also made one recording with them, backing a singer named Wally, before he joined.
A single of his, "The No-No Song", was a song against drug abuse. But in a darkly ironic note, the song was banned from several radio stations because of the drug references.
Wrote the song "Octopus's Garden" while on vacation. He claims to have got the idea for the song after conversing with a chef about octopi.
In the mid-1970s he was involved with British singer-songwriter Lindsey De Paul and appeared on a single she wrote for Dame Vera Lynn.
Got his first set of drums as a present from his stepfather, who brought them back from London. Was able to turn professional with a £25 loan from his grandfather Starkey to make a deposit on a better drum set.
Missed several years of school, because of illness growing up. Learned to read and write with the help of a neighbour girl, who became his babysitter.
Was the only member of The Beatles to willingly accept Yoko Ono in John's life (and consequently theirs); he offered them the use of his London apartment, while John and Cynthia Lennon settled their divorce. Yoko tried to return Ringo's kindness over the years, and years later, when John was murdered, Ringo and future wife Barbara Bach flew to New York, to keep Yoko company.
He is a strict vegetarian, as is former band mate Paul McCartney.
According to George Harrison, Starr unintentionally inspired a number of songs by his witty off-the-cuff remarks. For example, after a long session on The Beatles first film, he was heard to say, "It's been a hard day's night." That was approved by the studio as the title of the film and subsequently the song, "A Hard Day's Night". John Lennon affirmed this in his 1980 Playboy interview, mentioning that "Ringo-isms" had supplied the titles of "A Hard Day's Night" and "Tomorrow Never Knows".
He is a long-time fan of the comedy troupe Monty Python, and even appeared on an episode of "Monty Python's Flying Circus" (1969).
The 2009 Sunday Times List estimated his net worth at $196 million.
Was originally hired as a Beatle for a salary of £25 a week, with the promise of a full partnership in the band in time. The promise was kept, and after the Beatles began to have hit records, Starr's mother discovered the top of his dresser covered with money (wondering at first if it was all come by honestly), and opened a savings account for him. Nonetheless, Starr's initial £25 salary was never discontinued, and he would pick it up every week from NEMS (Brian Epstein's management company). He used it for pocket money.
Inducted into the Percussive Arts Society Hall of Fame in 2002.
He was awarded a Star on the Hollywood Walk of Fame in Los Angeles, California for his services and contributions to the Recording Industry.
In his time as a Beatle, Starr single-handedly consolidated "Ludwig" as the drum set of choice among popular bands of his era.
Friends with Keith Moon. The two shared a house in California in the mid-1970s with John Lennon and Harry Nilsson, while they worked on each other's records.
Phil Collins states Ringo as his biggest influence as a drummer and songs such as "That's All" (by Genesis), "Thru' These Walls" and "We Said Hello Goodbye" deliberately copied Ringo's style of drumming.
His brother-in-law is Eagles guitarist Joe Walsh.
While he owns property in several countries, he is officially a British citizen residing in Monaco.
The next section of the Beatles Biography 1970-2013
The Long and Winding Road

After Breakup



will look at John Lennon and Paul McCartney and

their solo careers after the Beatles.
By Frazer McMenzie
Follow us on Twitter - @DigiPrintNews
Like us on Facebook www.facebook.com/DPNLive - (click the 'LIKED' button/top of page as well)
Copyright © 2013, DPNLIVE – All Rights Reserved.