Page 1 of 2
The Man who gave his sound
Originality and Personality
---
This week I'm going way back into time.  This man is an absolute legend and in his short life, he created a sound and style which is still very much alive today. He died in 1944 and was an American jazz musician, arranger, composer, and band leader in the swing era.  He was one of the best-selling recording artists from 1939 to 1943, leading one of the best known Big Bands.  Reissues of his recordings achieved gold record status 50 years after his death. He worked with some of the best known names in the world at that time.  While traveling to entertain U.S. troops in France during World War II, his plane disappeared in bad weather. No one has ever found the body or the plane.
---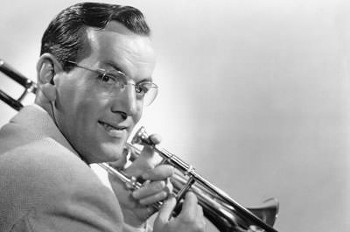 Glenn MillerI'm talking about Glenn Miller.  I've loved this music from my teens.
Alton Glenn Miller was born on a farm in Clarinda, Iowa on 1st March 1904 to Mattie Lou and Lewis Elmer Miller. He went to grade school in North Platte in western Nebraska. At 11 years of age in 1915, his family moved to Grant City, Missouri.  He first took up the mandolin, and then switched to a horn.  Around this time, he made enough money from milking cows to buy his first trombone and played in the town orchestra. In 1918, the Miller family moved again, this time to Fort Morgan, Colorado, where Glenn went to high school. At 16 years of age during his senior year, he became very interested in a new style of music called "dance band music." He was so taken with it that he formed his own band with some classmates. By the time Glenn graduated from high school in 1921, he had decided he wanted to become a professional musician.
At the age of 19 he entered the University of Colorado at Boulder. Glenn missed a lot of college because he spent so much time attending auditions and playing any gigs he could get, most notably with Boyd Senter's band in Denver. Because he failed three out of five exams in the one semester he dropped out of school, and decided to concentrate on making a career as a professional musician and joined Ben Pollack's band.
In the summer of 1928, he left Ben Pollack and settled in New York, where he worked as a session musician and arranger, working with people like Bing Crosby, who at that stage was unknown.  In 1928, Glen married his college sweetheart, Helen Burger.
He was a member of Red Nichols's orchestra in 1930, and because of Red, Glen played in the pit bands of two Broadway shows, Strike Up the Band and Girl Crazy (where his bandmates included Big Band giants Benny Goodman and Gene Krupa). During the late 1920s and early 1930s, Glen managed to earn a living working as a freelance trombonist in several bands. On 14th November 1929, an original vocalist named Red McKenzie hired Glenn to play on two records that are now considered to be jazz classics: "Hello, Lola" and "If I Could Be With You One Hour Tonight." Beside Glenn were clarinettist Pee Wee Russell, guitarist Eddie Condon, drummer Gene Krupa and Coleman Hawkins on tenor saxophone.
In spring 1934, Tommy and Jimmy Dorsey formed the Dorsey Brothers Orchestra and Glenn signed on as trombonist and arranger, remaining with the band for almost a year. He left to organise an American band for British bandleader Ray Noble that made its debut at the Rainbow Room in New York's Rockefeller Centre. Meanwhile, he was studying theory and composition with the Russian musician and mathematician Joseph Schillinger, under whose tutelage he composed what became his signature theme, Moonlight Serenade. Another star apprentice of the Schillinger Method was George Gershwin.
Glenn first recorded under his own name in 1934, while still working with the Noble orchestra.  But it didn't really go anywhere.
He made his first movie appearance in the 1935 Paramount Pictures release The Big Broadcast of 1936 as a member of the Ray Noble Orchestra. The Big Broadcast of 1936 starred Bing Crosby, George Burns, Gracie Allen, Ethel Merman, Jack Oakie, and Bill "Bojangles" Robinson and also featured other performances by Dorothy Dandridge and the Nicholas Brothers, who appeared with Glen again in two movies for Twentieth Century Fox in 1941 Sun Valley Serenade which also featured Milton Berle.  The Glenn Miller band also appeared in the 1942 Hollywood film Orchestra Wives, featuring Jackie Gleason playing a part as the group's bassist, Ben Beck. Glenn had an ailment that made laughter extremely painful. Since Jackie Gleason was a comedian, Glenn had a difficult time watching Gleason more than once, because Glenn would start laughing.
Then, in 1937, he tried to form his own band, which gained little popularity. Benny Goodman said in 1976, "In late 1937, before his band became popular, we were both playing in Dallas. Glenn was pretty dejected and came to see me. He asked, 'What do you do? How do you make it?' I said, 'I don't know, Glenn. You just stay with it'."
He realised that his band had to have originality.  It had to have a unique sound, something other bands didn't have.  As he put it, "A band ought to have a sound all of its own. It ought to have a personality."  He struggled to find it.  He disbanded his group and reorganised it.
Charlie "Cy" Shribman, a prominent East Coast businessman, began financing the band, providing a much needed infusion of cash.
Glenn experimented with various sounds and ideas.  Firstly, he decided to make the clarinet play a melodic line with a tenor saxophone holding the same note, while three other saxophones harmonised within a single octave.  He discovered a saxophonist named Wilbur Schwartz, but instead had him play the lead clarinet. According to George Simon who was a , friend of Glenn's, "Willie's tone and way of playing provided a fullness and richness so distinctive that none of the later Miller imitators could ever accurately reproduce the Miller sound."
Secondly, he insisted on his band playing every note as it is written.  While jazz music is characterised by its spontaneity and use of improvisation, The Glenn Miller Orchestra played swing music, an offshoot of jazz that favours orchestration rather than improvisation. Many jazz aficionados disapproved of this musical style, disliking the meticulous preparation and structure evident in the Glenn Miller Orchestra's music.
With this new sound combination, Glenn Miller found a way to differentiate his band's style from the many bands that existed in the late thirties. Glenn talked about his style in the May 1939 issue of Metronome magazine. "You'll notice today some bands use the same trick on every introduction; others repeat the same musical phrase as a modulation into a vocal. We're fortunate in that our style doesn't limit us to stereotyped intros, modulations, first choruses, endings or even trick rhythms. The fifth sax, playing clarinet most of the time, lets you know whose band you're listening to. And that's about all there is to it."  His arrangements were seamless and rich.  In 1943, he published Glenn Miller's Method for Orchestral Arranging.
In the spring of 1939, the band got a date at the Meadowbrook Ballroom in Cedar Grove, New Jersey, and then at the Glen Island Casino in New Rochelle, New York. The Glen Island date according to author Gunther Schuller attracted "a record breaking opening night crowd of 1800."  This was the tipping point – the start of the big time – and they began a huge rise in popularity.
In 2004, the Glenn Miller orchestra bassist Herman "Trigger" Alpert explained the band's success: "Miller had America's music pulse. He knew what would please the listeners."
In 1939, Time magazine said: "Of the twelve to 24 discs in each of today's 300,000 U.S. jukeboxes, from two to six are usually Glenn Miller's." There were record-breaking recordings such as "Tuxedo Junction" which sold 115,000 copies in the first week. Glenn's huge success in 1939 culminated with his band appearing at Carnegie Hall on 6th October with Paul Whiteman, Benny Goodman, and Fred Waring as the main attractions.
From 1939 to 1942, The Glenn Miller Orchestra was featured three times a week during a broadcast for Chesterfield cigarettes, first with the Andrews Sisters and then on its own. On 10th February 1942, RCA Victor presented Glenn with the first gold record for "Chattanooga Choo-Choo". "Chattanooga Choo Choo" was performed by the Glenn Miller Orchestra with his singers Gordon "Tex" Beneke, Paula Kelly and the vocal group, the Modernaires. Other singers with this orchestra included Marion Hutton, Skip Nelson, Ray Eberle and to a smaller extent, Kay Starr, Ernie Caceres, Dorothy Claire and Jack Lathrop.
In 1942, he enlisted in the US Army Air Force. Appointed as a Captain in the Army Specialist Corps, he devoted himself to raising soldiers' morale by modernising the army band. After completing his basic training, Glenn organised the Glenn Miller Army Air Force Band, which has been acclaimed by some as his best musical group.
He formed a large marching band that was to be the core of a network of service orchestras. His attempts at modernising military music were met with some resistance from tradition-minded career officers. One example was his arrangement of "St. Louis Blues March". This was a combination of blues and jazz, with the traditional military march.
Glenn Miller and his group kept up a hectic schedule of tours and performances. During its time, the band gave over 800 performances, more than 300 of which were personal appearances. The other 500 were broadcasts heard by millions of listeners. He also participated in other broadcasts, serving as the host of "Sustain the Wings," a weekly radio show.
On 15th December 1944, Glenn was to fly from the United Kingdom to Paris, France, to play for the soldiers who had recently liberated Paris.  His plane (a single-engine UC-64 Norseman, USAAF serial 44-70285) departed from RAF Twinwood Farm in Clapham, Bedfordshire and disappeared while flying over the English Channel. No trace of the aircrew, passengers or plane has ever been found. Glenn's status is 'missing in action'.
There are three theories about his death.  One says that he might have been hit by Royal Air Force bombs after an abortive raid on Siegen, Germany. 138 Lancaster bombers, who were short on fuel, ditched approximately 100,000 incendiaries in a designated area before landing. The logbooks of Royal Air Force navigator Fred Shaw recorded that he saw a small, single-engine monoplane spiralling out of control and crashing into the water.  Another source, while acknowledging the possibility, cites other RAF crew members flying the same mission who stated that the drop area was in the North Sea.
A second theory: In a book published in 2006, Clarence B. Wolfe, a gunner with Battery D, 134th AAA Battalion, in Folkestone, England, claims that his battery shot down Glenn's plane. However, Clarence's account has been disputed.
A third theory: Another book by Lt. Col. Huton Downs, a former member of Dwight D. Eisenhower's personal staff, says that the U.S. government covered up Glenn's death. Col Downs suggested that Glenn, who spoke German, had been enlisted by Eisenhower to covertly attempt to convince some German officers to end the war early. The book goes on to suggest that Glenn was captured and killed in a Paris brothel, and his death covered up to save the government embarrassment.
His army band continued to play for troops, performing up until August 1945, at which time the group returned to New York and its members were discharged.
When Glenn Miller went missing, he left behind his wife, the former Helen Burger, and the two children they adopted in 1943 and 1944, Steven and Jonnie. Helen Miller accepted the Bronze Star medal for Glenn Miller in February 1945. His tombstone was placed in Memorial Section H, Number 464-A on Wilson Drive in Arlington National Cemetery in April of 1992, at Glenn's daughter's request.  His daughter, Jonnie, was adopted during his time in the army and Glenn never saw him.
In the world today, there are a number of orchestras playing Glenn Miller music including two 'ghost' bands in US and Europe.  His legacy lives on.
Copyright © 2012, DPNLIVE – All Rights Reserved
Hit the "next" button below to hear 16 more videos including the full film of Glenn Millers life made in 1953