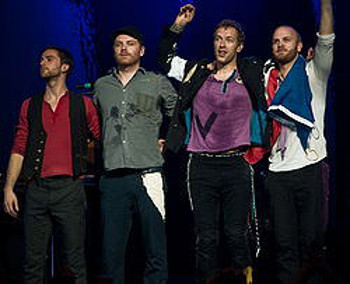 ColdplayIn 1996, friends Chris Martin and Jonny Buckland spent a year working to form a band that would be, in years to come, a name known all over the globe. After meeting former classmate Guy Berryman, they decided to form a band and called themselves Pectoralz, though after they were joined by drummer Will Champion, they changed the name to Coldplay. Coldplay released three EP's in their first 3 active years, none of them proving to be entirely successful.
Their first official album, Parachutes, would prove to be a lot more fruitful. People found their young, rough sound to be invigorating and despite never having released a single from any of their three EP's, Parachutes' first single, Shiver, almost instantly went to no. 35 on the UK Singles Chart, gaining them their first Top 40 hit. After appearing at Glastonbury Festival in June 2000, Coldplay released their first Top 5 hit, Yellow. This would prove to be a breakthrough, and was placed no. 4 on the UK Singles Chart. The media began to notice the band after the release of Parachutes.
In the aftermath of the success of Parachutes, Coldplay began to work on their second album, A Rush of Blood to the Head. This album would prove to be just as successful, featuring songs such as In My Place, The Scientist, and Clocks. This follow-up album seemed to be more light-hearted than its predecessor and in 2003, won Coldplay a Grammy Award for Best Alternative Music Album.
Coldplay took a break from touring and releasing music videos and after almost a year of laying low released their third album, X&Y, , but it was worth the wait. X&Y very soon became the best selling album of 2005 and sold over 8.3 million worldwide copies. It produced some very well known songs, such as Fix You and Clocks.
At this stage, Coldplay were on a roll. In 2006, they named their fourth consecutive album as Viva la Vida or Death and All His friends, or just Viva la Vida for short. After the first three albums, Martin stated that he wanted a change when it came to Viva la Vida, and change was certainly noticeable. Whereas Coldplay once had a darker rock-sound, this new album brought about a different era. Its first single Violet Hill contained a more bluesy sound and more guitar riffs and it soon placed on the UK Singles Chart.
In late October 2011, Coldplay once again decided to change their sound, naming their new album with an "industrial-rock" sound. Its first single Every Teardrop is a Waterfall, showed everyone how different Coldplay was in comparison to their first single; its electronic vibe was certainly not a bad one. Since then, the single Paradise has been released, and it hasn't disappointed.
http://www.youtube.com/watch?v=1G4isv_Fylg&ob=av2e
Marcus K.