"HP FB225 Scitex Ink opens new application possibilities for HP Scitex FB7600 Industrial Press users"
HP's new HP FB225 Scitex Ink has met AgBB criteria for health-related evaluation of volatile organic compound (VOC) emissions of indoor building products.
Testing was carried out by Air Quality Sciences which specialises in providing solutions for improving indoor air quality and reducing exposure to airborne pollutants. Its mission statement says it "partners with manufacturers, sustainable product programs, and purchasers to evaluate products, materials, and the ways in which they impact indoor environments and human health".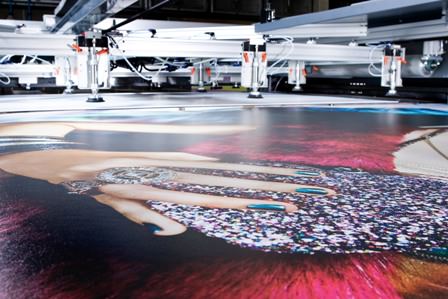 Users of the HP Scitex FB7600 Industrial Press can benifit from the new HP FB225 Scitex InkAir Quality Sciences used the AgBB evaluation procedure for VOC emissions and determined that HP FB225 Scitex Ink complied with AgBB requirements. The AgBB Committee, set up in 1997, includes representatives from seven German national and regional health and environmental organisations. Its testing procedures and standards are regarded as an international standard for health-related VOC emissions.
AgBB compliance follows the GREENGUARDSM Children & Schools certification received earlier by HP FB225 Scitex Ink in the US. The ink also received certification under the GREENGUARDSM Indoor Air Quality Certification Program for Low Emitting Products.
HP FB225 Scitex Ink was developed for the new HP Scitex FB7600 Industrial Press, a high-end production machine for producing high-quality graphics on a wide range of substrates from standard POP/POS corrugated board and papers to backlit films and plastic and coated materials. Included in these are materials such as foam PVC, PVC sheets, polystyrene (HIPS), fluted polypropylene, polycarbonate, polyethylene, synthetic paper, SAV, foamboard, paper, corrugated, PETG, Yupo and Alu-Dibond.
HP has also said the new HP FB225 Scitex Ink would benefit large format print service providers (PSPs) which have HP Scitex FB7500 Industrial Presses that have been upgraded with the HP Scitex FB7500 Industrial Press Upgrade Kit option by expanding their expanding application range. It said flexible and rigid materials can be printed with cross-hatch level adhesion, enabling these users to increase their offering to customers.
The company claims the HP FB225 Scitex Ink also is more flexible after curing than its predecessors, so the chances of chipping and cracking during folding and creasing is greatly reduced.
"This is the first UV-curable ink ever that complies with both these indoor air emissions standards," said Xavier Melisse, EMEA (Europe, the Middle East and Africa) Scitex Supplies Category Manager. "Prints produced with HP FB225 Scitex Ink on low emitting media have reduced odour and the fact that the inks used to produce them meet these standards offers additional reassurance about their suitability for indoor use. This opens new opportunities to HP Scitex FB7600 and upgraded HP Scitex FB7500 Industrial Press users."
HP hopes that with increasingly environmentally conscious end-users, the ability of PSPs to offer products using materials designed with the environment in mind will provide differentiation and give these companies a competitive edge over their competitors.
Stephen Goddard, environmental leadership programme manager for HP's Graphics Solutions Business, added: "The fact that the inks have met these standards underlines the point that signs and displays produced with them are suitable for use even in a sensitive indoor environment such as a school or hospital."
More information is available at www.youtube.com/hpgraphicarts or you can follow HP on www.twitter.com/hpgraphicarts.
Copyright © 2011, DPNLIVE – All Rights Reserved