Designed for complete digital textile print solutions.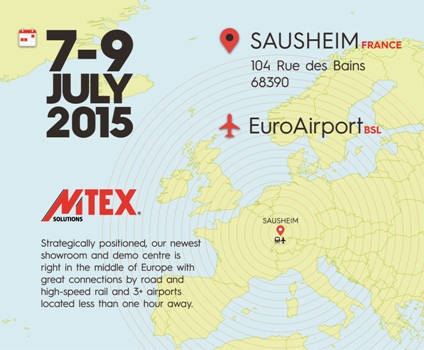 MTEX's new showroom at Sausheim
It's has been confirmed that MTEX will hold a grand opening of its new central European showroom in Sausheim, northern France, from Tuesday 7 to Thursday 9 July 2015.
The brand new facility, near the borders of Germany and Switzerland, will host the world's first trade showroom for the complete MTEX Micro Textile Industry solution dedicated to digital textile printing.
The company said that this is a unique turnkey, integrated workflow which includes a direct-to-textile digital coater, printers, steamer and wash equipment as well as the recently launched MTEX 5032HS, a 3.2m wide high speed polyester dye-sub printer with in-line fixation.
Eloi Ferreira, CEO of MTEX said: "We're delighted to be opening this new facility as part of our drive to keep moving forward and innovating to bring customers the best choice for digital textile print in the market.
"Built to industrial standards in our manufacturing facility in Portugal, the MTEX family of printers and textile finishing equipment is unique to both the sign and textile industries.

"With MTEX, sign companies can excel in the high-growth area of soft signage, and textile companies can adopt digital technology into their existing businesses and offer customers a more bespoke printing solution for seasonal and custom collections and prototyping garments and fabrics.

"No other company offers this much choice when it comes to digital textile printing, and we're looking forward to welcoming existing and potential clients to our new showroom."
The MTEX Micro Textile Industry for digital textile printing includes;
Coat
The MTEX PAD allows users to coat their own materials prior to digital printing.
Print
The MTEX 500C with reactive inks allows users to print onto natural fabrics including cottons and linens. It has an adhesive belt so the fabrics are printed flat without distortion of the weave.
The MTEX Vision with pigment inks allows users to print onto all fabrics. The patented fabric handling system spreads and feeds even 4-way stretch fabrics onto the adhesive belt evenly for accurate printing.
Steam
The MTEX Steamer will handle up to 40 linear metres of printed fabric and is specially designed for the digital textile printing market.
Wash
The MTEX Washing system then washes the printed and steamed fabrics thoroughly before drying
Polyester printing
The MTEX 5032HS is a 3.2m wide direct-to-textile digital polyester printer with in-line fixation. powered by Mimaki and engineered by MTEX, the MTEX 5032HS is aimed at the sign, display and exhibition graphics market as well as home and contract interiors.
For more information about the MTEX Micro Textile Industry solution go to www.mtex.eu, or to book a place at the opening event, go to http://mtex.eu/sausheim-booking
You can Tweet, Like us on Facebook, Share, Google+, Pinit, print and email from the top of this article.
Copyright © 2015, DPNLIVE – All Rights Reserved.