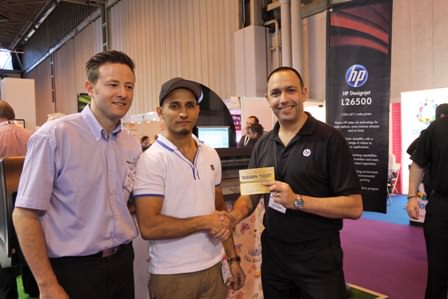 Ramzan Anwar, DrWraps with his golden ticketEverybody seems to have had a successful few days at the recent Sign & Digital exhibition and HP from all accounts was no exception. It has reported that its presence at the show was a huge success for the company, with a significant number of sales secured and widespread interest shown in the company's latest wide-format products.
In line with may other manufacturers, HP's stand featured an extensive product line-up, all designed to demonstrate its position as a leading supplier of innovative wide-format digital printing technology for high impact graphic arts applications.
One clever marketing tool employed by HP at Sign & Digital was that visitors could take advantage of an exclusive at-show £1000 or €1250 'golden ticket' cashback promotion redeemable on its two latest HP Latex Printers, the HP Designjet L28500 and HP Designjet L26500.The tickets were on offer to the first 50 customers to confirm orders for either of these two printers.
"The Golden Ticket promotion proved to be an enormous success, with the demand for tickets outstripping the 50 tickets available," said Phil Oakley, UK & Ireland country manager, HP Designjet, GSB (Graphics Solutions Business). "In addition, visitors showed a huge amount of interest in the other solutions from our large-format portfolio and the total orders placed included several for the HP Scitex FB500 and FB700 Printers. Sign & Digital 2012 was one of our most successful UK shows in the last five years based on the amount of customer orders placed."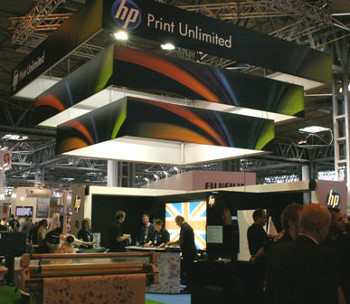 HP's stand featured an extensive product line-upThe HP Designjet L28500 and L26500 Printers feature HP 792 Latex Inks that enable print service providers (PSPs) to produce odourless prints to help meet the needs of environmentally-conscious customers. Both printers are ideal for the production of indoor and outdoor signage, such as point-of-purchase displays, soft signage and vehicle graphics.
One company, Budgeprint, based in Brighton, UK, purchased a HP Designjet L26500 Printer on the first day of the exhibition. "The environmental credentials of the HP Designjet L26500 were paramount but in addition, the media versatility and fast throughput made it the clear choice to enable us to extend the variety of applications we offer in the short turnaround times our customers require," said Matthew Etkin-Budge, managing director of the company.
Another lucky recipient of the Golden Ticket promotion Ramzan Anwar came to the show to purchase a printer that would enable his newly founded company, DrWraps Signworks, to open for business. "When deciding which printer would allow us to fulfil our company's first orders, we knew we needed a versatile solution that would produce high-quality graphics and meet our objectives as an environmentally-conscious print supplier. The HP Designjet L26500 Printer ticked all these boxes," he explained.
One of the first golden tickets issued went to Sunderland-based, large-format printer, Wherethetradebuys. Managing director, Martyn Young, came to the show to place the order for the company's seventh HP Designjet printer.
"We currently have two HP Latex printers and we find one of the biggest advantages of this technology is its ability to deliver quick turnaround times." Young said. "The output dries inside the printer so we can use or finish it immediately. Not only does this boost our productivity but it helps us to keep our next-day delivery promise to our customers, and their satisfaction is crucial.
"Our new HP Designjet L28500 Printer will increase our ability to meet our customers' requirements and take on new business, while giving us the extra print-width we need to enhance our product range," he added.
To hear more from HP's Sign & Digital 'golden ticket' customers, see:
Copyright © 2012, DPNLIVE – All Rights Reserved
Or to watch James Deacon's, Bigger Stickers, live application demonstrations on the HP stand:
MOD