Company to showcase new ink solutions for an endless range of applications at exhibition.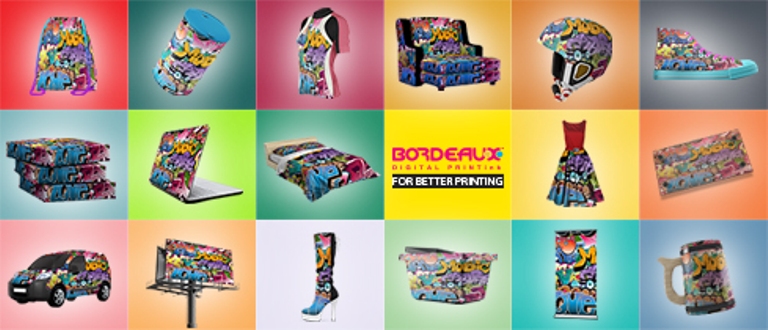 Boredeaux Applications 
Bordeaux Digital Printink plans to go into 'full gear' at DRUPA this year by exhibiting its full range of solutions for any type of business needs. The inkjet manufacturer is particularly targeting print shops that are looking for ways to increase the range of services they can provide and increase efficiency by bringing a true new way for print businesses to profit.
Bordeaux is bringing a true innovation to DRUPA with an expansion of its full ink solutions. Bordeaux will exhibit new inks which were developed with the vision to meet any type of printing demand such as its newly developed PLASMA HF and EDEN PG series. By expanding the companies UV printer specific family of inks with the new PLASMA HF for HP Scitex 500 and 700 series, it is offering yet another ink solution to fit the specific technical attributes of these HP Scitex machines. This new printer specific UV ink makes it simple to convert from the OEM to Bordeaux inks with no printer down-time and no need for technician assistance.
In addition to the UV printer specific solutions, visitors at Bordeaux's stand will be able to see its ink solutions for solvent printing, scented UV coatings and the new EDEN PG pigment ink that marks a novel and innovative solution for digital textile printing. With the EDEN PG ink any type of fabric can be printed with one ink and with one process. Bordeaux highlighted the fact that the EDEN PG not only simplifies the process needing only one ink for any type of fabric but also requires one pre-treatment for all fabric types. It's being hailed as marking a true revolution in textile printing, by allowing every print shop to provide textile printing services without the need for high capital investment in new printers.
"We are proud to present a comprehensive ink solution that will truly add colours to all aspects of life and from a single source"! Said Guy Evron, Marketing Director at Bordeaux. "Our whole stand will be designed with artwork printed on a full range of applications, from textile to home décor as well as industrial applications such as counter tops, tiles and personal items."
Economic waves and competition are two main forces that influence the printing industry and dictates creative ways to bit these forces. Bordeaux is offering print shops the opportunity to be more cost effective and offer print solutions to their customers with their existing print lines.
For more information visit http://www.c-m-y-k.com 
You can Tweet, Like us on Facebook, Share, Google+, Pinit, print and email from the top of this article.
Copyright © 2016, DPNLIVE – All Rights Reserved.