Design ensures stable feeding of

elastic materials, eco-conscious short run

production fabric manufacturing.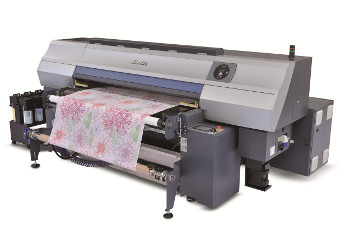 New Mimaki Tx500-1800B production textile printerMimaki has released details of a new addition to its family of digital textile inkjet printers, the Tx500-1800B. The company said it delivers high speed, high quality digital printing on a wide range of textiles, including cotton, silk, hemp and rayon and now joins a stable of machines such as the TS500-1800 and TS34-1800A to round out the Mimaki's broad textile printing portfolio.
"We continue to improve and expand our textile printing capabilities based on customer feedback," said Mike Horsten, General Manager Marketing EMEA for Mimaki Europe. "With the Tx500-1800B, we have again raised the bar in terms of the cost, quality and flexibility metrics for high quality small lot printing of textiles, even when using stretchy fabrics."
Key features that differentiate the Mimaki Tx500-1800B include a specially designed conveyor belt that feeds fabric without tension, enabling high quality printing on elastic materials, even with unattended operation. Print speeds are 1.6 times greater than conventional Mimaki textile printing products at 60 m2/h and 600x450 dpi. Various ink types that support a wide range of materials to meet the diverse needs of the textile and apparel industries are available for the Mimaki Tx500-1800B. This includes reactive dye ink (Rc300), sublimation dye ink (Sb300), acid dye ink and pigment ink. Acid dye and pigment inks will be available in the near future and all the ink is available in 2-litre ink bottles for reduced ink costs.
Mimaki highlighted the fact that the combination of speed and print quality is key to the Tx500-1800B and a variable dot function that delivers rich gradation without banding and accurate printing of fine lines gives added value in the final product for fashion design.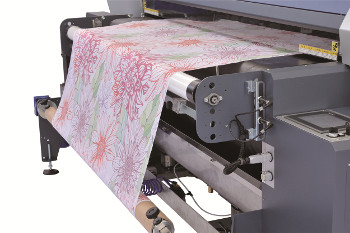 The new Mimaki features belt feed for stretchy fabricsThe new printer includes a number of features designed to aid ease of use in a production environment and an automatic process for cleaning and drying the conveyor belt between or during projects ensures that media is protected from staining or dampness.
"We believe that the Tx500-1800B will speed up the gradually growing transition to digital printing in the worlds of textiles and apparel," Horsten added. "Fashion designers and others in the industry will be able to produce vibrant small lot products on unique materials that were not readily available for digital printing in the past. This includes cotton, silk, hemp and rayon, all popular fabrics in the world of fashion design. Our dedication to eco-friendly printing is also demonstrated with this new textile printer, which uses less ink and water and results in less waste than other printing methods."
National sales manager for Mimaki's exclusive distributor, Hybrid Services Ltd, John de la Roche sees the new printer fitting into the UK's and Ireland's growing manufacturing industry well. "We're seeing substantial growth in the sportswear and fashion sectors," he says. "Local manufacturing shortens the time to market and shipping costs are greatly reduced. Retailers are demanding this sort of service, so the new Mimaki production textile machine delivers a solution to enable such a process."
Full details of Mimaki's complete product range can be found by visiting www.hybridservices.co.uk

Follow us on Twitter - @DigiPrintNews
Like us on Facebook www.facebook.com/DPNLive - (click the 'LIKED' button/top of page as well)
Copyright © 2013, DPNLIVE – All Rights Reserved.