The Czech company, KZK, has invested in its first digital production unit with the purchase of an EFI Jetrion press at drupa 2012. The company hopes the investment will help them reduce waste as well as allow it to move into the shorter run market, creating benefits not achievable with its analogue units.
---
KZK tiskarna was founded 17 years ago with the aim of specialising in price labels. It started with a single flexo label press, and the company now has three Mark Andy units on which it produces a variety of applications, mainly in the automotive and electro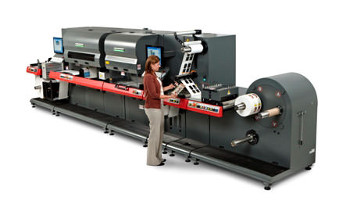 technical market. KZK realised that it needed to save materials and reduce waste and decided to look for a suitable digital production unit that would deliver these savings. After considering a number of options, the company chose the EFI Jetrion 4900, which it purchased through Czech Republic reseller, Macron.
Michal Silling, KZK's CEO commented:
"Since deciding to purchase the Jetrion 4900, which we'll drive with EFI Fiery, we've looked at other benefits that can be gained from this investment," he said. "As well as make-ready, time and material savings, we can now proof straight on press to final stocks, run small and medium volumes, and incorporate VDP (variable data printing) into jobs. The durability of the UV-curable inks is vital, as is opaque white ink, and the integrated cutting is perfect for all run lengths. But longevity and reputation are also important, and EFI offers us the support we need when adding digital to our existing analogue production processes."
For more information on the Jetrion 4900, go to www.efi.com/jetrion
Copyright © 2012, DPNLIVE – All Rights Reserved
KZK, drupa, EFI Jetrion 4900 press, flexo, label press, Macron, UV curable, VDP, Michal Silling, digital production