Roland DG sets course at FESPA Digital.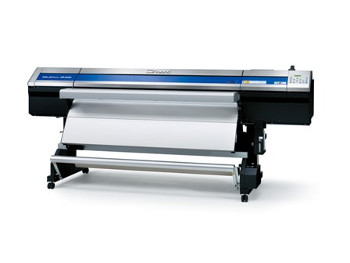 SOLJET PRO4 XR-640 With FESPA Digital in Munich just around the corner, Roland DG believes this is the event where you can set your course for the coming years. So it's inviting all event visitors to throw out their anchors at Booth 230 in Hall B1. Staying with a nautical theme, it added that 'once on board', visitors will get a closer look at its shipshape printers with the new ECO-SOL MAX2 or UV inks.
Under the motto "Throw out your anchor", Roland DG is inviting all event visitors to come and take their bearings at its booth and to discover what it terms as 'the treasure trove of possibilities that awaits'.
The flagship
Roland DG's flagship product is the SOLJET PRO4 XR-640. This printer/cutter is billed as offering a combination of reliability, versatility and speed, and uses the new, EDP-award-winning ECO-SOL MAX2 ink in white, metallic silver and light black, among others. The high density white ink creates an opacity-boosting base coat for CMYK graphics on clear media, plus can be used to create crisp white text and graphics on dark-coloured substrates. Metallic silver can be used to simulate gold, bronze, copper and more than 500 other metallic colours. Roland pointed out that the glimmer in these colours gives prints a luxurious appearance and ensures that any advertising message really stands out. Light black ink creates beautiful grey gradations and is ideal for black and white images. It added that photographers, decorators and advertising agencies are simply crazy about it.
All of these inks are also available on the new VersaCAMM series, and the new descendants of this family, called VS-i, continue to build on the long-standing tradition of user-friendly and affordable printers with an integrated cutting function. The new inks, which dry more rapidly and come in more easily replaceable ink cartridges, plus numerous other enhancements, have already made the VS-i the' new 'kid on the block'.
On board
The SOLJET PRO4 XF-640 will also be on board, and in addition, the Roland crew will be demonstrating the VersaUV LEF-20. This compact flatbed printer for gadgets, promotional gifts and prototypes was designed to open a whole new world of possibilities. The machine prints text and images at very high resolution on a great variety of items including iPhone and tablet covers, pens, Plexiglas photo cubes, golf balls and other objects or plates up to 10 cm high. The LEF-20 has made it possible for users to move into new markets and attract a wider range of customers.
Throw out your anchor
Roland DG invites all event visitors to throw out their anchors and discover many new treasures at Stand 230 in Hall B1. On board will be the extensive advice from its on-duty crew so you can set a certain course for new, profitable shores.
FESPA Digital
Messe München
Hall B1, Stand 230
20-23 May 2014
Follow us on Twitter - @DigiPrintNews
Like us on Facebook www.facebook.com/DPNLive - (click the 'LIKED' button/top of page as well)
Copyright © 2014, DPNLIVE – All Rights Reserved.