Europe's largest online print provider investment made to increase superwide services.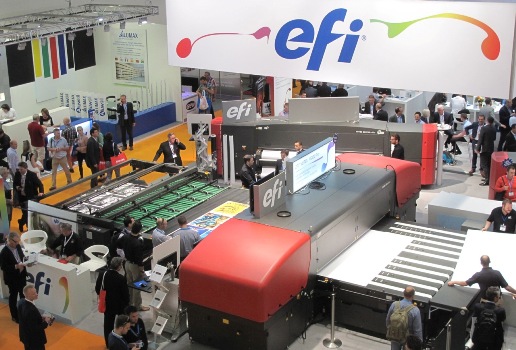 EFI VUTEK HS100 ProIt was by announced by EFI™ at FESPA that German based Flyeralarm, Europe's largest online print provider, purchased a fully automated EFI VUTEK® HS100 Pro high speed press. The new press investment was made to allow Flyeralarm to expand the superwide applications in its portfolio of online services.
"The new VUTEk press will replace two machines from another manufacturer we currently have in use," said Flyeralarm Werbetechnik general manager, Igor Zanovskiy. "We chose the HS100 Pro based on its full automation, its flexibility in terms of handling roll-to-roll as well as flatbed work, its speed and its unsurpassed white printing. For a machine that will be used 15 hours every workday, we also took into consideration EFI's technical support service and response times."
Launched as a sole trade business 12 years ago, Flyeralarm has become one of the leading online printing companies in Europe. With headquarters based in Würzburg, Germany, the company has five production sites around Würzburg and Dresden. Flyeralarm prints everything from high-gloss magazines to posters. It has almost 350,000 customers and with an average of 15,000 orders per day, it has become the largest online printing company in Europe, with some of the continents best-known advertising agencies listed among its customers. In addition to the online shop, Flyeralarm has a store in London where customers can discuss projects, place orders or pickup orders they've placed online.
The EFI VUTEk HS100 Pro press is a 3.2 metre, high-volume printer that uses a combination LED/UV Pin & Cure imaging technology to provide what EFI term as 'exceptional quality and high productivity'. The press also features automated material loading and unloading systems, along with a material edge guide system for printing corrugated board and other challenging substrates at press-rated speeds. It maximises ink yield for a lower total cost of ownership with true greyscale heads and innovative ink delivery system The press handles up to 100 boards per hour in standard mode and up to 70 boards per hour in point-of-purchase mode (600 dpi).
"Flyeralarm's attention to customer service and its dedication to producing exceptional quality is a key reason for its rapid growth," said Paul Cripps, managing director of EFI EMEA. "Their new high-end, versatile VUTEk printer will allow the company to continue in the tradition of providing high quality while at the same time adding efficiencies that will save money and boost profits."
EFI™ (www.efi.com
You can Tweet, Like us on Facebook, Share, Google+, Pinit, print and email from the top of this article.
Copyright © 2015, DPNLIVE – All Rights Reserved.