Digital Print Innovations secures deal

as sole UK and Ireland distributor.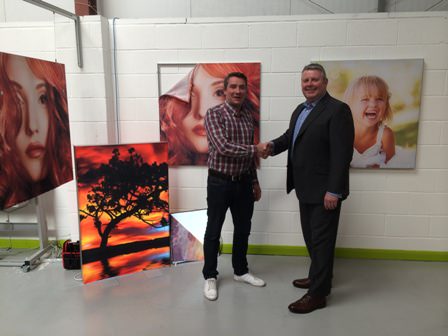 DPI's Stewart Bell (right) welcomes new director Simeon Wicks, with Primex frames on show in the backgroundUK based Digital Print Innovations (DPI) is expanding its team after securing a deal which will make it the sole UK and Ireland distributor for Primex display systems.
The company is already well known for its ability in the industry to spot trends as well as supplying innovative products to the signage and graphic display market, a key criterion to winning the Primex solutions distributorship in the UK and Ireland. Primex is one of the leading suppliers for the wide format and signage market, and produces frames and lightboxes.
DPI has confirmed that will also continue to concentrate on the sales and support of associated products such as fabric sewing and finishing solutions for exhibition and display graphics as well as wide format print solutions from Mutoh and Seiko and RIP solutions.
Primex's tension fabric systems (TFS) include lightboxes and frames for the large format signage, retail and interiors markets including events and exhibitions, hospitality, restaurants and cafes, public buildings, offices, museums and even private homes. The company said the lightboxes are suitable for internal use and have fabric both sides rather than using an aluminium composite back sheet, which means they can be broken down into small packages, a feature which delivers a saving on transport.
Their 20mm Light Guided Panel is suitable for interior aesthetics as well as practical considerations. Double-sided and made from a light guided panel, an acrylic sheet and edge lit LEDs, it's available up to 2m x 1m, with a 50mm option going up to 3m x 1.2m. Primex highlighted the fact that both offer even luminosity across the whole panel with no hot spots.
Where larger panels are needed, the LED module and LED chain options, where chains of LEDs are attached to the support bars; these can be used to make a lightbox big enough for any interior.
To coincide with the appointment, Simeon Wicks has come on board as a director at DPI, bringing nearly 20 years' experience in the exhibition and graphic display industry with him and Paul Tomlinson has been appointed to head up sales. Paul will be supported at the company's Derby-based headquarters by General Manager Sandra Wiggins and newly appointed business support assistant Tracey Whiting.
"As the UK and Ireland distributor, we will be able to offer customers the chance to visit our showroom to see the possibilities offered by the Primex solutions. We'll also be able to facilitate fast and reliable delivery from our warehouse to anywhere across the UK and Ireland. The additional staff are being put in place to help support our customers on the ground in specifying frames, quotes and bespoke cutting services." said Wicks.
The whole team will be showcasing the Primex suite on the DPI stand at Sign and Digital UK, stand F71 (29 April – 1 May).
For more information on DPI go to www.dpi-uk.com or for more information on Primex go to www.primex-displays.com or www.primex-interior.com.
Follow us on Twitter - @DigiPrintNews
Like us on Facebook www.facebook.com/DPNLive - (click the 'LIKED' button/top of page as well)
Copyright © 2014, DPNLIVE – All Rights Reserved.