Launches HP Indigo Flexible

Packaging Digital Print Services

with Customer Open House Event.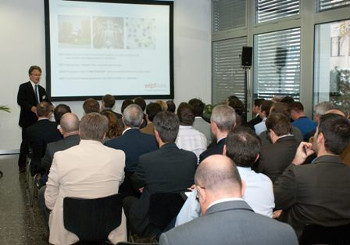 Wipf held a customer open house at its premisesSwiss based Wipf Group has held a customer open house event at its headquarters in Volketswil to officially launch its HP Indigo digital printing capabilities for flexible packaging.
Founded in 1914, the company has a number of divisions, one of which is the production of flexible packaging for the food, pharmaceutical, hygiene and construction industries. The family-owned business attributes much of its continued success to high-quality production methods, as well as its ability to adapt to changes in the marketplace.
One way in which Wipf maintains its competitive edge is by supplying cutting-edge products and services. Most recently it launched new digital printing services with the installation of an HP Indigo WS6600 Digital Press to allow it to offer customers shorter runs and quicker turnaround times. The company demonstrated the benefits of its new services at the customer open house event, held in association with HP.
"Print runs are getting shorter, as are turnaround times for delivering products to customers," said Christian Wipf, owner and chairman of the board, Wipf. "In order to fulfil these requirements and not compromise on quality, the HP Indigo WS6600 was the clear choice. The ability to match PANTONE® Colours was a particular selling point for us and our customers have been extremely impressed with the results from the HP Indigo press so far. In fact, we are already winning new business as a result of our new HP digital capabilities."
Wipf highlighted how clients who have started to embrace its digital services are already reaping the benefits.
"A customer recently asked us to produce pouches for a confectionery product" commented Mr. Wipf. "However, the packaging was required in a short run and within an even shorter deadline. They needed to be supplied within two weeks, which would have been too short a timeframe and expensive for the customer using our previous technology. However, we were pleased to accept this job knowing that we could now deliver the packaging within the deadline, to our usual high standard and at an acceptable price."
As a result of the positive success Wipf experienced after it made its first step into digital printing services, the company has now revealed plans to expand these capabilities and become the second European beta site for the recently announced 762mm (30in) HP Indigo 20000 Digital Presses (available in 2013). Wipf believes that the larger format of this recently launched HP Indigo press will allow it to offer new applications and more importantly from the company's perspective, explore new market opportunities not previously achievable with digital technology.
"Our mission statement is 'Innovative Packaging Solutions', and the new 762mm (30in) digital press will help us deliver on this promise in 2013, " added Mr Wipf. "We consider HP to be the leader in digital printing solutions, and I have no doubt that our move into digital has a positive future, aligned with a supplier that like us is always seeking innovation."
More information is available at www.youtube.com/hpgraphicarts

Copyright © 2012, DPNLIVE – All Rights Reserved
1/
Wipf held a customer open house at its premises