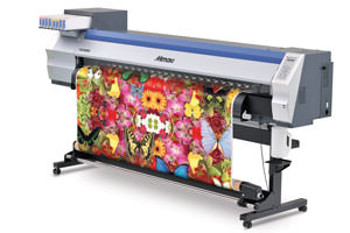 Mimaki-TS34-1800AMimaki has publicised its line-up for FESPA Digital 2012, Europe's largest event for the digital wide-format print industry which runs February 21st-24th in Barcelona. The leading manufacturer of wide-format inkjet printers and cutting machines for the sign/graphics, textile/apparel and industrial markets can be found on Stand G60.
"We are very excited about the innovations we will be sharing at FESPA Digital 2012," says Mike Horsten, marketing manager at Mimaki. "Our stand will include both new products and new features which will reinforce our dedication to environmental sustainability and showcase our philanthropic efforts."
Horsten said Mimaki would highlight its nature education program, an initiative that supports the nature and wildlife education of youth and children in Spain with special fun activities during the show. In addition, the company will host a press conference on FESPA's opening day at 10.30 am in the press conference room, South Access when it will introduce and launch a new range of innovative products.
Mimaki makes Sustainability a key focus of the show
"Visitors to our stand at FESPA Digital 2012 will clearly see our commitment to sustainability," says Horsten. "We are proud of the small environmental footprint of our products, an important factor in the sign and display business today. Mimaki will be launching many new innovations at FESPA and we will clearly demonstrate our leadership in the market."
New product highlights
A highlight of FESPA Digital 2012 will mark the European debut of Mimaki's new TS34-1800A Sublimation Transfer Inkjet Printer, first announced in November 2011. This was designed specifically for the sublimation transfer market with the emphasis on high speed and quality. Sublimation transfer printing is widely utilised for sportswear applications due to the elasticity and quick-drying capability of polyester material. It is also used in the growing market for soft signage applications, such as flags, retail in-store banners and tapestries. The company says the TS34-1800A is capable of printing up to 32 m2/h at 540 x 720dpi.
Mimaki will also showcase its range of UV flatbed products, including the JFX-1631plus and the recently launched UJF-3042FX.
•        The Mimaki JFX-1631plus features high precision printing up to 1200dpi allowing even 3pt characters to be legibly printed, at speeds of up to 23.6 m2/h with a post-curing unit. It also offers an optional roll unit for roll-to-roll printing. The JFX-1631plus has print area of 160 x 310cm. The series is also available as the JFX-1615plus with 160 x 150cm print area.
•        The UJF-3042FX, a desktop UV flatbed, prints directly on materials up to 5cm thick with excellent print quality of up to 1440 x 1200 dpi with a maximum print area of 300 x 420mm and energy efficient LED curing.
Mimaki pointed out that for both printers, users can now choose from three UV inks to ensure they have the best one to suit their application. It said its LH-100 hard UV ink excelled in scratch and chemical resistance as well as colour reproduction. The second ink, LF-200 flexible UV ink, enables stretching of ink up to 200 per cent, and the third, LF-140, offers a strong gradation in six-colour printing (CMYK + LcLm) and is more flexible than LH-100 hard ink.
Mimaki's new PR-100 inkjet primer is also available for these printers to expand the range of substrates that can be utilised. PR-100 inkjet primer aims to improve adhesion and enables printing on materials that normally would not be suitable for inkjet printing. Flexible ink printing is new to the UJF-3042FX. White and high gloss clear inks are also available.
More detail on Mimaki products, including those featured at the show, can be found at www.hybridservices.co.uk
Copyright © 2011, DPNLIVE – All Rights Reserved