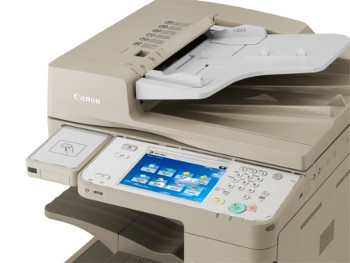 Canon imageRunner ADVANCE 4000 series aCanon Europe has launched the new imageRUNNER ADVANCE 4000 series with the introduction of four new black-and-white MFDs (multifunction devices) to complete its A3 imageRUNNER ADVANCE range. Canon said the release of these MFDs would ensure its ability to provide a full and complete range of these devices to support the needs of enterprises of all sizes.
ImageRUNNER ADVANCE is available on 32 models following its launch in 2009. Some of these devices have since won industry awards, including BERTL and BLI Winter Picks awards in 2011. Sales figures supplied by Canon show that so far more than 170,000 imageRUNNER ADVANCE units have been sold in Europe and more than 440,000 worldwide. It said the series covered the full spectrum of end users from small offices to large corporate reprographics departments.
The additions to Canon's imageRUNNER ADVANCE range are the imageRUNNER ADVANCE 4025i, 4035i, 4045i and 4051i which give a greater choice of A3 print speeds, from 25, 35 and 45ppm, including a new high-speed 51ppm printer.
Canon has highlighted key features of the imageRUNNER ADVANCE 4000 series such as an intuitive and customisable 21.3cm SVGA colour touch-screen to allow for easy operation. It said processing larger jobs was quick and efficient with duplex scanning, flexible media handling and a maximum paper capacity of up to 4,980 sheets. It added that the new printers had advanced finishing options which make producing quality printed materials in-house even easier.
Canon stressed that controlling and reducing print costs was easy with the imageRUNNER ADVANCE 4000 series. The new MFDs integrate with uniFLOW to provide the ability to assign cost centres, set restrictions, redirect print jobs and set up detailed tracking and reporting, to carefully manage print costs. UniFLOW can also enhance security over the way sensitive information is handled and printed, through uniFLOW Data Loss Prevention (DLP).
In addition, authentication options, secure print, mailbox and address filtering, as well as encryption and other security hardening options, ensure businesses meet important compliance requirements, which is particularly important for insurance, financial and legal professions.
Matthew Wrighton, Office Imaging Products Product Management and Strategy, Canon Europe, said: "With the addition of the new imageRUNNER ADVANCE devices, Canon now provides a complete portfolio of A3 multifunctional devices which provide our customers with extra choice on speed, price and functionality with broad integration, to suit the specific needs of any business.
"The success of the imageRUNNER ADVANCE range has been proven through the high level of demand we have seen from our customers, which is illustrated by our strong share of the A3 black-and-white market which reached 21 per cent in Q4 2011³. We are delighted to be adding a new high-speed device to the range with the 51ppm imageRUNNER ADVANCE 4051i, which will continue to help businesses to be more productive while producing high-quality results."
The new imageRUNNER ADVANCE 4000 series will be available from May 2012.
³ Q4 2011 Figures, from Infosource, Western Europe, 2012
Copyright © 2012, DPNLIVE – All Rights Reserved