Cutter/plotters, routers and laser cutters at FESPA Digital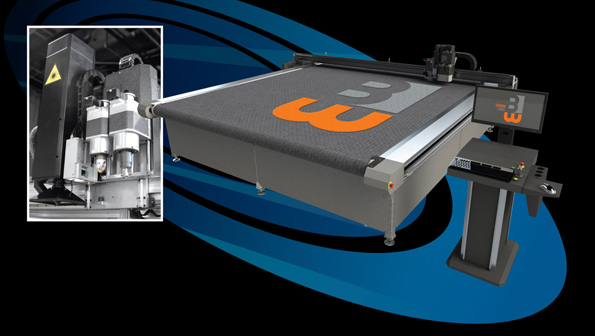 Blackman & White FESPA 2016 GenesisBlackman & White (B&W) - specialist European large format cutter manufacturer - will be promoting its market-leading cutter/plotters, routers and laser cutters at FESPA Digital this year at Hall 7, Stand S15.  They will be highlighting their online supplies ordering system, servicing and customer support.
The first 50 visitors to the stand each day will receive 10% discount vouchers for Blackman & White's online store Cutting Resources, for blades, bits and other consumables.
In addition, anyone registering their interest in a Blackman & White cutting system will automatically be entered into a draw to win a Parrot Quadrocopter AR Drone 2.0 Elite Edition. – I want one of them!!
Alex White is the Managing Director.  He said:
"We decided on offering a drone as a prize as it is exciting, cutting edge technology, and represents how we think - looking at the world from a different viewpoint. We are an energetic forward-thinking company and we extend that across all industries we serve from servicing the cutting demands of the marine industry through to growing markets such as sign and display."
B&W is the only UK manufacturer of large format cutters for the sign and display industry.  It has a 50 year history in Advanced Engineering.
Its sister website www.cuttingresources.com offers consumables for its own machines and those of all other major manufacturers, all at speedy delivery.
Alex continued: "Businesses in the sign and display industry often work long hours up against tight deadlines, and as well as manufacturing a range of cost effective and reliable cutters, we wanted to offer a way for customers to place orders for essential spares, parts and consumables 24 hours a day, so we can deliver the goods as quickly as possible.

"It's all about making our customer service as efficient as possible, and offering different options to meet our customers' needs.

"As a UK manufacturer we are 'on the doorstep' for our European customers and able to offer a swift and truly responsive, manufacturer-direct service from delivery right through the lifetime of our machines."
The Blackman & White range includes the renowned MasterCut™, Genesis, Orion and Versa-Tech models. 
For more information on Blackman and White go to www.blackmanandwhite.com or www.cuttingresources.com