Roland DG announces new generation ECO-SOL MAX3 for the EU region.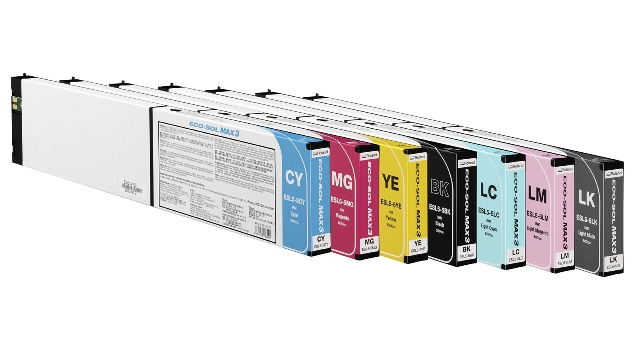 Roland ECO-SOL Max3 ink Roland DG has announced the launch of ECO-SOL MAX3, a new generation ink for use with its range of eco-solvent printers and printer/cutters. Available in both 220cc and 500cc* cartridges, the company maintains the new ink delivers faster drying times, larger capacity cartridges, a lower price per cc of ink and an overall performance upgrade.
ECO-SOL MAX3 has also received GREENGUARD Gold Certification, which includes safety factors that ensure a product is acceptable for use in environments such as schools and hospitals.
Customers in England, Scotland and Wales can now order ECO-SOL MAX 3 from 28 September with the purchase of every new eco-solvent Roland DG printer, with further roll out to the Republic of Ireland and Northern Ireland from January 2016.
ECO-SOL MAX 3 will also be made available to existing customers as a performance upgrade which will take place in a staged roll-out, starting with the VersaSTUDIO BN-20 and VersaCAMM VS-i. This will soon be followed by the VersaCAMM SP-i series, SOLJET PRO4 series (XR-640 & XF-640) and the VersaEXPRESS RF-640. As such Roland DG will guarantee support for ECO-SOL MAX 3 on all current models of eco-solvent printers and printer/cutters, and on most legacy devices. This is part of Roland DG's vision to support the ongoing loyalty of its customers, enabling them to benefit from the latest technology developments.
The process of converting an existing printer to ECO-SOL MAX3 is quick and easy that, with the online guidance provided, many customer will be able manage the process themselves.
Jerry Davies, President, Roland DG, EMEA commented: "We are delighted to be able to provide access to the latest ink technology to both new and existing customers, and are proud that once again, we continue to provide yet another compelling reason to remain loyal to ECO-SOL MAX inks. As well as the new benefits of the ink, ECO-SOL MAX3 continues to offer the reliability, quality, consistency and durability that customers over many years have always relied upon."
For more information on ECO-SOL MAX3, customers should call Roland DG UK on 0044(0)1275 335540 or visit www.rolanddg.co.uk
*500 cc cartridges are available in CMYK, Lc, Lm and Lk, 220cc cartridges are available in CMYK.
http://www.innovaart.com/
You can Tweet, Like us on Facebook, Share, Google+, Pinit, print and email from the top of this article.
Copyright © 2015, DPNLIVE – All Rights Reserved.