Investment made in EFI VUTEk GS3250LX Pro to deliver higher quality and greater flexibility.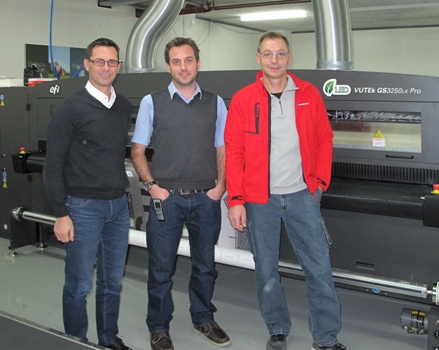 André Stutz (left), Marco Schuhmacher and Herbert Voser are very happy with the quality and reliability of their fourth VUTEk printerIt's been announced by EFI™ that richnerstutz ag, based in Villmergen, Switzerland, has installed its fourth VUTEk® grand-format printing system since 2005. The companies new EFI VUTEk GS3250LX Pro is a hybrid machine with a 320-cm print width for flatbed and roll-to-roll printing. EFI said it gives richnerstutz the ability to print faster with better quality and colour and at a higher resolution, while significantly reducing power consumption. This latest investment now allows the company to free up capacity on its five-metre VUTEk press by moving roll-to-roll jobs up to 320-cm wide to the new VUTEk hybrid LED printer.
richnerstutz was formed in 2005 through the merger of Richner Blachen AG and AS Print AG. Managing director André Richner brought his extensive market experience producing tarpaulins, tents and facade advertising while André Stutz brought his experience in wide-format printing. The combination has produced a speciality - vibrant, three-dimensional hoardings in giant formats – now so popular that in the last five years, the company has grown from 40 to 120 employees.
"We chose the new VUTEk hybrid LED printer because it gives us the latest technology, allowing us to deliver the best quality in our market and, therefore, increase our competitive edge," said joint managing director André Stutz. "Another reason for our decision was the ability to move narrower-width jobs off the five-metre machine so as not to interrupt the production of large-format jobs with smaller ones, which are now printed on the new machine."
With the resolution of 1000 dpi and eight-colour printing plus white over 110 m2/h, the VUTEk printer produces up to 32 sheets in 120 x 240 cm format every hour in high quality.
"Another important factor is that the new printer can be changed from roll-to-roll to flatbed printing in under two minutes," added Stutz, "as well as the fact that you can print three layers really fast, laying colour, white then colour on top of each other in one pass."
What he values most, however, is the ink curing using LED lamps at full print speed. Since the material does not get as warm and does not bend, transport is more reliable, the whole machine heats up less and the lamps save energy.
"All in all, the VUTEk hybrid LED printer has given us high print quality and fast production as well as the ability to run both roll-to-roll and flatbed jobs, and, therefore, be extremely flexible in our production. Plus we get the reliability of EFI VUTEk printers that we have come to know and appreciate over the last 10 years," said Stutz.
For more information about richnerstutz ag go to www.richnerstutz.ch
For EFI products go to www.efi.com
You can Tweet, Like us on Facebook, Share, Google+, Pinit, print and email from the top of this article.
Copyright © 2015, DPNLIVE – All Rights Reserved.