Swedish company continues policy

of investing in the entire packaging process.
---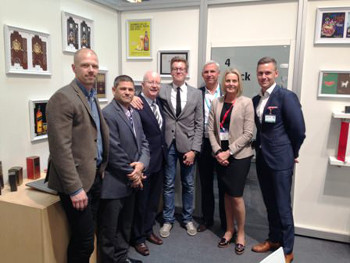 Left to right: Stefan Dahl, Production Manager at GAFS Kartong, Eitan Varon, Executive VP, Highcon, Nigel Tracey, International Sales Director, Highcon, Lasse Svärd, Sales Director and co-owner, Gafs Kartong, Jan Olof Jungersten, CEO Visutech, Annelill Annvik, MD, Sales, Gafs Kartong, Johan Lidström, Head of Postpress Solutions at VisutechGafs Kartong AB, of Värnamo, Sweden has become the first company in the Nordic region to purchase a Highcon™ Euclid. The company has a policy of investing heavily in the entire packaging process from design, through prepress, and printing to post-press. Highcon said the 25-employee company had seen the huge benefits to be gained in creativity, flexibility and speed from the Euclid, allowing it to respond to on-demand requests and the implementation of variable data.
---
"With the Highcon Euclid they will be able to get delivery times down to just a few days, as well as resolve problems with large storage spaces," said Johan Lidstrom, Head of Postpress Solutions at Visutech, Highcon's Scandinavian channel.
Nigel Tracey, International Sales Director, Highcon, added: "Gafs have been following the progress of the Highcon Euclid for quite some time and recently went to see it at work at the first customer site, Glossop Cartons, in the UK. They were delighted with the potential business opportunities promised by this radically new digital cutting and creasing technology and are looking forward to installing the machine in September this year."
Lasse Svärd, Gafs Sales Director and co-owner, commented: "When the Highcon Euclid was introduced at Drupa 2012, we immediately saw huge potential for us and our customers. As a company, we've always invested in technologies that bring added value and give our customers the potential to sell more products through innovative and visibly striking cartons. We now have possibilities beyond those we can imagine today, and I am sure that we will see extraordinary results. We've made some really beautiful designs already, and I'm eager to see the results of these possibilities in the hands of our customers."
The Highcon Euclid digital cutting and creasing machine for folding cartons has been developed to transform cutting and creasing from an analogue to a digital workflow. Highcon maintain that it dramatically streamlines the post-print process and offers limitless design options, increased efficiency and flexibility and faster time to market.
www.highcon.net
Follow us on Twitter - @DigiPrintNews
Like us on Facebook www.facebook.com/DPNLive - (click the 'LIKED' button/top of page as well)
Copyright © 2014, DPNLIVE – All Rights Reserved.