Phase one complete of showroom overhaul
at Clevedon headquarters.
Roland Creative Centre logo
Roland DG has announced that visitors to its new Creative Centre can see first-hand the enormous versatility of Roland's digital printing, engraving and 3D milling technology in a vast showcase of moneymaking applications. Everything from the centre's ceiling tiles to the windows has been printed using the companies wide format technology, while the shelves are adorned with examples of high value applications produced with its engraving, printing and milling technologies, from personalised gifts to 3D prototypes, dental crowns and bridges.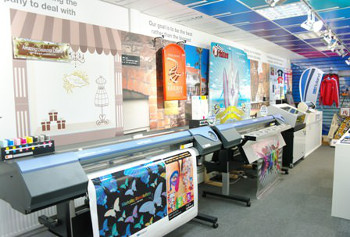 Just a glimpse of the Roland Creative Centre and the Roland colour chart ceilingThe completed overhaul has been designed to show all commercial printers and sign and display businesses where their next big idea might come from. On display in the Creative Centre are high-value applications such as personalised wallpapers, metallic signs, printed roller blinds, personalised sportswear, vehicle wraps, packaging prototypes and precisely engraved trophies, tags and gifts. The diverse range of markets represented includes jewellery, packaging, labelling, textile printing, promotional gift, engraving, dental, funeral and 3D modelling.
One of the features guaranteed to turn heads is the ceiling where every single panel is a different colour taken from the Roland Color System Library.
Joe Wigzell, Roland's Creative Centre and Roland Academy Manager, said: "The Creative Centre is an inspirational place for the innovative and interesting – as well as the more classic applications our equipment is capable of producing. Visitors may already have a Roland and be seeking their next best-seller, or they may be investigating adding another string to their bow with easy-to-use engraving technology. Whatever they're looking for, nowhere else in the UK is the massive versatility of digital technology better represented in a single place than the Roland Creative Centre.
"The focus is on applications rather than the technology with the aim that when customers see it, they believe it and - hopefully – are inspired to achieve it. There is a lot of crossover between Roland technologies. It makes sense for sign and display printers, for example, to explore ways to diversify by investing in an engraver – it's still personalisation and customers looking for corporate branded shirts could also require an engraved award, a sign for the door, or an engraved pen for a thank you gift. Roland believes in the power of sharing ideas. I'm always happy to show people around the Roland Creative Centre and they're welcome to bring along files for testing or indeed to showcase their own finished masterpieces."
Roland's Creative Centre is an on-going project that will be added to as customers share their latest ideas and creations on the Roland Forum (www.rolandforum.co.uk) or through competitions such as the Roland Creative Awards which took place earlier this year. The Roland Creative Awards received over 1,000 entries from around the world from Roland customers sharing their best pieces of work and many UK entries are now featured in the Roland Creative Centre.
If you'd like your work featured in the Creative Centre, with your name and company details proudly displayed alongside, email This email address is being protected from spambots. You need JavaScript enabled to view it." mce_' + path + '\'' + prefix + ':' + addy61051 + '\'>'+addy_text61051+'<\/a>'; //--> with details and a picture.
Roland DG (UK) Ltd Tel: 0044 (0) 845 230 90 60
www.rolanddg.co.uk / www.rolanddental.co.uk/ www.rolandforum.co.uk

Copyright © 2012, DPNLIVE – All Rights Reserved