Company produces 'web-to-print' with an HP Indigo WS6600 Digital Press.
---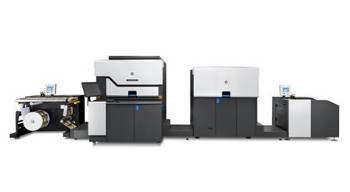 HP Indigo WS6600label.co.uk has confirmed that it has recently installed its third HP Indigo press, an HP Indigo WS6600 Digital Press, to offer 'web-to-print' services to its customers.
---
label.co.uk (the label printers limited) is one of the largest online label printing companies in Europe and is highly regarded for producing self-adhesive and wet glue labels of the highest quality. The team at label.co.uk have successfully implemented an internet platform and comprehensive system that allows professional label users to speed up their procurement cycle without compromising quality or technical service. A prime example of this is the 'Online Calculator' featured on the homepage.
As well as the recently installed HP Indigo WS6600, label.co.uk's work flow and production is also supported by an HP Indigo ws4500 Digital Press and an HP Indigo WS4600 Digital Press.
The new addition in the production line-up has already been given a 'thumbs-up' by the company and its customers; primarily due to both an increase in quality and reduced lead times. The press' versatility, including its ability to print on substrates from 12-450 microns including paper and plastic, and its economical printing process also provides label.co.uk with clear production benefits.
"The HP Indigo WS6600 fits perfectly into our web-to-print workflow. We are able to supply the highest quality solutions in the shortest possible time; often within 24 hours," said Michael Wey, managing director of label.co.uk.
For more information about the HP Indigo WS6600 Digital Press, please visit http://www8.hp.com/uk/en/commercial-printers/indigo-presses/ws6600.html. Further information about label.co.uk can be found at https://label.co.uk.
Follow us on Twitter - @DigiPrintNews
Like us on Facebook www.facebook.com/DPNLive - (click the 'LIKED' button/top of page as well)
Copyright © 2014, DPNLIVE – All Rights Reserved.