SKAG gets its 'Dream Machine'.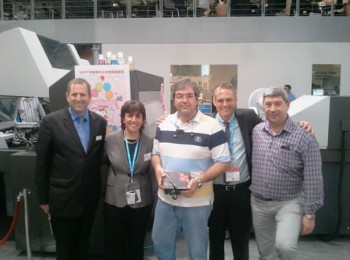 L R Dror Danai Scodix, Beky Shemer 3 Print, Kostas Skagias President SKAG, Nir Katz 3 Print, Stavros Tzanis SKAGScodix, a provider of digital enhancement solutions for the graphic arts industry, has released details about its first press distribution to the Greek market. The installation was made to international stationery and marketing supplies provider SKAG.
Athens based SKAG installed the B2+ sized Scodix S74PRO along with the modular Scodix Rainbow station in September this year and is reported to have seen significant success with the range of special-effect enhancements. Scodix commented that its Scodix Rainbow™ Station is unique in providing an in-line glitter impact to enhance the Scodix SENSE™ experience.
SKAG's principle business is the printing of commercial marketing materials such as children's school items, books, greeting cards, notebooks, folders and more. The company invested in the Scodix Rainbow because it fitted their strategy, which is to offer customers short runs, per-demand work, based on the ability to change and adjust jobs at the last minute.
Popy Skagia, SKAG Marketing Manager, said: "The Scodix Press and Braille station are the 'dream' products for this company. They allow us to add enhancements and special effects on a digital press that saves us time and money. There is no other technology on the market that represents unique opportunities for us to enhance and promote our existing product range, along with adding a few that were not possible before."
The company, established in 1956, exports its products to more than 35 markets, including Europe, the Middle East, Canada and Japan, and has won numerous national business awards for its work.
The press was sold and installed by Scodix distributor 3 Print who's CEO Beky Shemer added: "SKAG purchased the Scodix press to produce unique and special items that stand out and bring outstanding value to its customers. For print service providers that wish to differentiate and enhance their offset and digital output, Scodix solutions make the big difference."
Copyright © 2012, DPNLIVE – All Rights Reserved