Labels are the new product offering from Durst UK.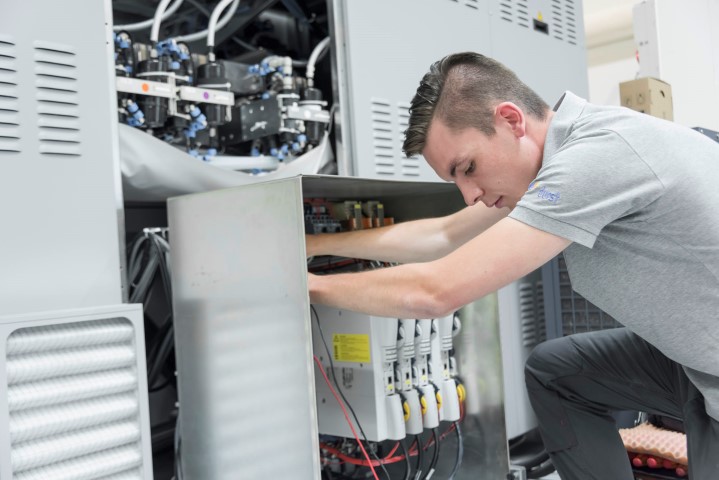 Customer support: Durst's own engineers are equipped for 24x7 operations.Durst UK are winning business over their division's headquarters in Brixen Italy.  They are expanding the business portfolio by taking on the labels market previously run from Italy. 
The Durst UK headquarters in Leatherhead, Surrey will be supplying the UK and Ireland and will now also have responsibility for labels and specialty packaging. 
They are backed by Durst UK's own nine-strong team of experienced service engineers strategically placed across the UK and Ireland who provide 24/7 support 365 days per year 
Durst has more than 150 installations throughout the UK and Ireland.  It will supply consumables, spare parts, inks and other logistics from UK facilities.
Durst UK is a wholly owned subsidiary of Durst Phototechnik AG which is a global leader in high performance inkjet technology and innovation.  It serves these markets with the Tau family of products to include digital inkjet systems. The Durst Tau 330 and 330E machines are complemented by low migration and low odour inks suitable for primary food packaging, as well as pharmaceutical sectors. 
Customer support: Durst's own engineers are equipped for 24x7 operations.Peter Bray is Durst UK Managing Director. He said: "We are expecting continued growth in all our market sectors in 2016, especially in labels, which we see as an extremely important sector for our market-leading systems. We expect to make further important announcements soon. 

"With full backing from our parent company, taking on the labels sector provides further significant business opportunities for Durst UK that has continued to increase market share for many years." 
Mike Englander is Durst Business Development Manager. He has responsibility for commercial and business development aspects of the label business in the UK.
"It was a logical move to centralise operations in the UK," he said. "It's not only the support, supply and logistics, but also consumables, spare parts and inks that will be supplied directly for the label industry from UK facilities. 

"This investment by Durst is a very positive move for our UK customers and for the label industry."