To increase productivity and maintain competitive advantage.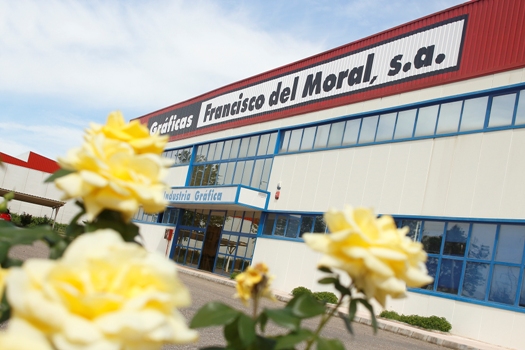 Gráficas Francisco del Moral print facilities, Andalucía, Spain.Spanish based Gráficas Francisco del Moral, a leading Andalucía located full service printer, has installed an HP Indigo WS6800 Digital Press. The investment was made to enable the company to boost productivity for a wide variety of high quality label applications. Gráficas Francisco del Moral said the new HP press is driving production efficiencies and cost reductions, ensuring that the business retains it high customer service and competitive edge.
Installed in April 2015, Gráficas Francisco del Moral is now using the advanced capabilities of the HP Indigo WS6800 Digital Press, including an automated early detection and quality control system and HP's Enhanced Productivity Mode. With the additional availability of HP Indigo's new Special Inks, such as HP ElectroInk White, the company is now also able to produce high-quality prints on a wider variety of substrates, including opaque materials. The press's new inline spectrophometer is also enabling the company to eliminate the need for manual colour calibration, enabling further savings of time and money.
"Five years ago we acquired our first HP Indigo WS4500, and we were very impressed with not only customer reaction to our new short run capability, but its high quality print also. We quickly needed an additional machine to match demand, so installed an HP Indigo WS6600. The choice of our third digital press was an easy one. The HP Indigo WS6800 would enable us to make the efficiency gains we needed to take the next step, streamlining our operation and increasing customer service," said Francisco del Moral Mata, CEO, Gráficas Francisco del Moral.
Established in 1991, Gráficas Francisco del Moral has grown rapidly from a small workshop-based company with only three members of staff, to a thriving business employing over 65 employees in a modern purpose-built facility. The company provides a broad range of services including commercial print, labels and packaging, large format print and graphic design services. It uses a mix of analogue and digital technologies, including three HP Indigo Digital Presses.
"The print industry is undoubtedly shifting, with customers expecting shorter print runs and greater flexibility and customisation. As a company, we need to evolve our technologies and capabilities to ensure we stay ahead of the trend," continued Moral Mata. "With their advanced features, HP presses provide us – and our customers – with the confidence that we are well equipped to handle whatever demands might come our way in the future."
http://www.graficasdelmoral.com/
More information about HP is available at http://www.hp.com.