Part of latest strategic investment for marketing company.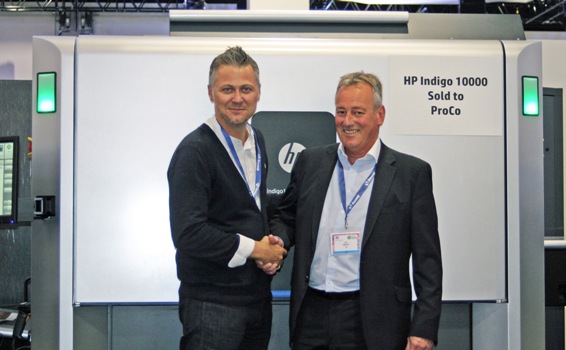 Jon Bailey, Managing Director, ProCo confirms the sale of the HP Indigo 10000 Digital Press at the Dscoop EMEA conference 2015
UK marketing operations specialist, ProCo, has installed an HP Indigo 10000 Digital Press as part of its commitment to a long-term business expansion and investment programme.
According to HP, the unique production capabilities of the HP Indigo 10000, combined with renowned HP Indigo quality, will enhance the company's already comprehensive print operations.
"The HP Indigo 10000 Digital Press has been on our radar for a while, and the entire company is excited to now be making the investment," said Jon Bailey, Managing Director, ProCo. "We've been focused on a strategic growth plan for the business, which began with our new partnership with Concept Communications last year. The installation of the HP Indigo 10000 is our latest step towards the end goal of further strengthening our national and international offerings and expanding our digital marketing solutions."
Bailey explained that while the company has an existing B2-size product range, the 75cm format HP Indigo 10000 Digital Press bridges the gap between offset and digital.
"The HP Indigo 10000 will enable us to bring all the benefits of digital printing, such as personalisation and cost-effective short-runs, to these large-format products. Working with many leading marketing organisations, we recognise the importance of quick turnarounds, production efficiency and flexibility. HP Indigo technology allows us to provide this agile service. Of course, once we start working with the technology we're sure to uncover many new opportunities and business ideas as well. That's the beauty of exploring the latest technology innovations and working alongside valuable partners such as HP," concluded Bailey.
http://www.hp.com.
http://www.proco.com/
You can Tweet, Like us on Facebook, Share, Google+, Pinit, print and email from the top of this article.
Copyright © 2015, DPNLIVE – All Rights Reserved.